Integrating & Operating 5G Use Cases
And Managing Multiple Network Technologies
A Disruptive Analysis Thought-Leadership eBook – June 2023
Introduction: 5G is Changing On‑Premise Wireless
Four years ago, a 2019 iBwave eBook introduced then-new 5G for the enterprise audience. The eBook covered the known abilities of 5G, provided an overview of important technology elements like spectrum bands, and explored uncertainties like potential applications and devices.
It correctly predicted the rise of private 5G and the challenges related to indoor propagation. However, in hindsight it was too optimistic regarding the timelines for more complex features such as network-slicing and ultra-low latency.
This eBook revisits the state of 5G in the enterprise marketplace, with a focus on indoor/on-campus environments. It examines the broader impact of business, society and technological changes on industry transformation. It also explores how these changes influence the deployment and operation of 5G.
It focuses on three major themes:
Note: This eBook does not specifically cover the ongoing evolution of private 4G/5G networks in enterprise, as these are covered in detail in various other iBwave documents and webinars. It also does not discuss spectrum bands, again detailed elsewhere.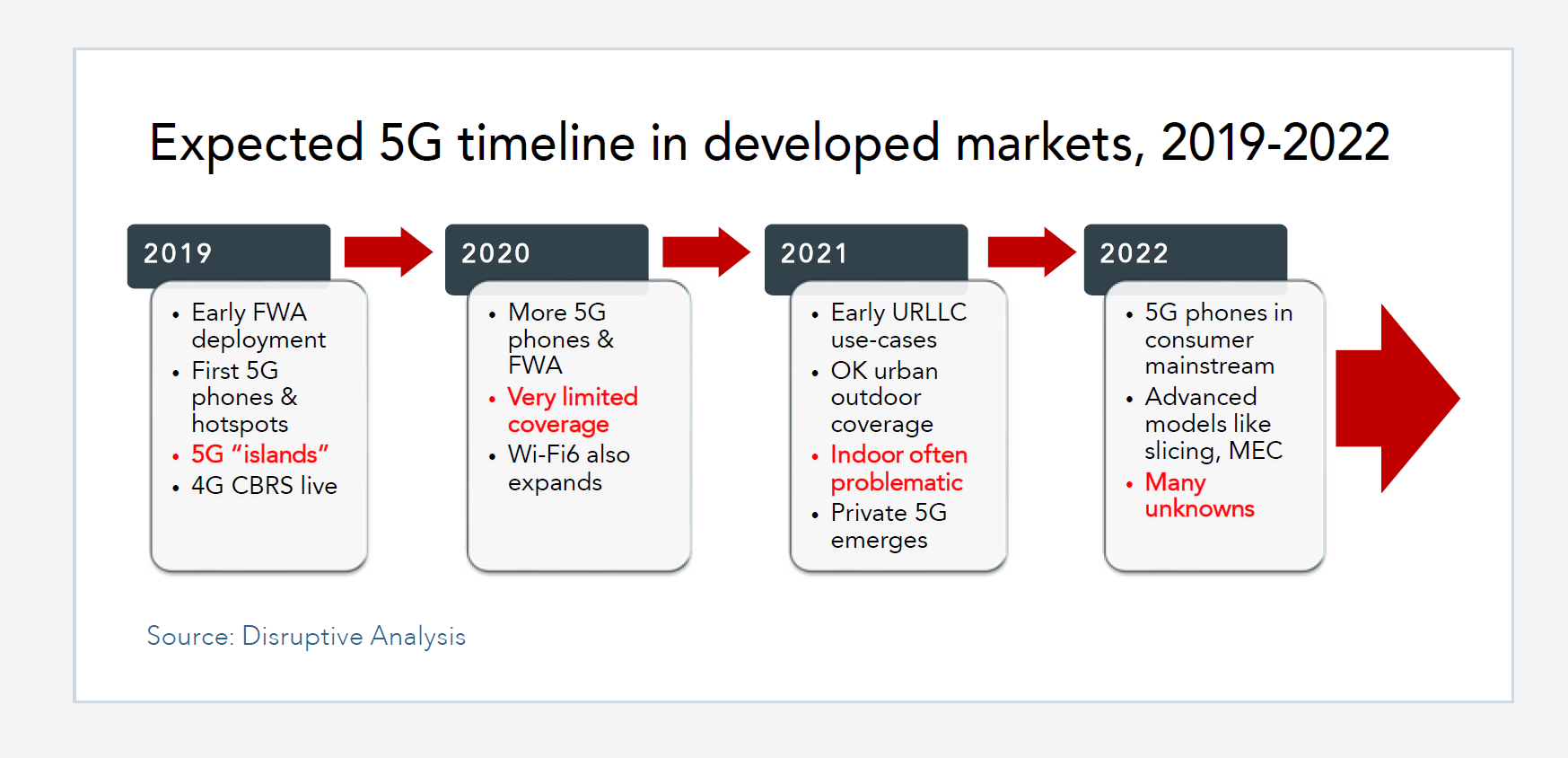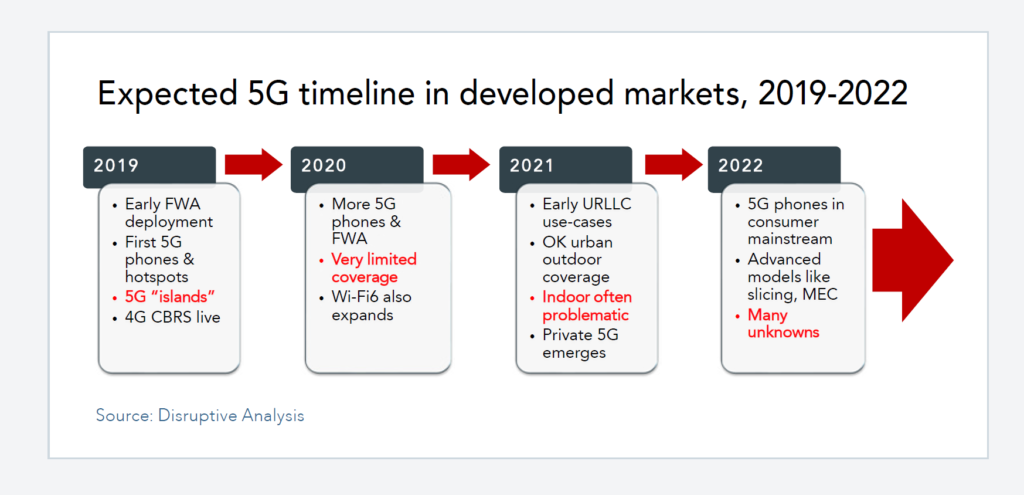 5G Comes in Phases
5G wireless technology — more accurately called 3GPP 5G New Radio (5G NR — is the latest generation of cellular technology, following on from 4G LTE and earlier 2G and 3G mobile systems. It launched in various limited deployments in 2019/2020 and has later expanded in geographic reach and features. In 2023, there are over a billion end-users, although the bulk of these are consumer smartphones connected with public network (MNO) subscriptions.
The initial expectations for 5G in 2018-19, which included a fair degree of hype, focused on a future where data speeds would be extremely fast, connection would be reliable with ultra-low latency, and a wide range of IoT and enterprise use-cases would be supported.
The reality is rather more nuanced. What many of the original commentators and forecasters failed to note was that 5G has been arriving in phases. Technically speaking, features arrive in a variety of 3GPP's "releases." The earliest versions of 5G utilized 3GPP Release 15, while the more advanced and enterprise-focused capabilities arrived in Releases 16, 17, 18 and beyond.
It's more useful to think of three broad phases for 5G, with different implications for enterprises looking to exploit and deploy it:
During the phasing of 5G variants, there are ongoing parallel releases of different 5G spectrum bands. These help enable the theoretical capabilities of the system to be delivered in different contexts, including wide-area networks, local hotspots, or indoor or on-campus settings.
Realistic use-cases are dependent on both the maturity of 5G technology versions and the specific frequency bands available.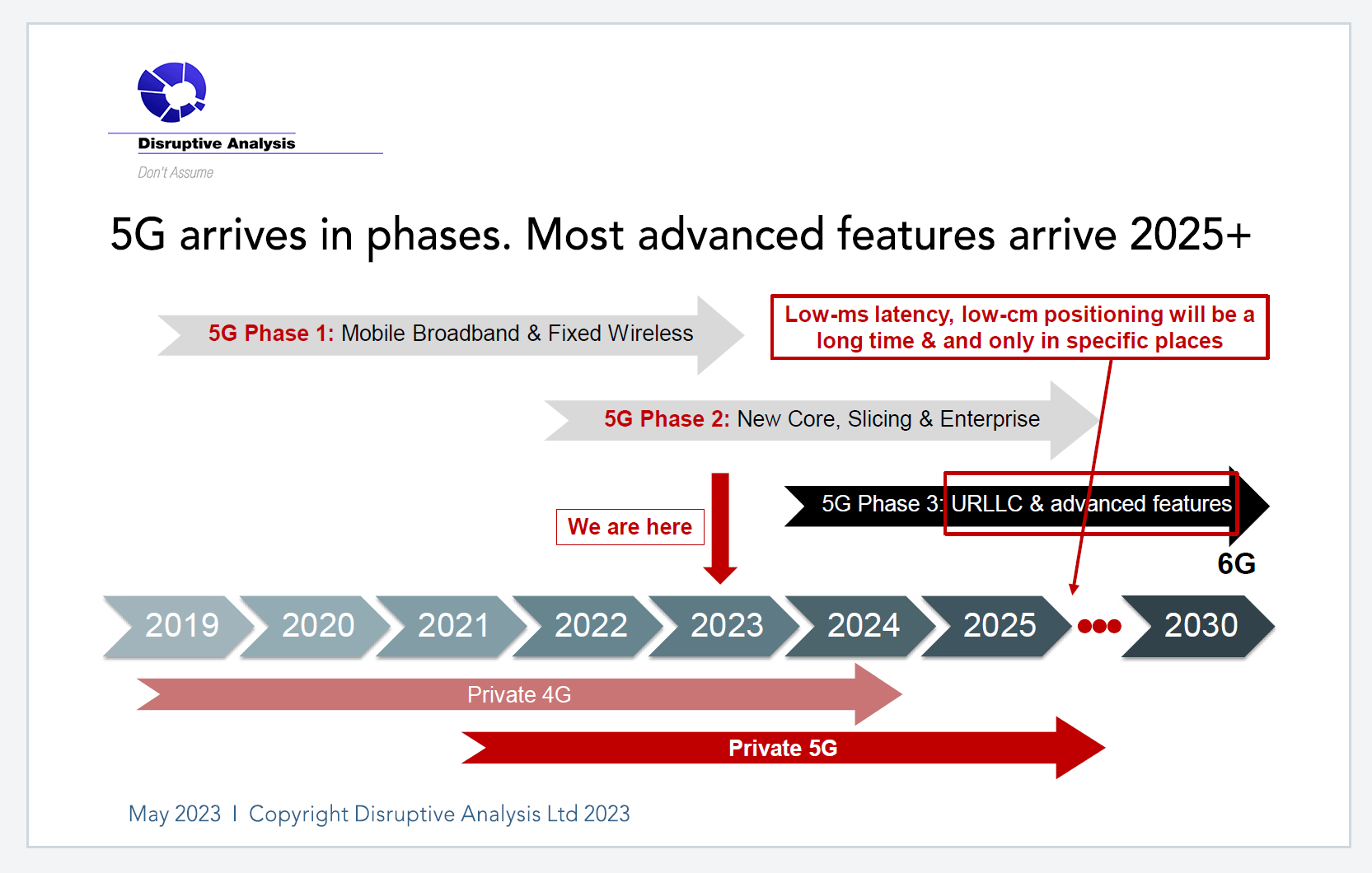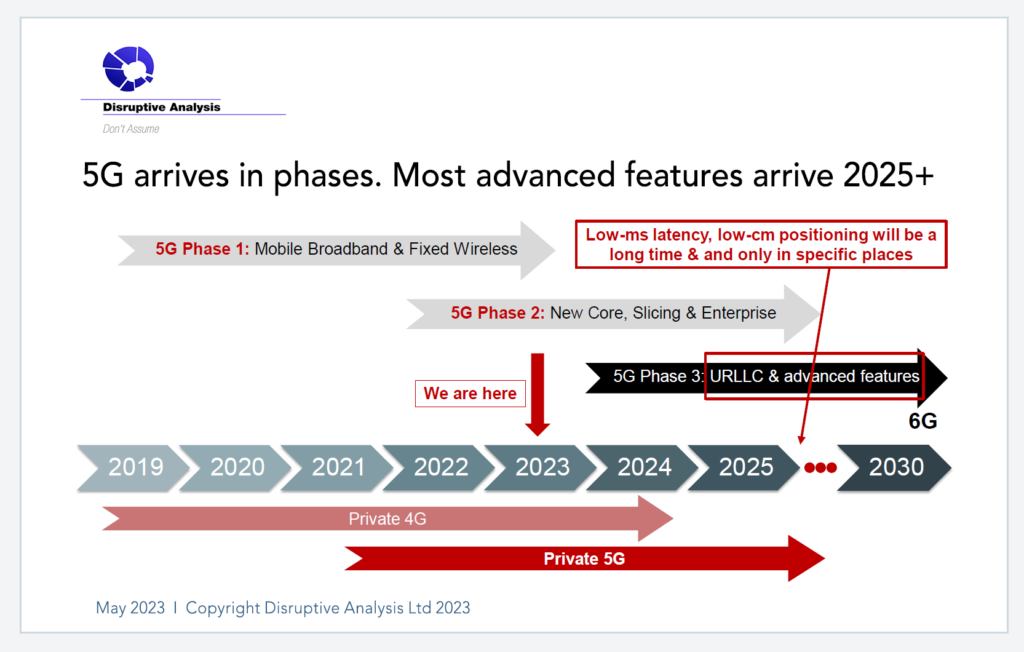 Enterprise Needs are Highly Fragmented
5G—and especially private and on-campus 5G—is entering a highly complex and crowded marketplace. Compared to the early days of enterprise connectivity, many of its potential use-cases aren't new. All company employees already have wireless devices, while most machines, computing platforms, and IoT systems have existing wireless or wired connections. While industrial transformation is bringing in new systems and applications, 5G will need to compete with, or substitute, alternative options.
In addition, due to 5G's broad ambition, it will have very different deployment scenarios and economic considerations depending on the industry and type of facility involved. Certain sectors will primarily focus on human mobile-broadband, particularly smartphones, while others will prioritize 5G for industrial automation, safety/security, or possibly content-streaming.
Warehouses, retail sites, manufacturing plants, hospitals, transport hubs, universities, shared-office spaces, and other locations will have increasingly varied wireless requirements and diverse network infrastructure requirements. Coupled with other adjacent technology changes, Disruptive Analysis expects to see "vertical-specific" expertise and integration/implementation to come to the fore.
Apart from the detailed coverage of industry sectors later in this eBook, it is beneficial to consider 5G scenarios across a few different dimensions:
These factors determine if 5G is appropriate for a given use-case and if it's likely to be the only wireless technology used. Later in the discussion, we explore situations where multiple technologies are utilized simultaneously.
Application Scale and Scope
Enterprises require connectivity for applications that operate at different scales, ranging from short distances between local devices to expansive campuses and plants spanning kilometers. They also require connectivity for global supply-chains and processes spanning multinational or multi-site operations.
Currently, 5G networks seem best-suited to campus-scale deployments, or very large individual buildings like warehouses, automotive production-lines, or airport hangars. Campus-scale deployments include examples such as shipping ports, mines, oil and chemical plants, wind-farms, universities, or railway container-yards.
At smaller sizes, connectivity can often be enabled by fiber and ethernet, or Wi‑Fi connections. On a larger regional or national scale, 5G coverage may be inconsistent and complemented by 4G networks. There may also be areas with limited coverage ("white spots") where applications, such as those in vehicles, have to work offline until connectivity is restored.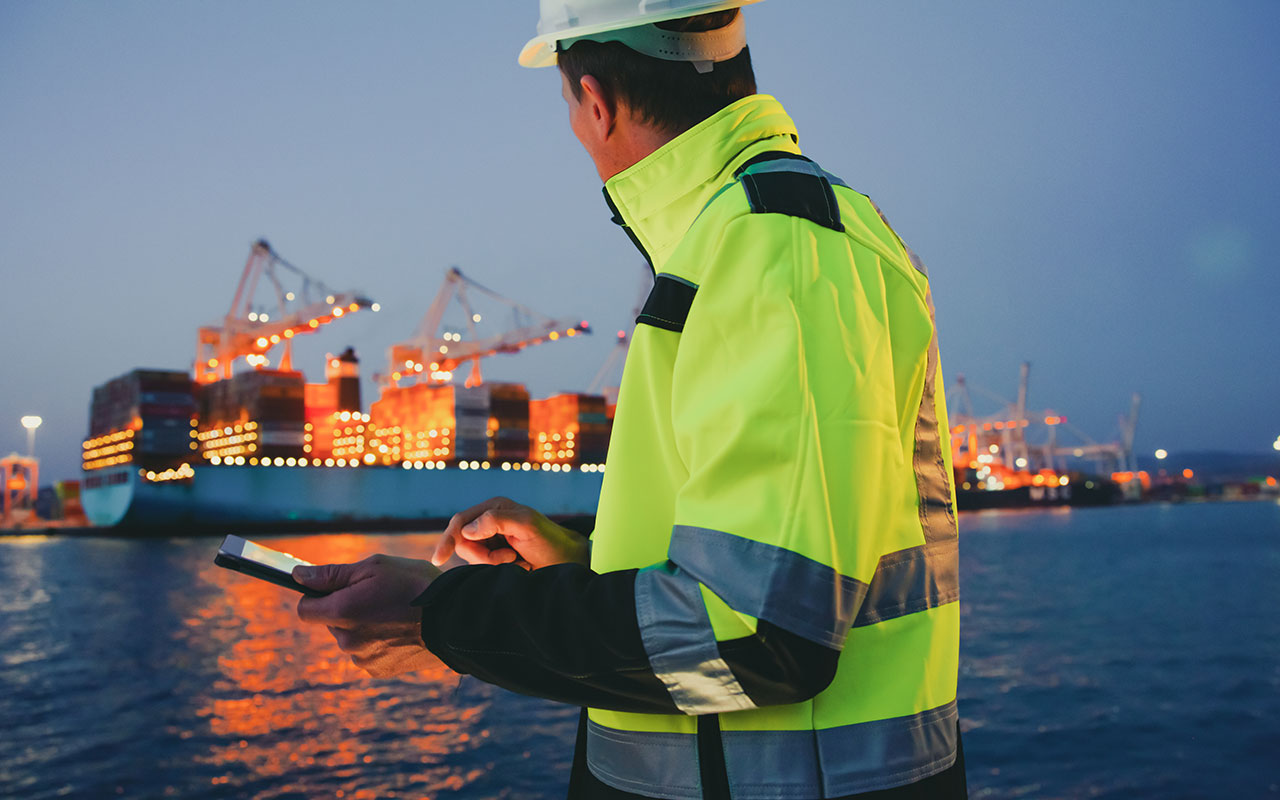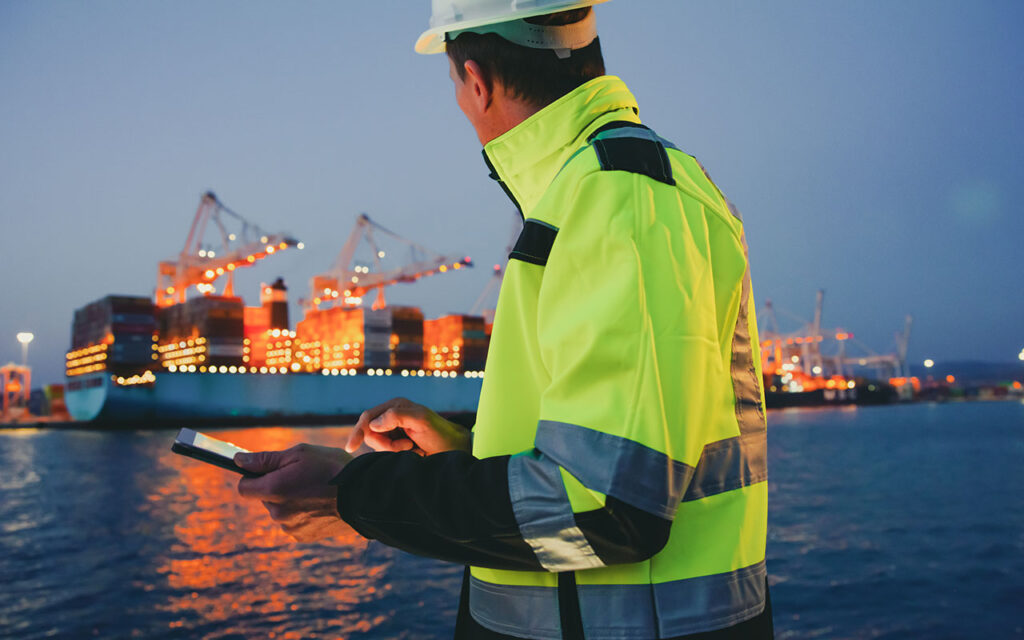 Indoor & Campus Coverage
Understanding whether a given application is used outdoors, indoors, or both is a critical determinant of 5G's usefulness in enterprise. In many cases, the enhanced capabilities of 5G require higher frequencies, which often face challenges in terms of signal propagation, especially in enterprise buildings that extensively use materials like concrete, reflective glass and metalwork.
Outdoor usage plays to cellular networks' strengths. Often, it's deployed in spectrum bands with higher permitted power limits, giving a greater range from each base station. This in turn simplifies backhaul, as it means fewer locations that need fiber or microwave connections. It's well-suited to vehicles and mobility.
On the other hand, indoor usage of 5G requires careful planning, design, and potentially dedicated engineering and custom installations. Due to the unpredictable outdoor-to-indoor signal characteristics, mobile network operators (MNOs) often cannot rely solely on their primary "macro" 5G radio networks. Instead, they must establish localized coverage or extensions. This may impact the cost-effectiveness compared with alternative technologies such as Wi‑Fi and limit the use of 5G use to scenarios where it offers clear advantages, rather than as a general-purpose technology.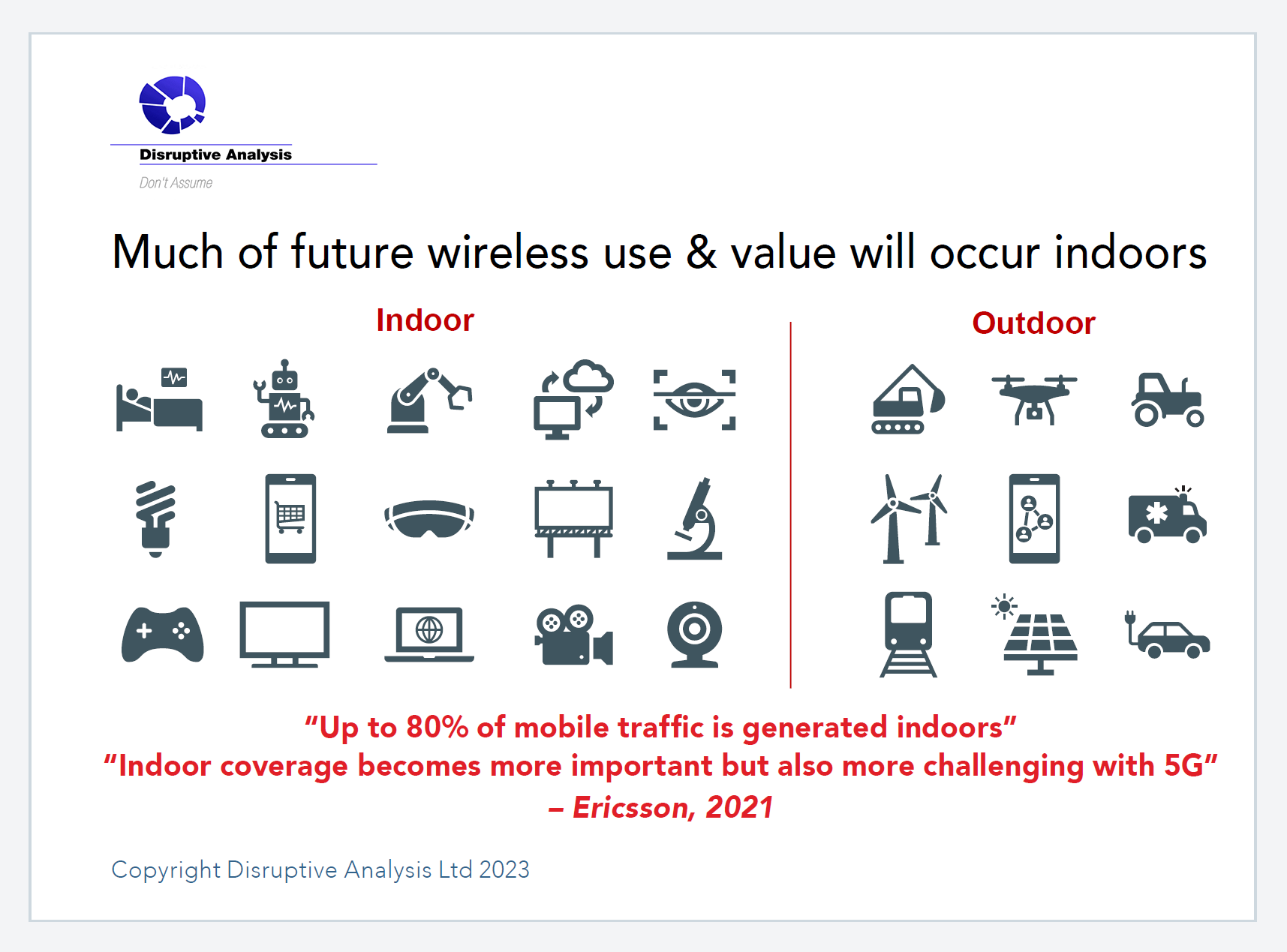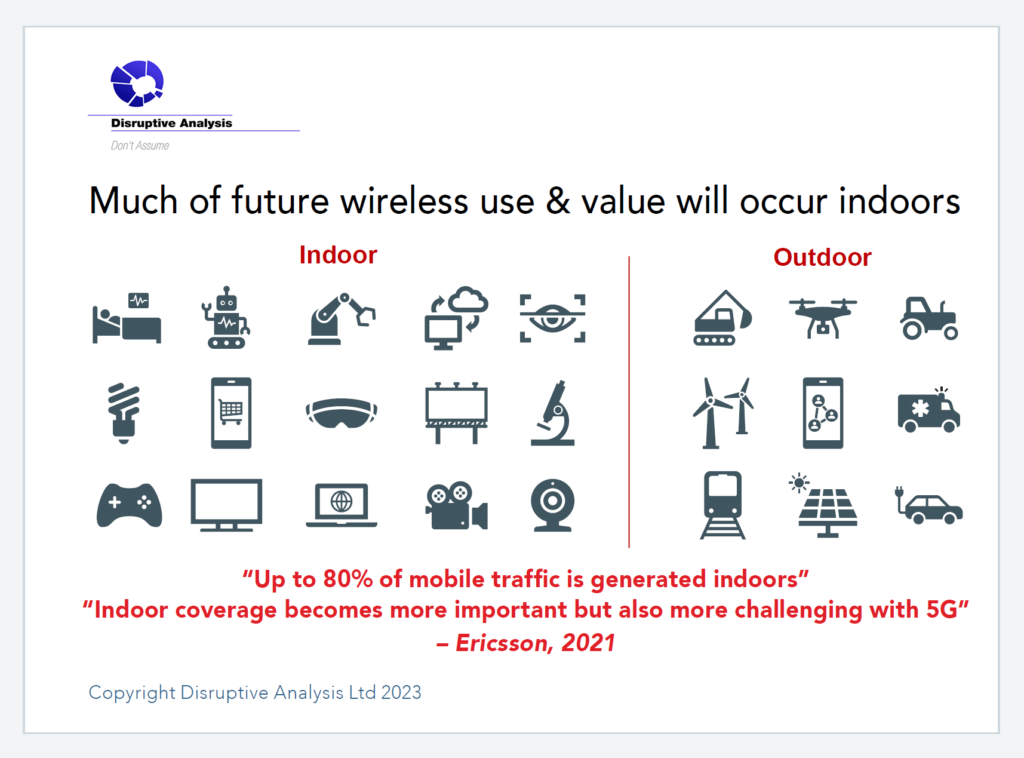 Greenfield vs. Brownfield
Another factor which will determine the viability of 5G and the extent of multi-technology connectivity is whether a given site is "greenfield" (newly built) or "brownfield", (existing facilities are upgraded or incremented with new IT and OT systems).
Common examples of greenfield sites are newly established warehouse and logistics hubs, "gigafactories" for electric vehicles and batteries, wind and solar energy sites, as well as significant construction projects like airport terminals or urban regeneration districts.
Brownfield developments include enhanced connectivity for existing ports, university campuses, railways stations, established manufacturing sites and oil/chemical plants.
When designing new facilities, there is an opportunity to start fresh and consider the current and future capabilities of 5G, Wi‑Fi, and other available options. Handhelds, vehicles, and industrial systems can be specified with up-to-date connectivity options, while also being designed for ongoing upgrades to future standards.
Many existing locations already have a wide range of legacy connectivity solutions in place, such as TETRA/P25 radios, wired ethernet and fiber, older Wi‑Fi systems, and possibly various proprietary industrial wireless networks. Often these systems can be gradually upgraded with 4G/5G or transitioned over time, but it is unlikely that they will be entirely replaced overnight.
Device Availability
An important factor in enterprise adoption of both public and private 5G is the availability of suitable devices. Smartphones typically support a broad range of frequencies (with some regional variations), but there are fewer available IoT and industrial-grade devices, especially for the less common bands sometimes used in private 5G networks. There are even fewer chipsets and products that support later versions of 5G, with features from later releases.
Another consideration here is power consumption. Typically, cellular radios consume considerably more energy than low-power local networks such as Bluetooth or Wi‑Fi. For battery-based devices such as sensors, this represents a significant obstacle to cellular use. Power consumption may be partially offset by low-power cellular variants such as NB-IoT, although these have additional constraints.
These factors may drive the use of combined and hybrid "two-stage" networks. For instance, using 5G gateways for vehicles or campus out-buildings, followed by a secondary connection like Wi‑Fi, Bluetooth or other means to connect individual end devices.
Horizontal Use-Cases
While much of the enterprise 5G conversation revolves around industry groups ("verticals") there is a fair degree of commonality across use-cases in multiple sectors.
These "horizontals" are attractive for vendors, integrators, and service providers, as they give the potential for creating replicable solutions, driving scale and experience economies.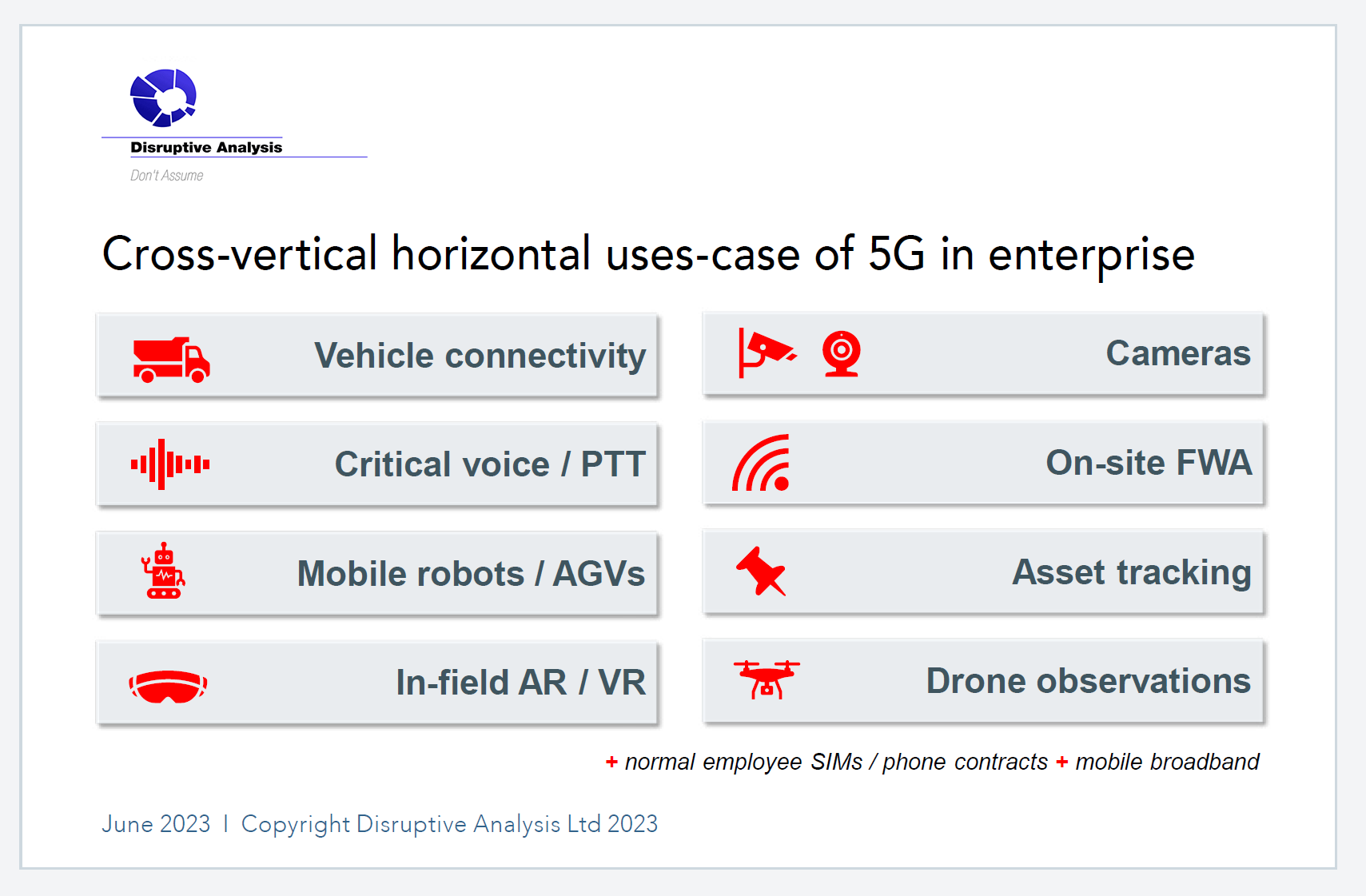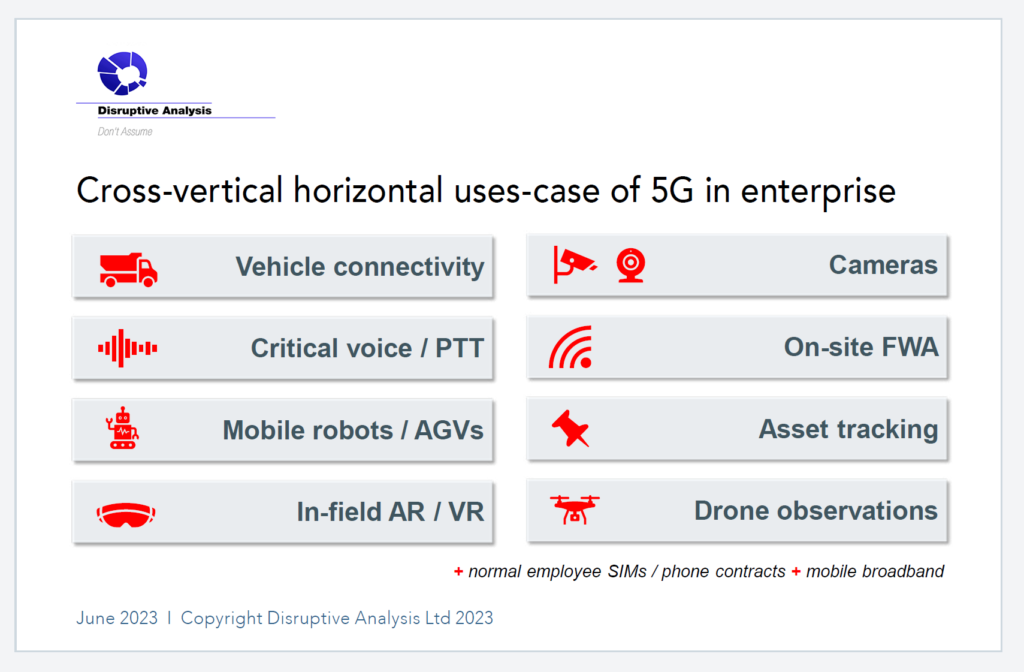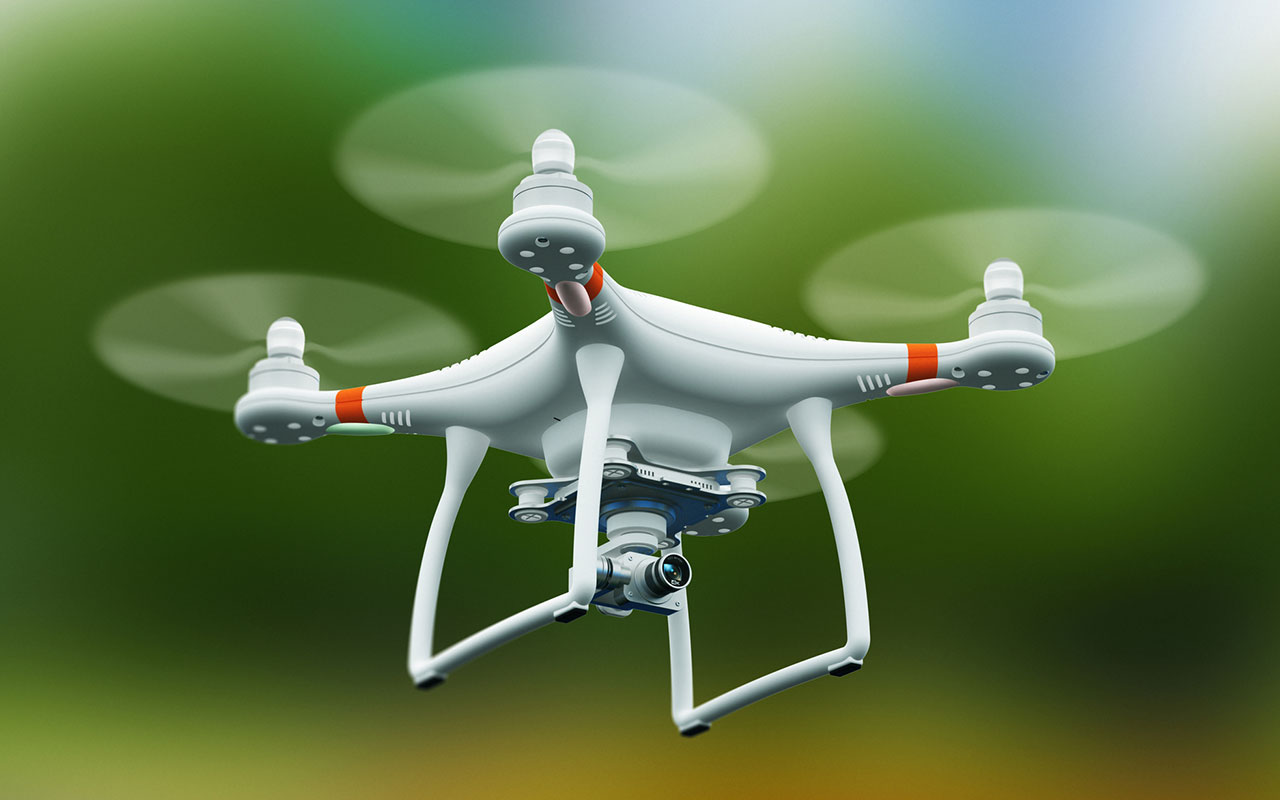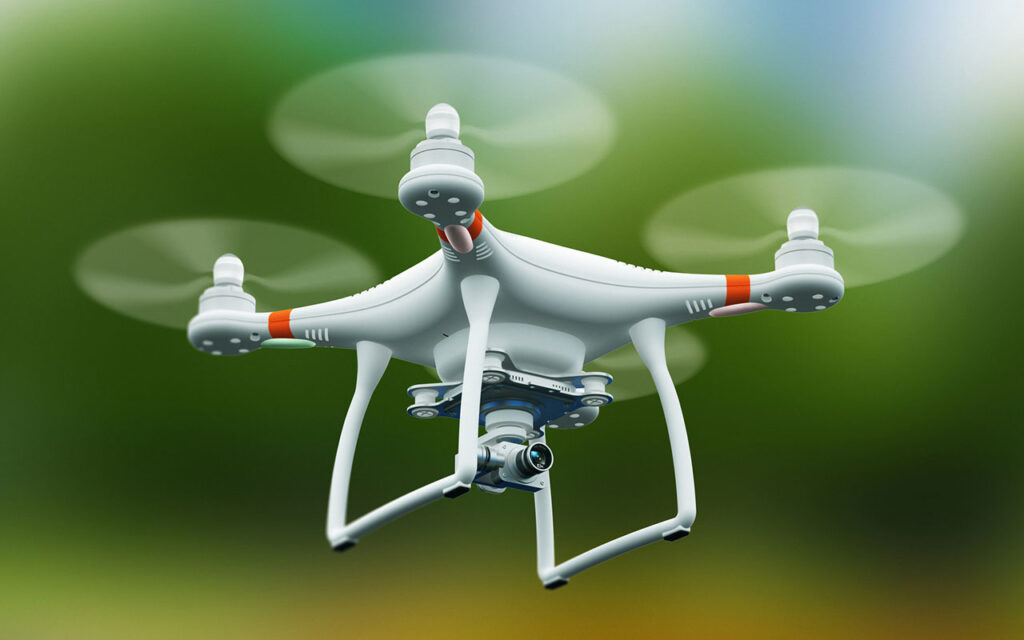 Vertical-Specific Drivers, Use-Cases & Practicalities
Mining
Mining is a huge and important sector. It generates around $2 trillion in revenues globally, employing 20 million people across 50-100,000 sites around the world. Some parts of the industry are dominated by giant multi-national mining companies, while other minerals tend to be more localized and involve smaller, national firms.
There are many sub-sectors and site types. Key domains using wireless networks include both underground mines and open quarries, transportation facilities, permanent buildings such as office and accommodation blocks, processing plants, and vehicle maintenance.
Mining operations, which are typically conducted in harsh environments, both above and below ground, require high-performance wireless connectivity. They may have multiple risk factors, dynamic and often "unplannable" working environments, and high levels of mechanisation—and, increasingly, automation.
The mining industry faces a broad set of underlying trends and transformation drivers, shifting it towards connectivity and especially wireless networks such as 5G. Various terms such as "Connected Mining" or "Smart Mining" are used to describe the transformation and adoption of new classes of information and operational technology (IT / OT) and the networks that support them in mining.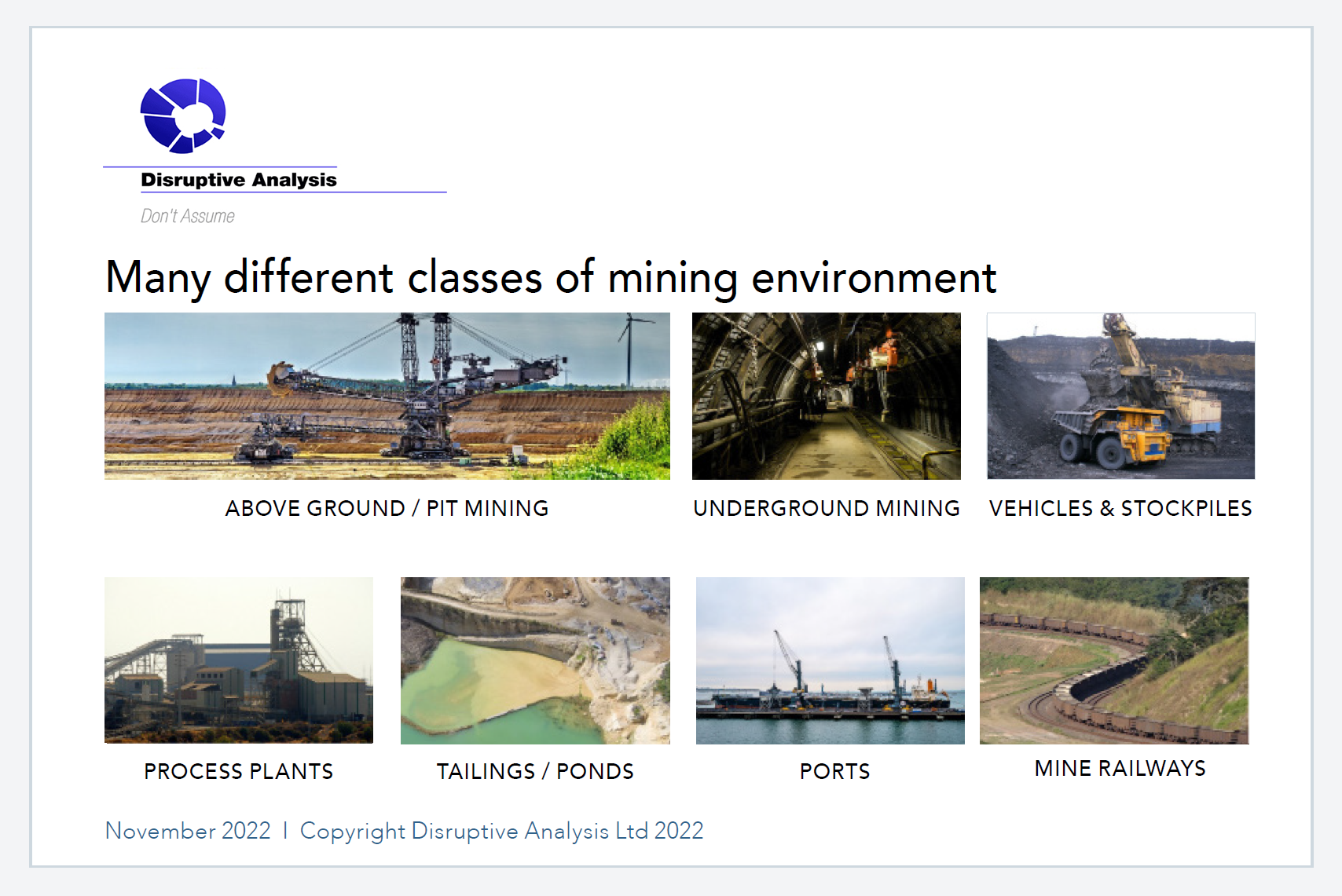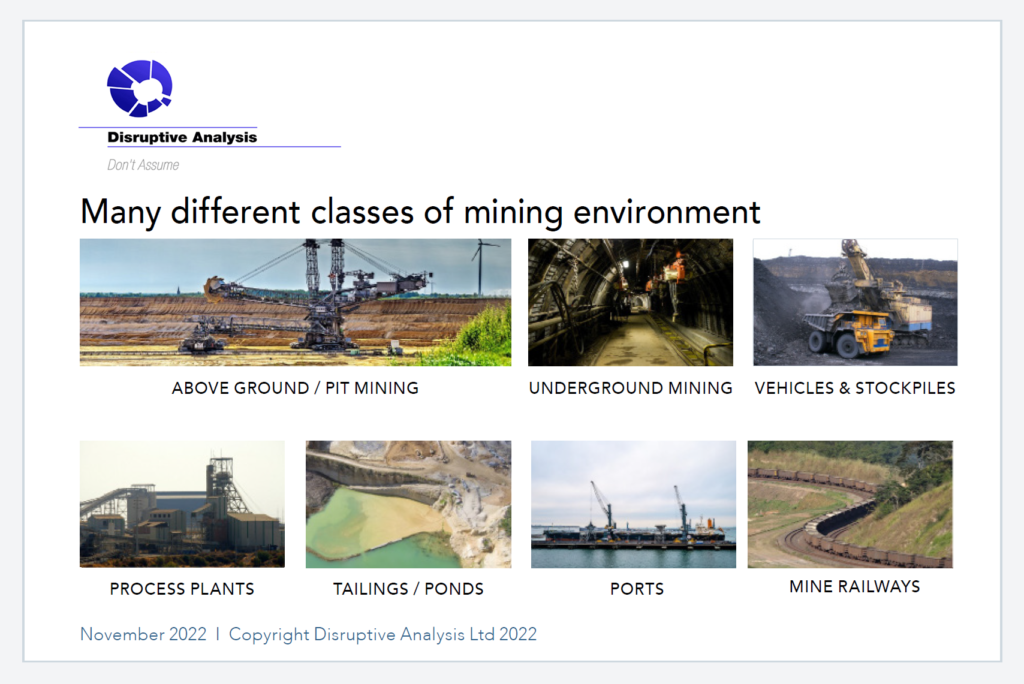 Key trends include: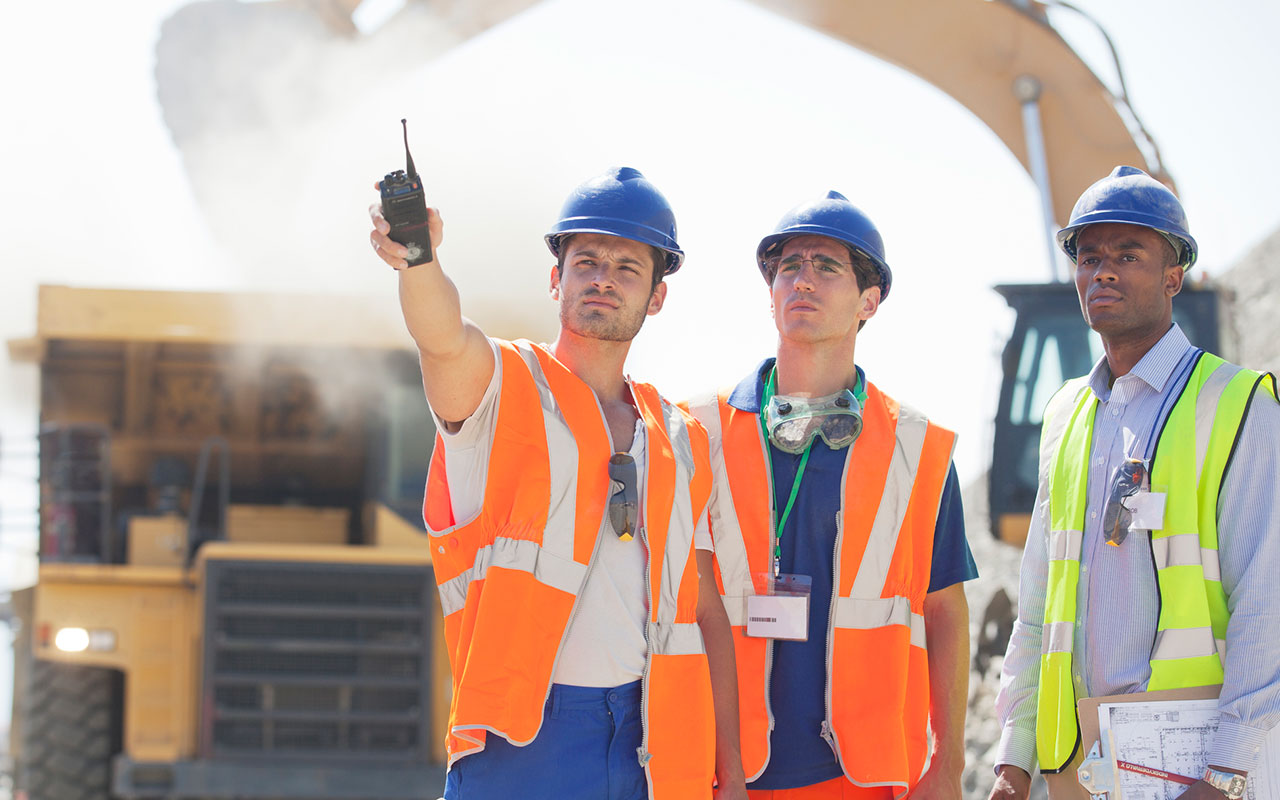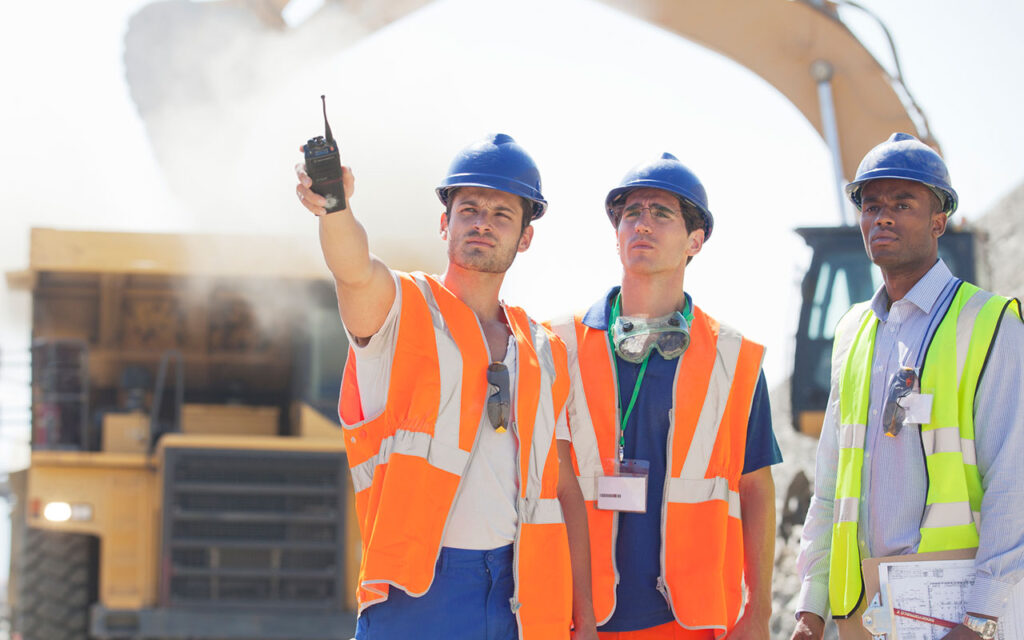 Examples of 5G use-cases, which align with these underlying drivers, include:
Mining is a sector with diverse networking needs. In addition to 4G/5G, trunked radio systems like TETRA and P25 are utilized for personal communications. Mesh wireless is widely adopted for IoT applications, while Wi‑Fi is employed for enterprise purposes. Satellite links are extensively used for wide-area connectivity. Some industrial systems rely on proprietary wireless connectivity. Fiber is deployed in areas where it can be safely and permanently installed.
Energy and Utilities
The utility and energy sectors have some of the most demanding requirements for communications networks of any industry vertical. They're fundamental parts of every country's national infrastructure, with intense requirements for uptime, reliability, and security. Many areas have health-and-safety impacts, both directly, such as grid short-circuits and fuel leaks, or indirectly, by outages impacting healthcare equipment, or water supply. In addition, other communications networks—including most fixed and mobile carriers—are themselves dependent on reliable power supply.
The sector is diverse in scale and scope, spanning from small local facilities to nationwide grids, plus highly mobile field workers and vehicle fleets.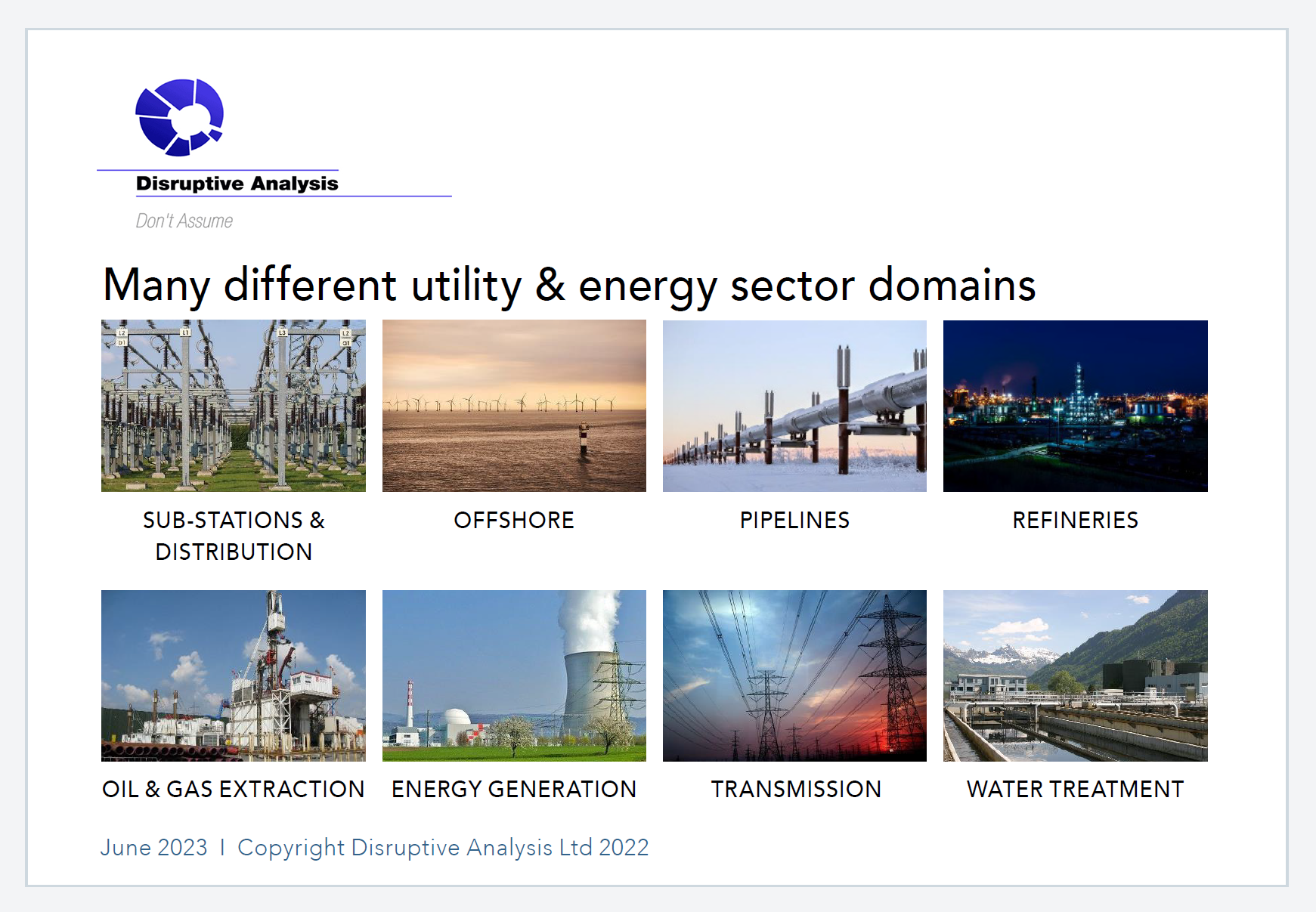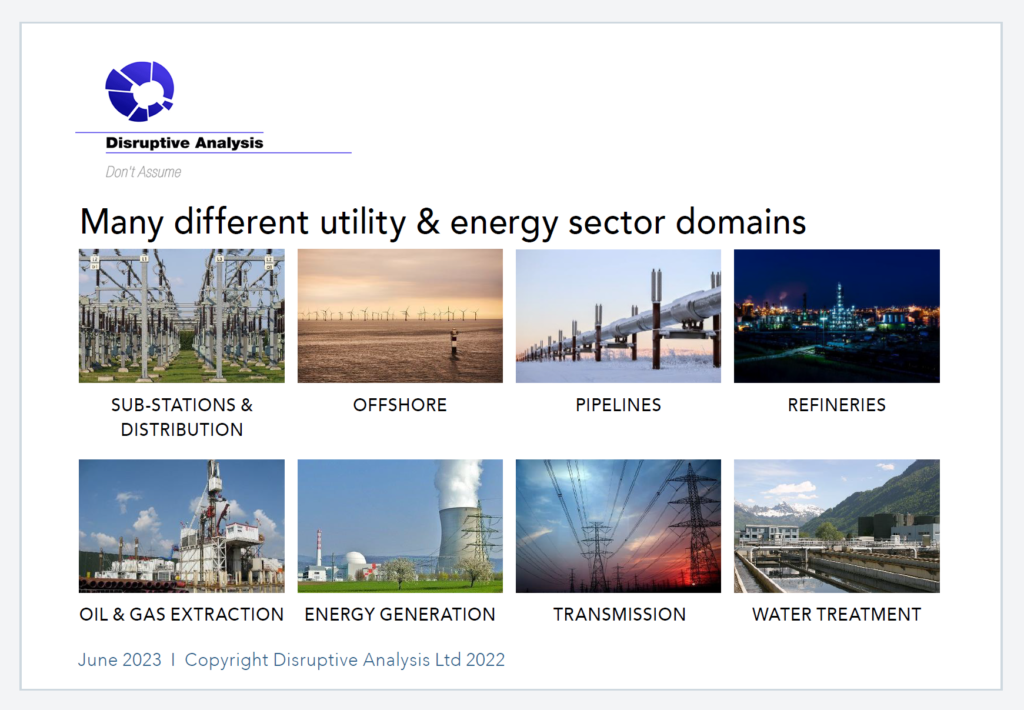 Key domains covered in this sector include:
The main underlying drivers for connectivity and 5G reflect several top-level national and global challenges. These include: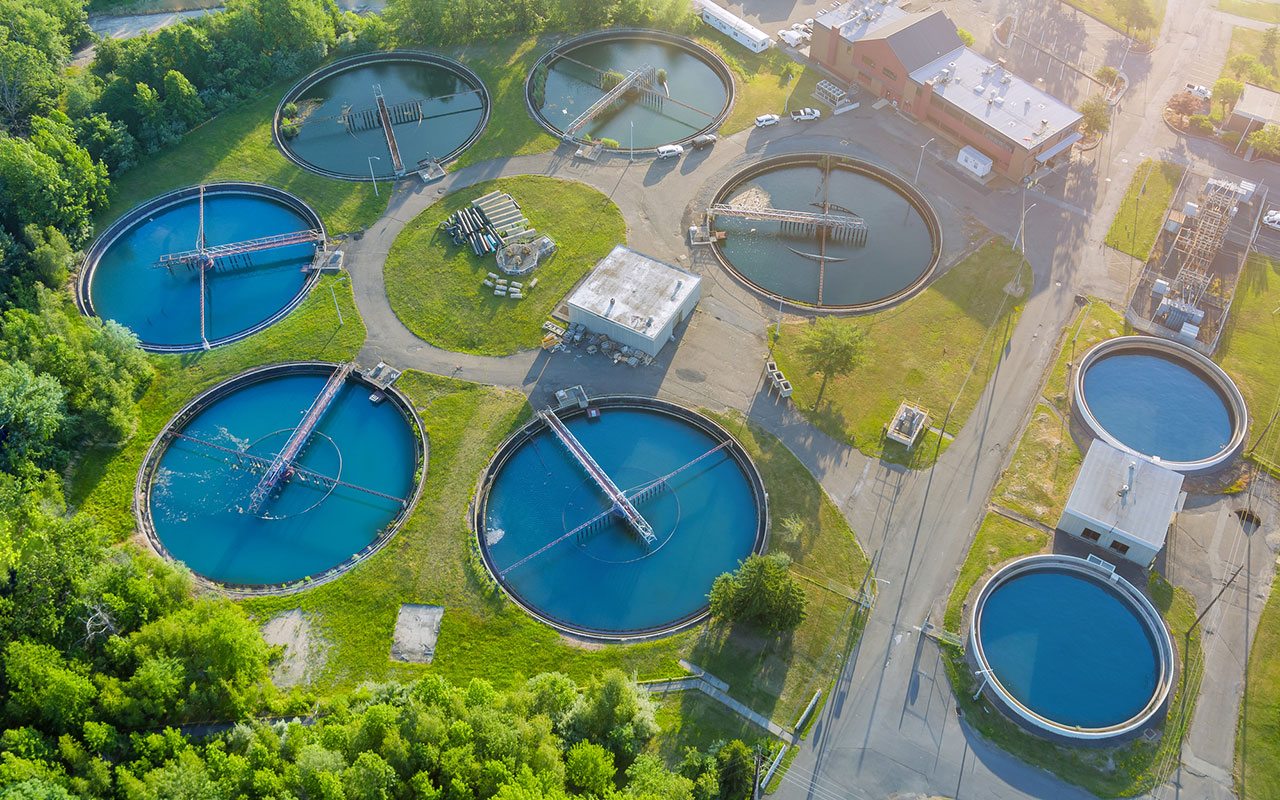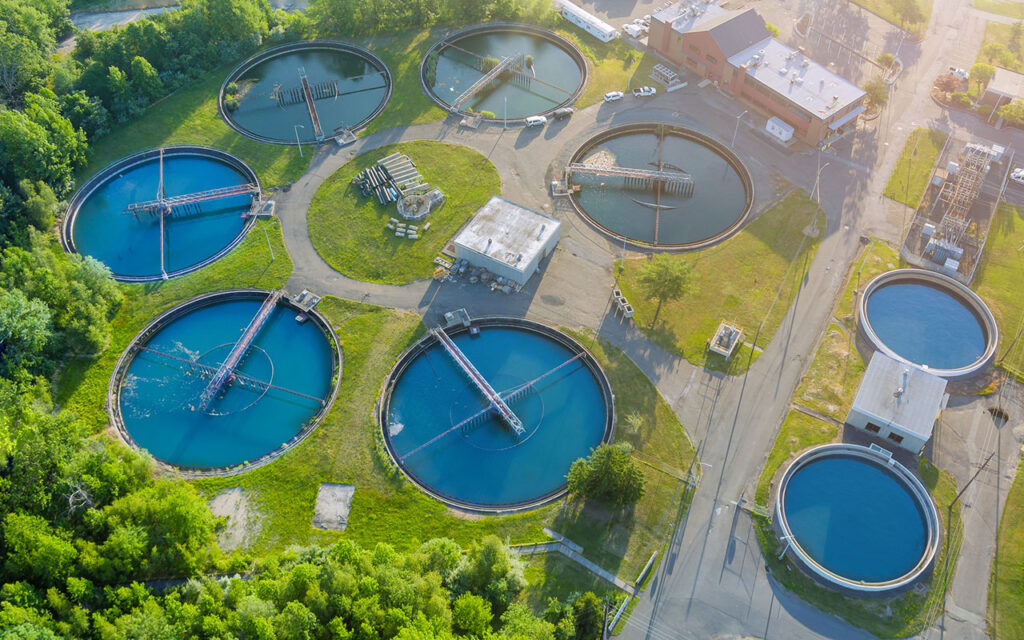 Addressing these trends, some of the key 5G use-cases include:
While 5G is still relatively new for the sector, it is becoming increasingly viewed as the preferred wireless platform of choice, especially across medium and wide-area deployments. For now, there's still wide use of 4G, but that is expected to migrate over coming years. Often, equipment and other assets are in locations without suitable public network coverage, or with limited connectivity from legacy technologies.
Oil and gas
The hydrocarbon sector is a huge user of wireless networks—and networked IT systems more broadly—on a global scale. Although its future development is gated by the shift towards Net Zero, there will be a lengthy transition period, involving more natural gas production, implementation of carbon capture and eventually rehabilitation of decommissioned sites.
Multiple domains exist within the industry:
All parts of the oil and gas industry are becoming more automated, more instrumented with sensors and cameras, and more security conscious. The upstream oil industry has always been a huge generator of data, from seismic and other surveying tools. However, operations have been hugely expensive, especially in remote or offshore locations. Realtime connectivity for personnel, IoT sensors, and connected devices can enhance productivity and safety.
The industry is experiencing an increasing adoption of robotics for automated tasks like pipeline inspections. Additionally, video is being utilized in various ways, including security surveillance, anomaly detection (such as leak detection), and collaborative communications for maintenance and other tasks. The use of drones, AR/VR, and other advanced connected systems is expanding.
Many oil and gas facilities are ideally suited for private 4G/5G networks, typically ranging from 1 to 10 kilometers in size. These facilities are often situated in areas with limited public cellular coverage.
These include:


Wireless connectivity is often essential due to the extensive areas used for oil production and pipelines, as well as the frequent mobility of many personnel and vehicles. 5G (as well as satellite and other networks) is increasingly important for numerous use-cases, although 4G remains a core technology in many instances.
Some of the principal specific 5G use-cases include:
Manufacturing
The manufacturing sector is one of the most promising industries for emerging private LTE and 5G networks along with related technologies like Wi‑Fi6E/7 versions. Companies are deploying many applications with extremely demanding requirements for wireless connectivity in terms of bandwidth, predictable latency, security, and uptime.
Manufacturers, with their well-defined sites and an expanding supplier ecosystem, are quickly emerging as a primary focus for private 5G vendors, solution integrators, and specialized units within traditional MNOs.
The key domains covered within the scope of "manufacturing" include: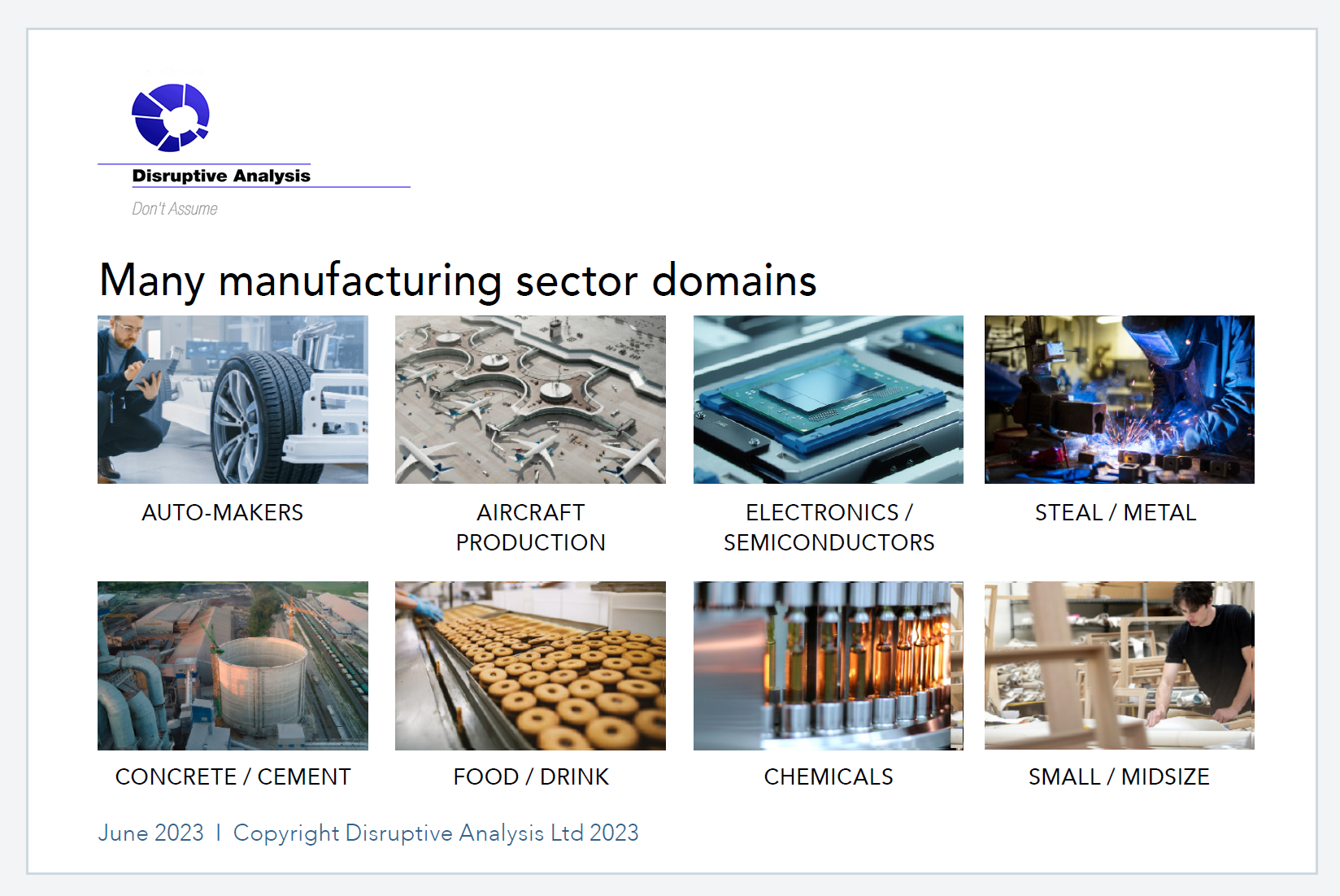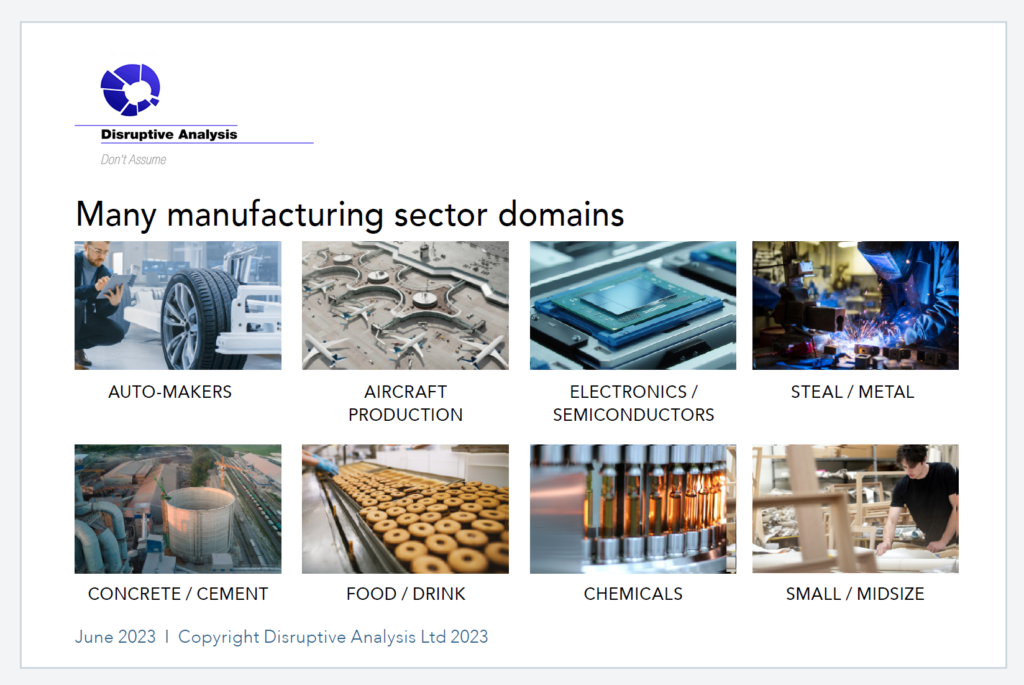 These span a wide variety of building and site scales, from small light-industrial facilities, to huge campus sites with multiple factory buildings and warehouses. Manufacturing sites may be large-scale plants with stockpiles and heavy transportation functions such as rail terminals.
Some sub-sectors, such as large and highly automated factories producing vehicles or electronics, seem to be most advanced in the adoption of advanced wireless systems. Continual-process plants such as cement and steel production have less adoption so far, but significant medium-term potential. Smaller-scale or artisanal manufacturing will likely lag.
Unlike many industries, some manufacturing firms have long had sophisticated network infrastructure that is often integrated with IoT and automation systems (referred to as "OT" or "Operational Technology"), in addition to addressing conventional IT and telecoms requirements. Historically, there's been wide use of specialist technologies such as Industrial Ethernet, as well as a variety of niche and proprietary wireless systems.
Key "megatrends" for manufacturing, which drive demand for IT, OT, and IoT systems and associated networks, include:
5G use-cases in manufacturing include:
Transportation and Logistics
The transportation and logistics sector holds immense potential for LTE and 5G networks, along with other related technologies like edge computing and the latest versions of Wi‑Fi6E/7. It offers opportunities for MNOs and private networks, although some instances are challenging to address for traditional service providers.
Transportation and logistics is a very diverse sector, spanning both scale and scope, as well as a wide array of sub-sectors. It covers everything from fulfillment warehouses to national rail networks, as well as ports/airports. Trucking, aviation, and maritime connectivity take the wireless demands well beyond national borders and beyond the reach of terrestrial cellular or Wi‑Fi networks.
The logistics and transport industry is transforming because of a wide variety of industry trends and challenges. These drive demand for 5G both directly and indirectly.
There are many new applications, with demanding requirements for wireless connectivity in terms of bandwidth, predictable latency, security, and uptime. Automation, robotics, worker safety and critical communications use cases are at the forefront of transformation efforts.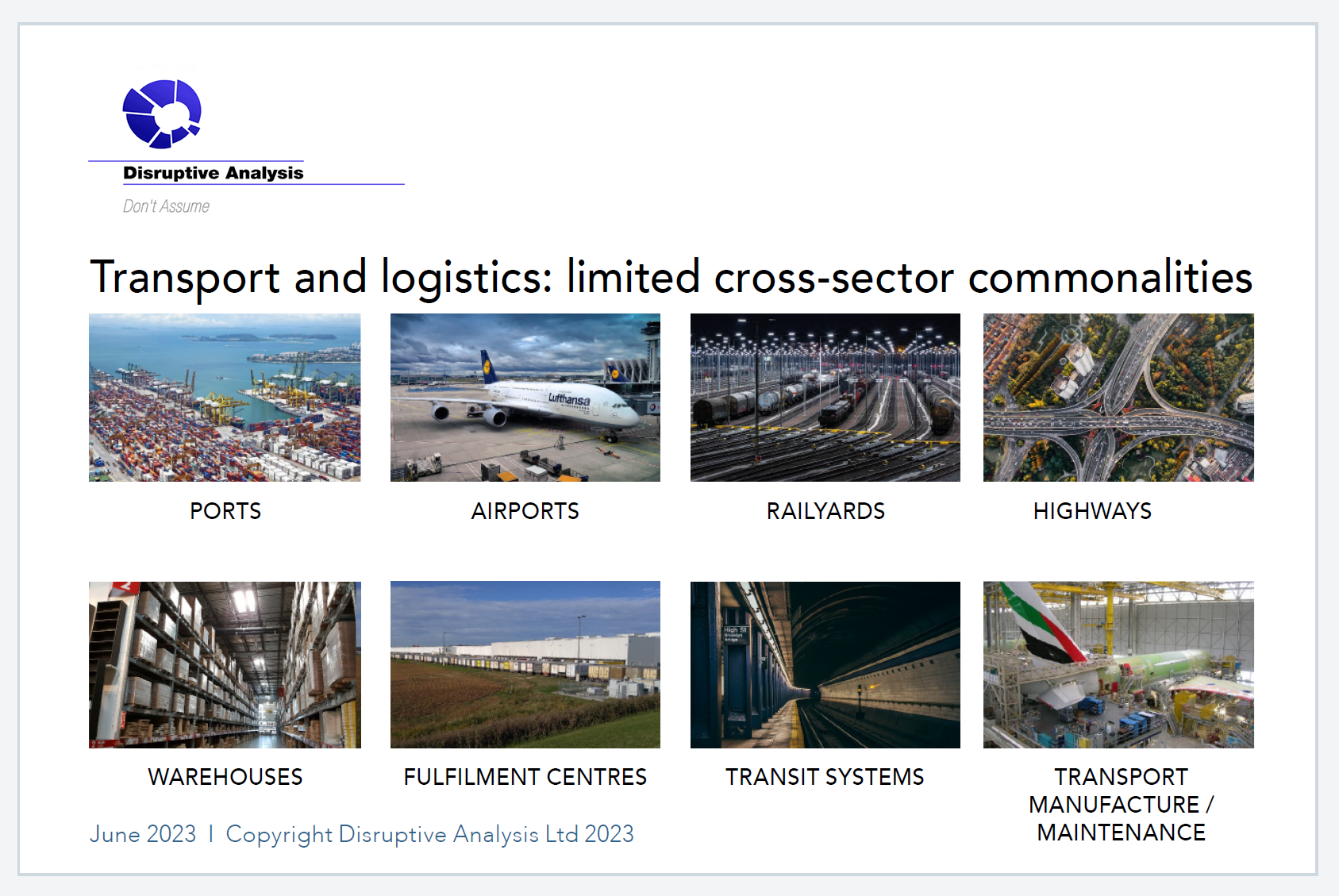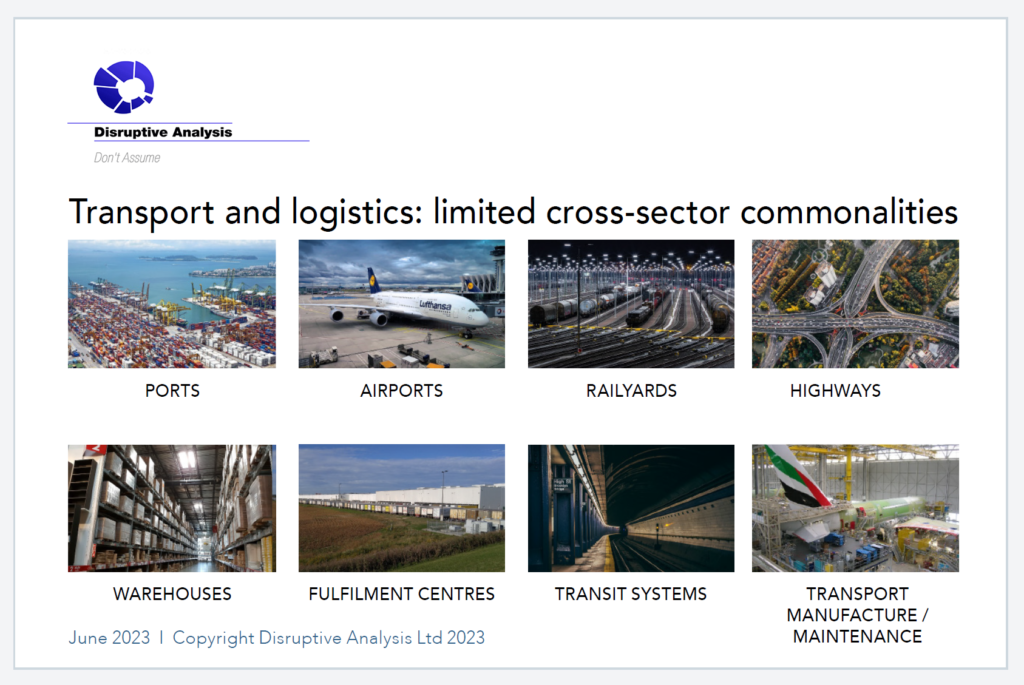 Example use-cases of 5G include:
Ports, airports, and warehouses/fulfillment centers are leading the way in adopting advanced technologies. Additionally, railway stations, major aviation/marine manufacturers, and other entities are showing considerable interest. However, highway agencies, railway networks, and municipal transit systems have been slower in embracing these advancements. Nevertheless, they are beginning to show more interest in neutral-host infrastructure and upcoming specialized versions of 5G designed for vehicle-to-vehicle communication or next-generation rail connectivity.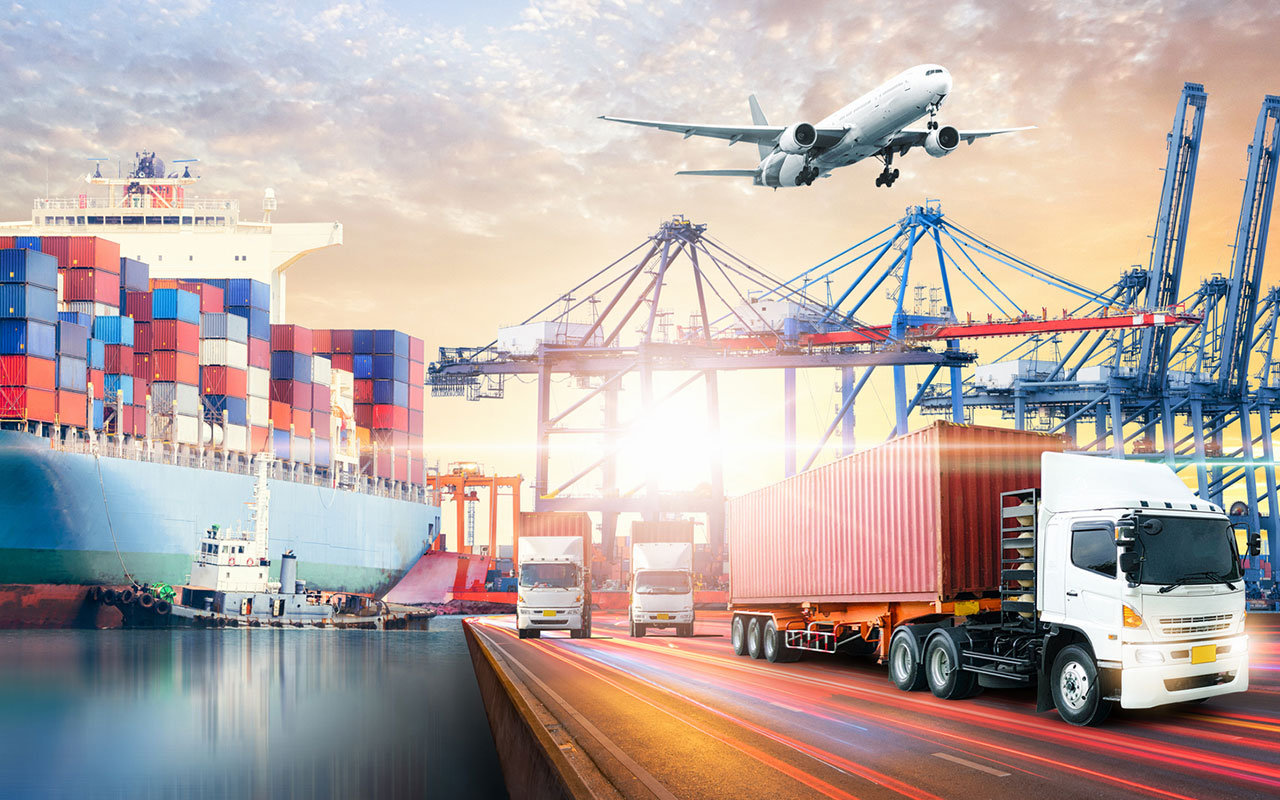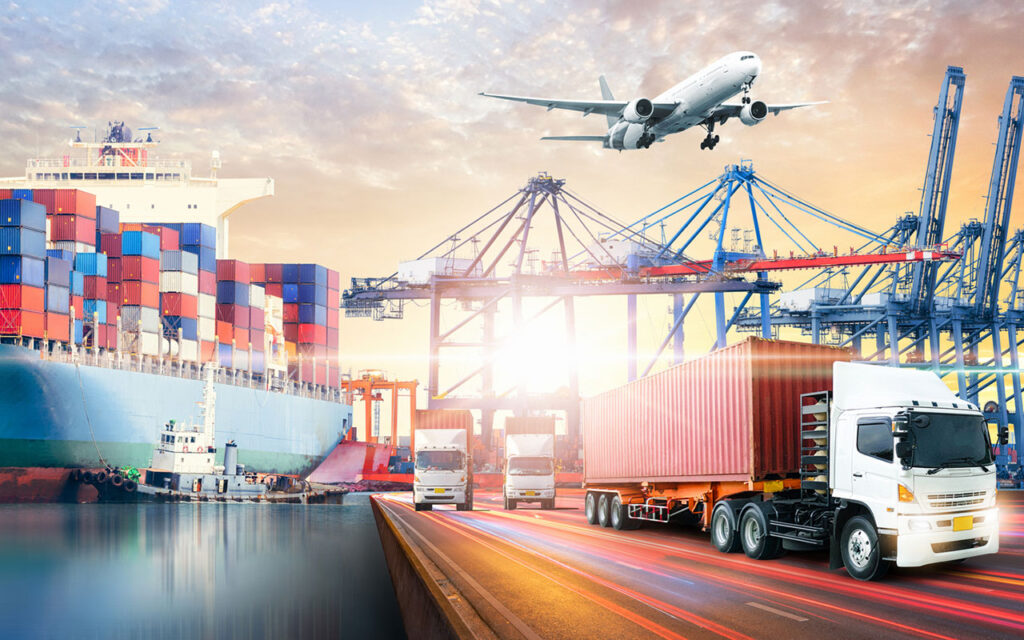 Higher Education Campuses
Even though higher education may appear more uniform compared to other sectors discussed here, it still encompasses various types of physical site types, buildings and sub-sectors. There are also different institutions involved in operating universities and colleges, as well as providing funding for networks and connectivity.
The sector includes:
University education has witnessed the emergence of several significant trends and issues that are prompting investments in on-campus IT infrastructure, including networks such as 5G and wireless systems.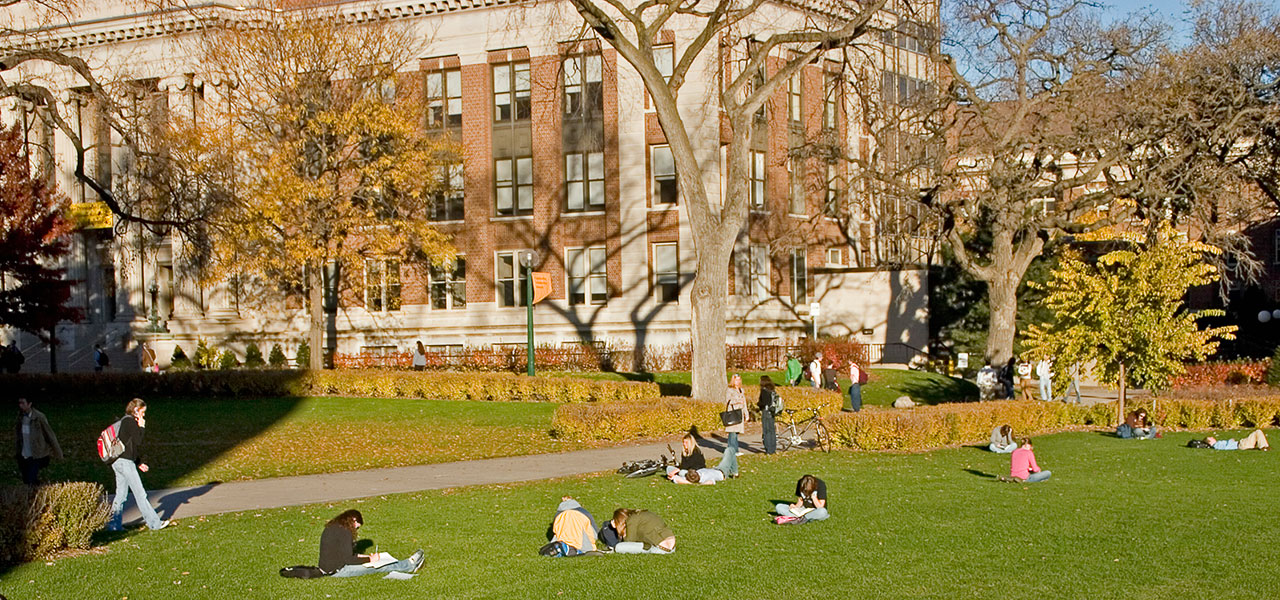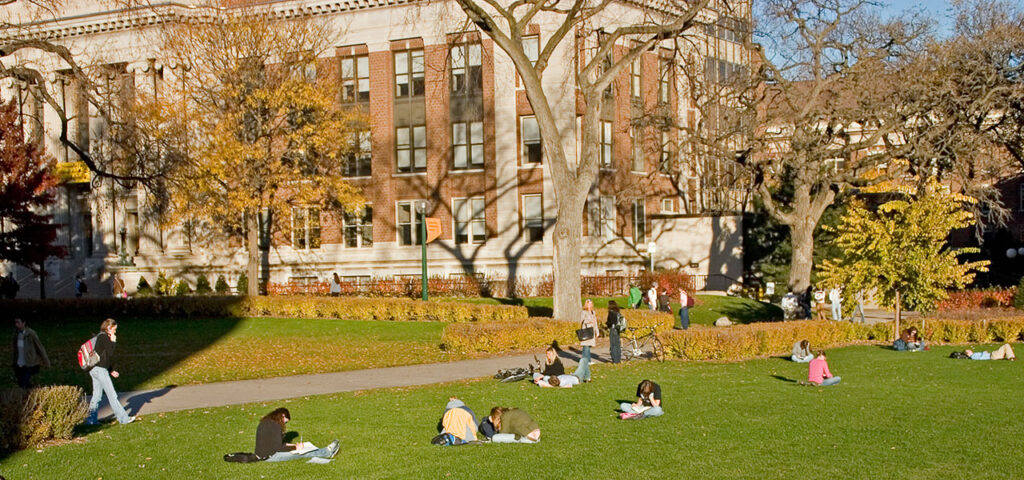 These include:
Examples of 5G use-cases include:
Designing & Integrating Multiple Technologies
Most companies and sites will utilize a diverse range of connectivity solutions, even though the previous sections have outlined potential use cases that can be supported with 5G wireless. They can be kept separate, converged fully, or blended in various hybrid forms.
This section discusses the reasons for deploying and operating multi-technology infrastructures, the typical use-cases, and the most common combinations.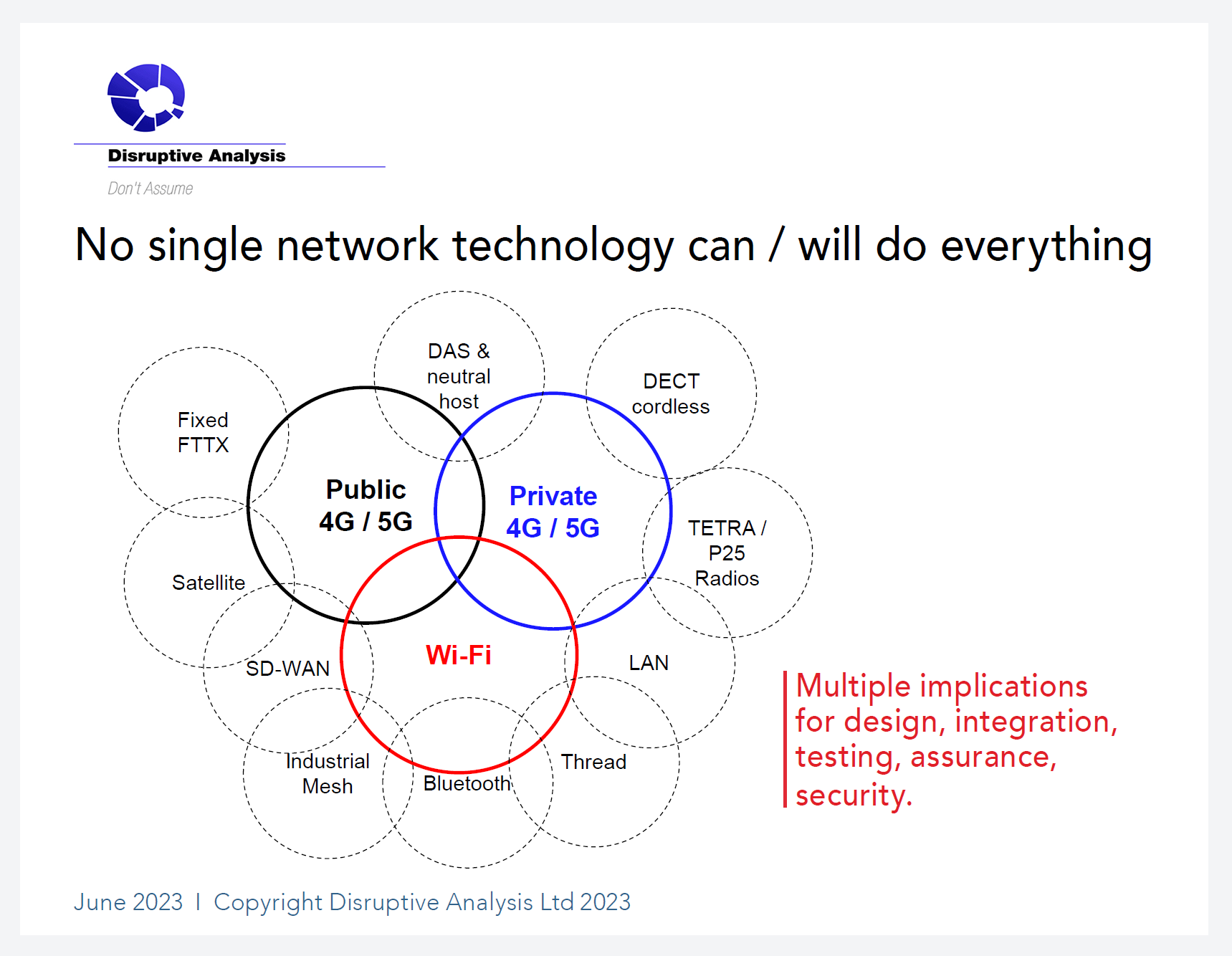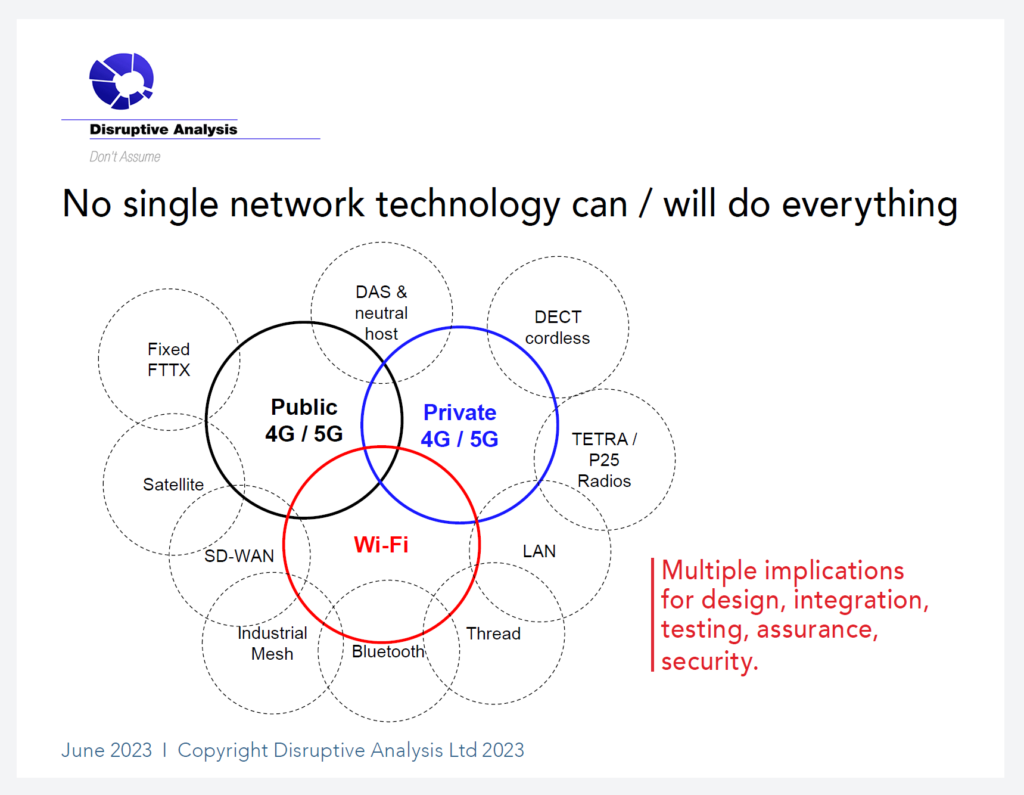 This is not simply a question of choosing between public 5G (delivered via an MNO's main national network) vs. private 5G (with a dedicated system). Although its high-profile marketing has suggested that 5G can be suitable for anything wireless, the real world of enterprise connectivity is much more complex. There are many other technologies – most obviously Wi‑Fi, but also numerous IoT-dedicated systems and others – which are also evolving quickly.
Ultimately, there are relatively few applications that can only be delivered with 5G, whether that is provided by public or private networks. Although the idea of a 5G "monoculture" may seem appealing to some, the truth is that there are various commercial, technical, practical, and, in certain instances, regulatory constraints that need to be considered. These constraints include:
Key use-case scenarios for multiple networks
Typical use-cases for multiple networks include: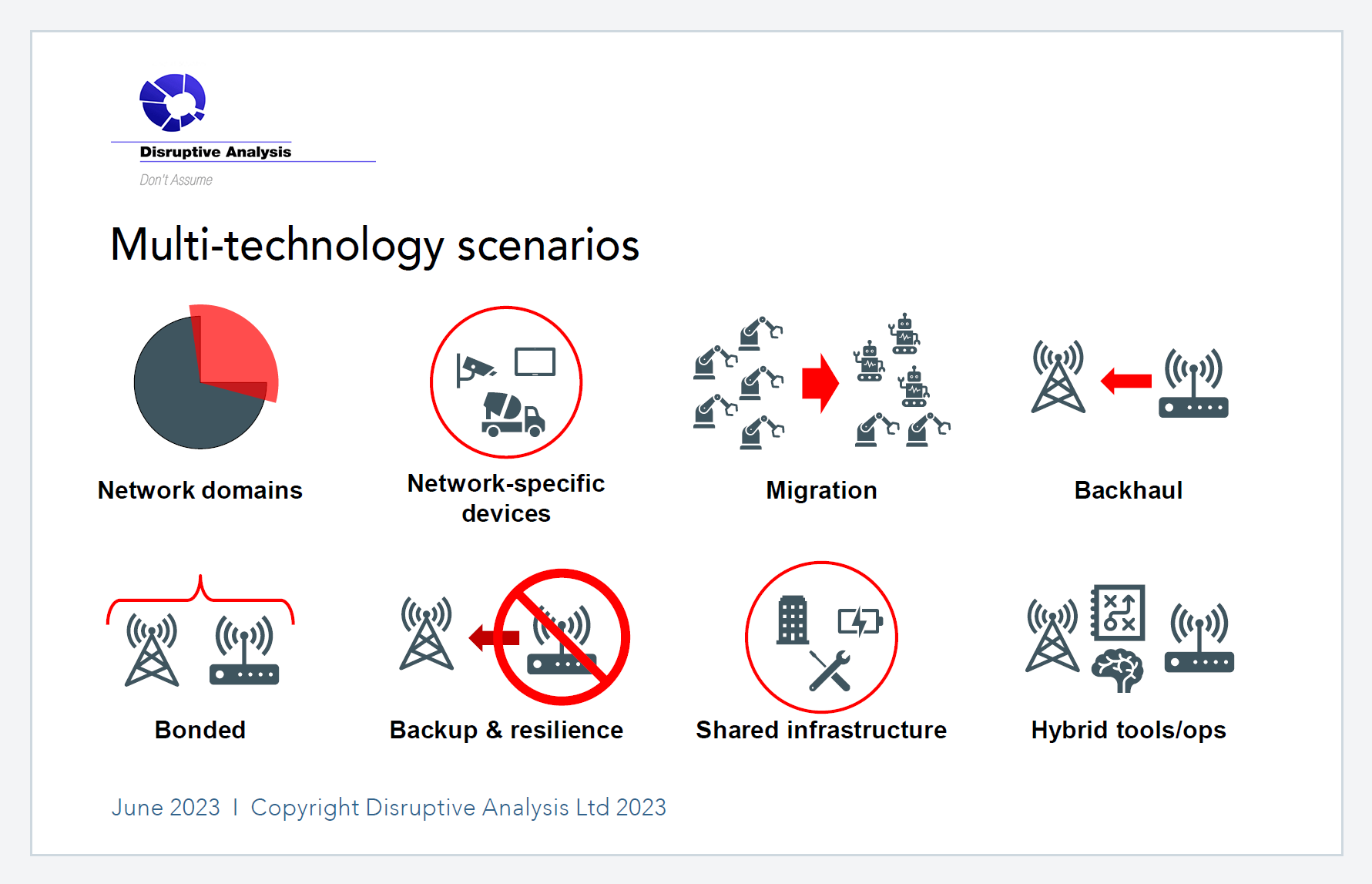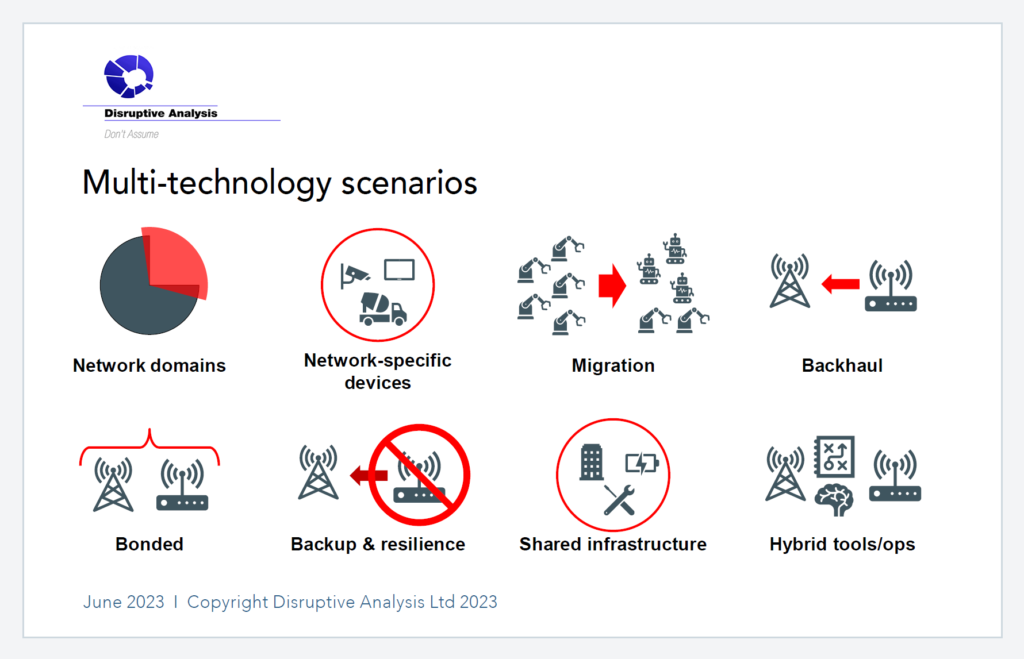 Separate network domains
The scenario many observers highlight when discussing multiple-network deployments is combining two network domains and enabling a user's device to cross a boundary between them, while maintaining a connection and application context.
Typical examples of this type include:
Device-Led Multiple Networks
There are various instances where a single application may require access to multiple networks because certain end-devices only support one network or another. For instance, many display screens and laptops only support Wi‑Fi or wired ethernet connections, while vehicles and AGVs may be cellular-only.
There are many classes of IoT systems that are unavailable with 5G radios, especially if they must support particular frequency bands, or specific 3GPP features from later releases. A worker on a production line may have a connected tool which uses Wi‑Fi or a low-power IoT technology such as Bluetooth, but simultaneously could be wearing a 5G-connected headset showing how to use that tool for a given task.
Another situation could involve an automation system in a warehouse, where there are already hundreds of Wi‑Fi devices, such as barcode scanners. If the operation staff then add in a fleet of 20 5G-connected AGVs, they are unlikely to replace all the existing systems, but instead might run two networks in parallel.
Migration
Building upon the previous discussion, there will be instances where legacy-network devices are replaced. However, this process is likely to occur gradually over time rather than overnight. This is particularly true when the devices have not reached the end of their functional lifespan or have not been fully depreciated as assets. In such cases, it becomes increasingly probable that new identical replacements are no longer available or economically viable.
This will mean that there may need to be two networks—old and new—running in parallel, at least for a while, until the older platform can be de-commissioned.
A similar scenario is where a new network is rolled out progressively across a site (perhaps building-by-building), or sequentially at multiple sites across a company's footprint. This could make it advantageous to use dual-mode devices which can work in both domains.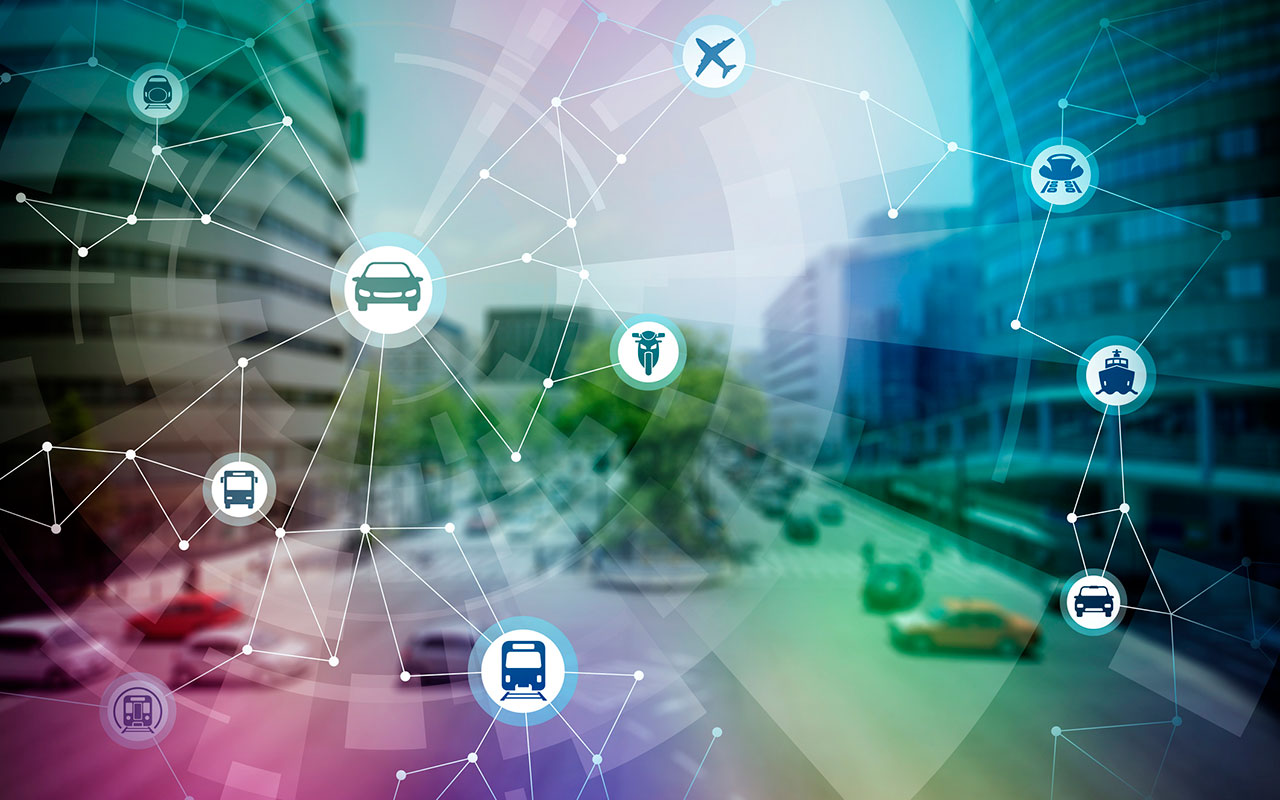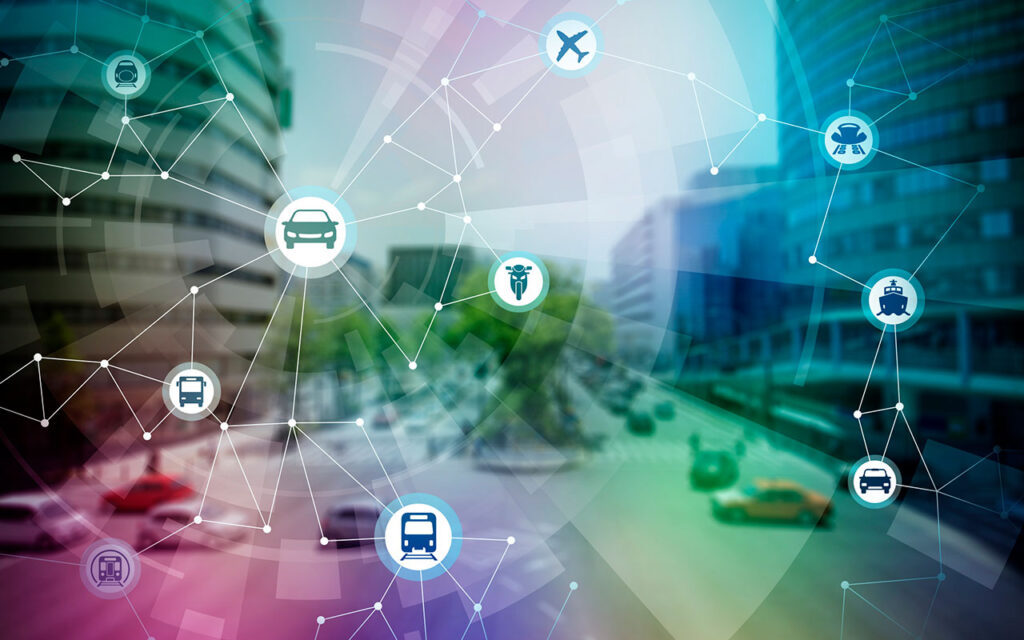 Backup and Resilience
An important reason for using two or more network types is the potential for greater resilience. This could be a response to cybersecurity risks, the possibility of downtime because of software bugs, or a backup system in the case of an emergency such as a fire or flood.
Backhaul and Gateway Scenarios
An increasingly common multi-network scenario is the use of one wireless technology to deliver connections (backhaul / fronthaul) to the access points of another. This scenario allows one expensive / complex connection to enable the connection to many cheaper or lower-power endpoints.
Examples include:
Bonded and Hybrid Networks
Some wireless systems already use multiple different 4G/5G radios and public MNO SIMs to provide coverage as broadly as possible across different providers footprints. These can also obtain maximum throughput by "bonding" or aggregating across several parallel connections. Vehicle fleet operators, public safety agencies, and broadcasters have been typical customers for this type of service.
This approach can also use simultaneous private 5G and Wi‑Fi connections, or various other combinations of technologies. These can be configured either to create a "single pipe" of greater speed or use some sort of controller to direct different applications via separate network paths as a form of wireless SD-WAN. They may also use IP-layer technologies such as multipath-TCP.
Shared infrastructure & tools
Some hybrid networks may not involve direct integration of traffic and wireless connectivity, but instead focus on integration in adjacent domains. They may involve:
Typical Wireless Combinations
While there are various wireless technologies available, the majority of sites and applications, at least in the near-to-medium term, will typically not attempt to combine more than two of these technologies for a single use-case.
That means that although an overall site or company may use 5, 10 or more different wireless technologies somewhere, in most instances they will remain unconnected, at least for now.
Let's take the example of an airport to illustrate the point. Airports utilize wireless networks for a wide range of purposes, including providing Wi‑Fi in passenger lounges, implementing private 4G/5G networks for service vehicles on the ramp, and employing specialized systems for air-traffic control communications and radar.
However, as discussed above, there are numerous scenarios where individual applications may require a combination of two different platforms, with the ability to add further options in future.
At the moment, the most common combinations are:
It should be noted that designing a multi-technology network is only part of the complexity that enterprises will face here. Outside the scope of this eBook, which is obviously focused on the infrastructure aspects, it is important to recognize that combining different platforms for security, device management, identity, and assurance brings additional challenges.
There are also commercial and HR implications as well, for instance where different network technologies have historically had different investment cycle periods, or where separate teams have been involved in management. These are additional reasons why selection of integrators and managed service providers should be undertaken with great care.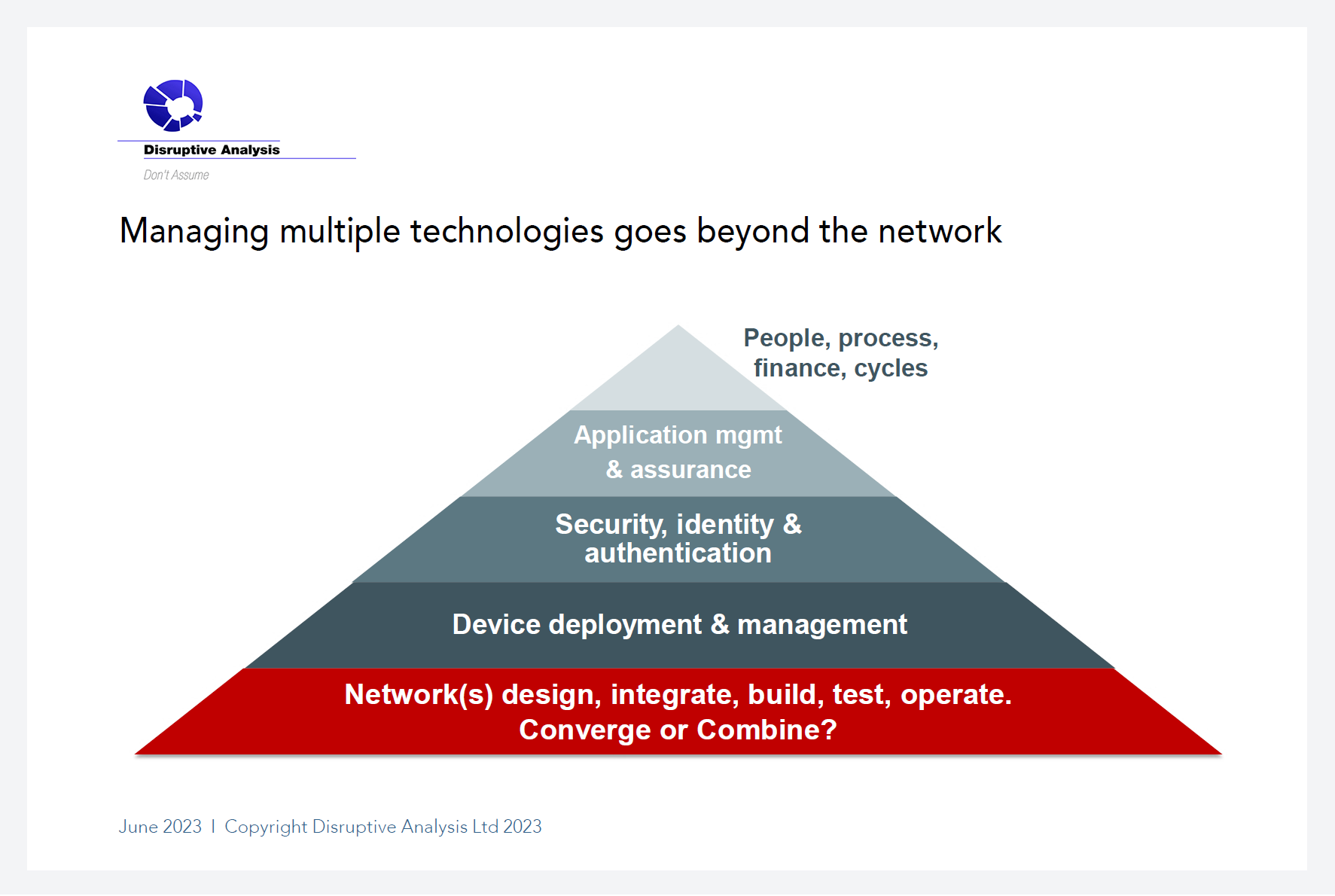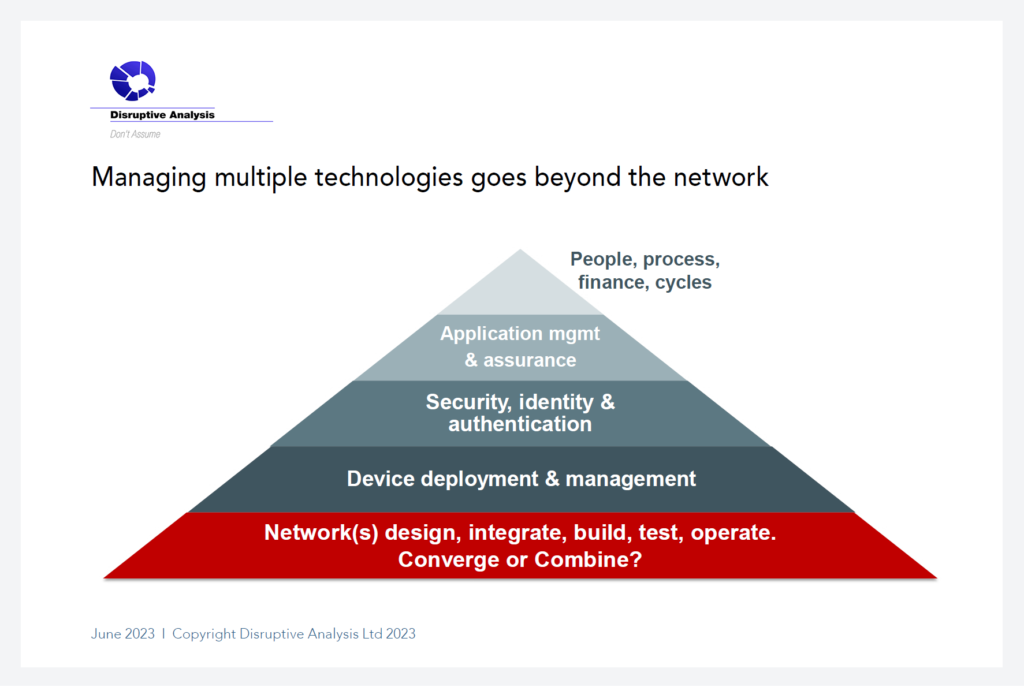 Conclusions and Future Trends
This report started with a reflection on iBwave's 2019 eBook on 5G. That introduced the technology to an enterprise networking audience. Now, mid-way through 2023 at the time of writing, the landscape is clearer—but also more complex.
Throughout this eBook, we have explored the gradual rollout of 5G versions and its evolving capabilities over several years. We have also delved into the extensive range of potential use-cases and applications that can leverage 5G technology. Furthermore, we have discussed the likelihood of integrating 5G with other wireless and wired network technologies, along with the associated challenges that may arise from such combinations.
What can readers expect from the next few years? Some of the trends which the author is watching include:
The document has been prepared by independent research firm Disruptive Analysis, and commissioned by iBwave, for distribution to its customers, partners, and a wider audience.
It should be read by CIOs, strategy executives, CTOs, CMOs, facilities management & planning/operational staff at major enterprises, property firms, communications service providers, software vendors, integrators, XaaS providers, investors, and similar organisations. It is also aimed at policymakers, regulators, and others in public administration, who intersect with telecoms and broader infrastructure-development concerns. For more details, please contact information@disruptive-analysis.com