Top Trends for Private Networks in 2023
An overview of the challenges, market drivers, use cases and trends for private networks.
by Dean Bubley of Disruptive Analysis
Summary
Private or dedicated cellular networks are not new. Various deployments for rail, energy, maritime, and public safety use have existed since the 2G/3G era over 20 years ago. Local spectrum licenses for enterprises or government agencies to deploy private networks have existed for over 15 years in some form.
However, 2022 was a critical turning point for the concept to become mainstream. New networks – 100s[1] , perhaps 1000 or more – were deployed around the world, typically for enterprise campuses, industrial sites, or local fixed-wireless use.
Proper "production" usage has become more common, rather than just trials and proofs-of-concept. Private 5G is moving beyond its roots of critical communications into the most remote and challenging verticals, like oil and mining, and are continuing to grow. New sectors and verticals gained importance, such as ports, logistics/warehouses, construction and defense. The private 4G to 5G transition started to accelerate with the greater availability of 5G radios, standalone cores, and suitable devices like video cameras and handhelds.
While public mobile network operators (MNOs/carriers) hope to see B2B applications of 5G drive revenue growth, many have recognized that dedicated networks need separate units, updated operational models, and sometimes different vendors and infrastructure design. Many new systems integrators have joined the value chain as well, together with specialist service providers.
Meanwhile, more governments and regulatory agencies have followed the trend, issuing spectrum directly to enterprises – with even India and China showing early signs of moving away from the MNO-only model for 5G.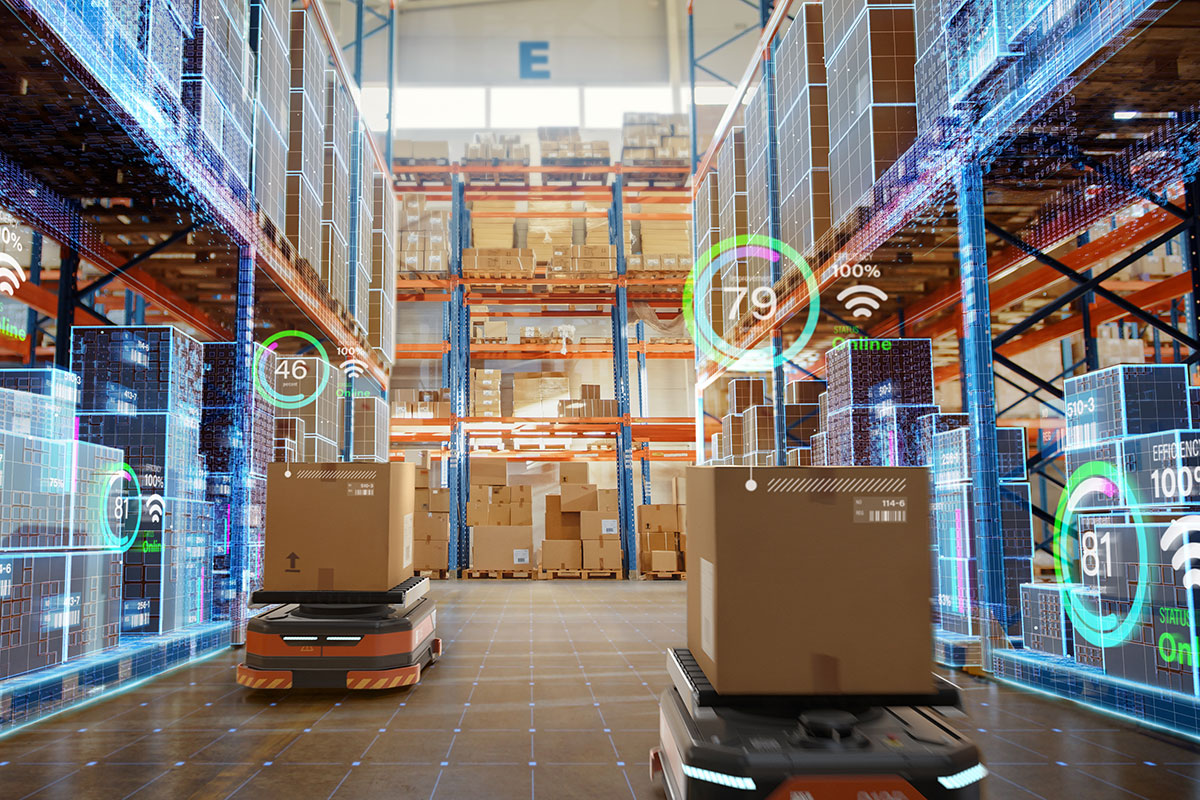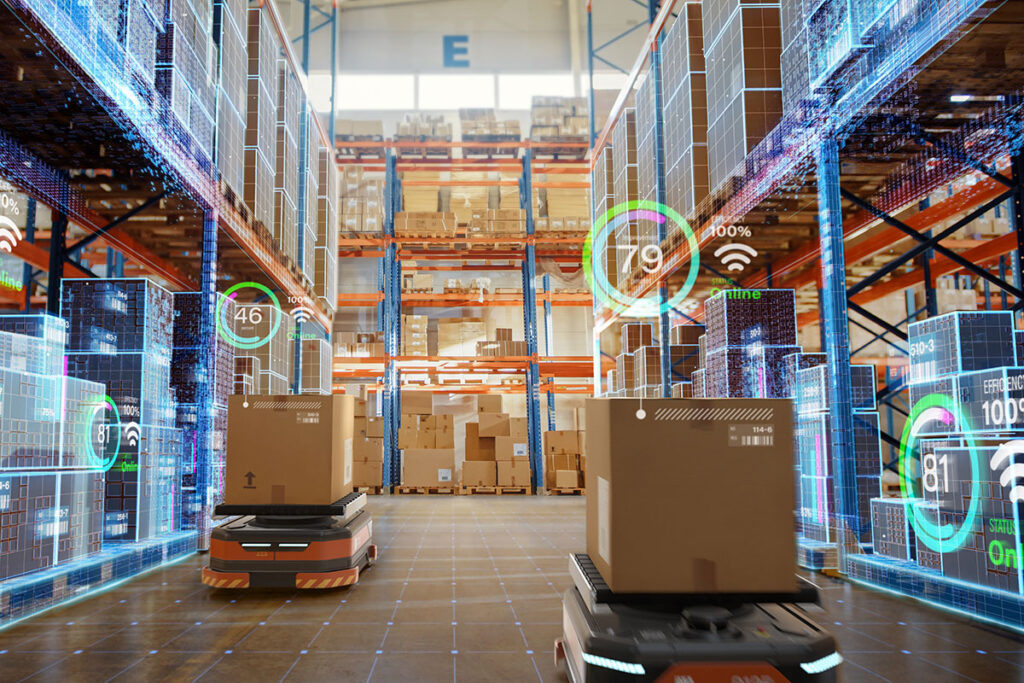 So what trends are expected for private networks in 2023 and beyond?
Industries face a broad set of underlying trends and transformation drivers, shifting towards connectivity and, especially, private wireless networks. Some transformation drivers, such as macroeconomic unpredictability, are external and common across multiple industries. Others such as decarbonization and safety have very specific impacts in heavy industry and energy sectors.
Other drivers behind the market trends include:
Private cellular networks are part of the solution to these challenges. They enable enterprise IT and OT teams to control their own connectivity, while maintaining high performance and reliability.
In 2023, a growing awareness of the potential for private 4G/5G (i.e., demand) is mirrored by the improvements in industry supply as more equipment, solution providers, and applications come to market, enabled by greater availability of spectrum and support from governments.
This e-book examines five key trends that are defining the changing marketplace. These should be read together with other iBwave resources which describe the basic underlying "5 Cs" drivers of demand (coverage, control, cloud, costs, and compensation), as well as the specific needs of various industry verticals.
Each of these topics is highlighted in a separate section below:
A final section briefly spotlights a few other trends and discusses international variations.
Private Networks Moving From 4G to 5G
Although many commentators and vendors speak of "private 5G" for enterprise, the market today is made up mostly of private 4G/LTE deployments. Almost all current U.S. CBRS implementations are based on 4G network elements and devices, while many private 5G networks in Europe are still at testing and pilot phases (The installed base in some markets also has a huge tail of legacy private 2G/3G networks, some of which are now 15+ years old).
However, this situation is now changing rapidly. A recent study by the industry vendors' association GSA[2] showed about 41% of publicly referenced private networks featured 5G of some type. While that is likely to be overstated compared to the whole market, given PR preference for publicizing cutting-edge deployments, it is still an important indicator.
There are now 100s of genuine private 5G networks, and in the future that figure will climb to the 1000s and then perhaps far beyond. It is worth noting that this figure refers to dedicated private networks, even where they are deployed by carriers/MNOs as business solutions. The future will also likely see more "semi-private" or virtual networks based on extensions or slices of national public 5G infrastructure, although that model has been slow to emerge so far.
There are various factors in play here: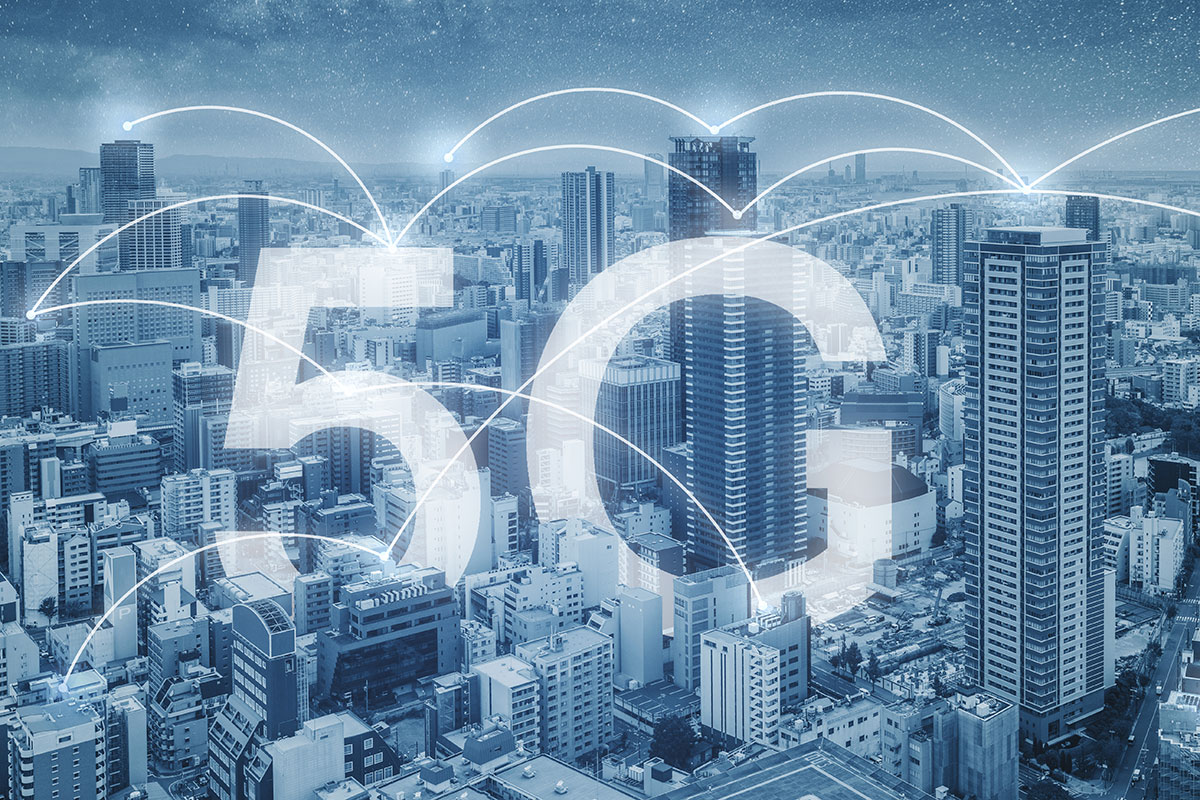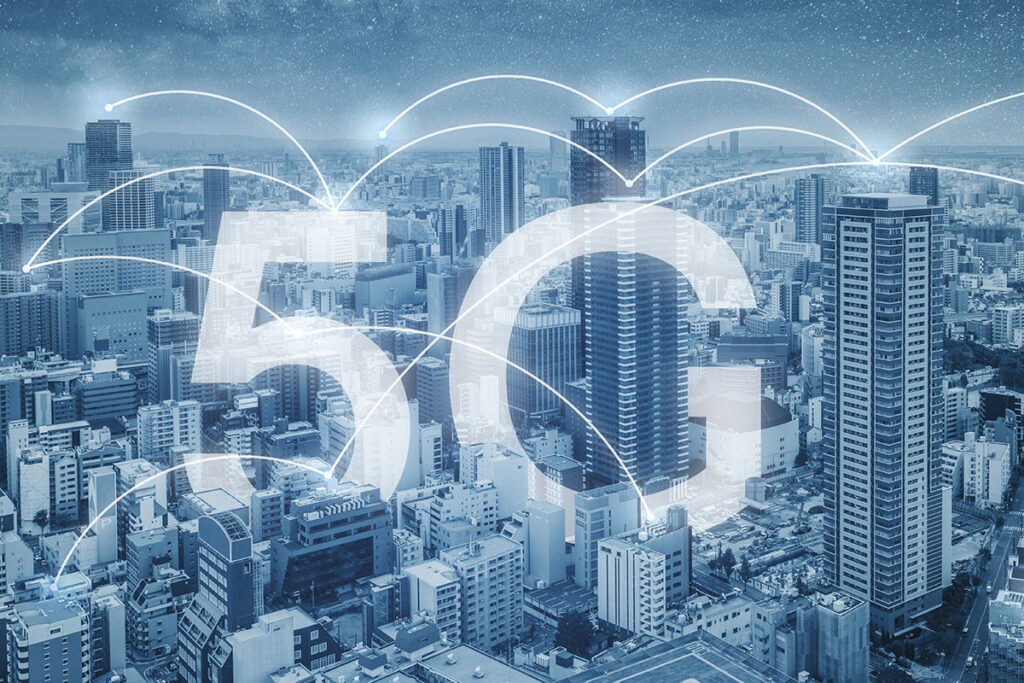 This situation is now changing quite rapidly, although private 4G deployments will likely continue for several more years, especially where the performance is adequate for initial applications and the focus is on rollout to multiple sites, rather than more sophisticated applications on a single site.
The key recent developments favoring 5G and those expected in 2023 include:
| Company / Location | Private 4G | 5G Non-Standalone | 5G Release Standalone | 5G Rel 16/17 Standalone |
| --- | --- | --- | --- | --- |
| Availability | Wide, mature | Recent. Needs MNO 4G "anchor." | Recent, growing quickly | Not yet available |
| Suitable for <4GHz bands | Excellent | Good for MNOs | Mostly for bands 48, 77, 78 | Mostly bands 48, 77, 78 (future) |
| Suitable for 4-7GHz bands | No | Limited opportunity | Bands 77, 79, maybe 96, 104 | Bands 77, 79, maybe 96, 104 |
| Suitable for mmWave band | No | Limited opportunity | Bands 257, 258, 260 | Bands 257, 258, 260 |
| Boliden | Sweden | Remote machinery & vehicles | 4G + 5G upgrade path | Telstra, Ericsson |
| Device support | Excellent | Good (OK for IoT) | Limited, growing | None yet |
| MNO role | Common but competes with fully private | MNO-only | Currently rare | None yet |
| Network slicing | Only basic QoS approaches | Only older QoS approaches | Basic 3GPP slicing possible | Advanced 3GPP slicing possible |
The Role of mmWave in Private 5G
Up until now, almost all private cellular networks have been deployed at low-band <1GHz or midband 1-6GHz frequencies. This applies to both completely dedicated networks and customized enterprise installations by mobile operators (MNOs). There has been very limited use of high-band or mmWave frequencies above 20GHz for private or "vertical" networks.
There are a number of 5G-designated mmWave bands, which are also referred to as FR2 (frequency range 2) by 3GPP. Some of these have had limited deployments for public 5G, notably in the U.S., Japan, and South Korea – although primarily for MNO-delivered fixed wireless access and outdoor capacity enhancement in dense urban areas. However, deployment in enterprise settings — or in Europe and China for any applications at all — has been minimal.
A few ultra-dense public venues such as sports arenas and airport terminals have deployed mmWave indoor coverage systems, although there is little evidence of private networks as extra "tenants" on these.
There are several reasons for the historically limited adoption of mmWave for private networks:
Table: 5G mmWave Bands
Band
Name
Range, GHz
Countries available/planned
N257
28GHz, LMDS
26.5-29.5
Used for public 5G/FWA in U.S., S Korea, Japan, etc. Some availability for local/non-MNO vertical licensing in Hong Kong, S Korea, and Japan.
N258
26GHz, K-band
24.25-27.5
Licensed for MNO public 5G in Europe, China, etc.
– Indoor use unlicensed in UK (low power)
– Several countries allocating local licensing across some/all of the band, e.g., Germany, Finland, HK
N259
42GHz, V-band
39.5-43.5
Currently little used
N260
39GHz, Ka-band
37.0-40.0
Used in some locations in U.S. for MNO-offered FWA and potentially private 5G
N261
28GHz, Ka-band
27.5-28.35
(unnamed)
60GHz
57-71GHz
Unlicensed. Used for Wi-Fi variants 802.11ad/ay, various proprietary wireless, and radar uses. Potential future 5G band for public/private networks.
(unnamed)
70GHz+
Potential use for various future 5G/6G applications
Source: Disruptive Analysis
However, the private 5G market is now starting to mature — or at least it is resolving into a better understood shape.
Existing MNOs with mmWave allocations are looking at enterprise use cases more keenly, while certain national regulators are allowing direct access to these bands by businesses and systems integrators. In Germany, Deutsche Telekom recently announced[3] a test of local-licensed 26GHz, combined with its national 3.7GHz and network slicing.
Ultimately, there will be a need for low/mid/high bands for both public and private 5G, although local spectrum availability and political considerations may leave some gaps.
The main rationales for introducing mmWave P5G include: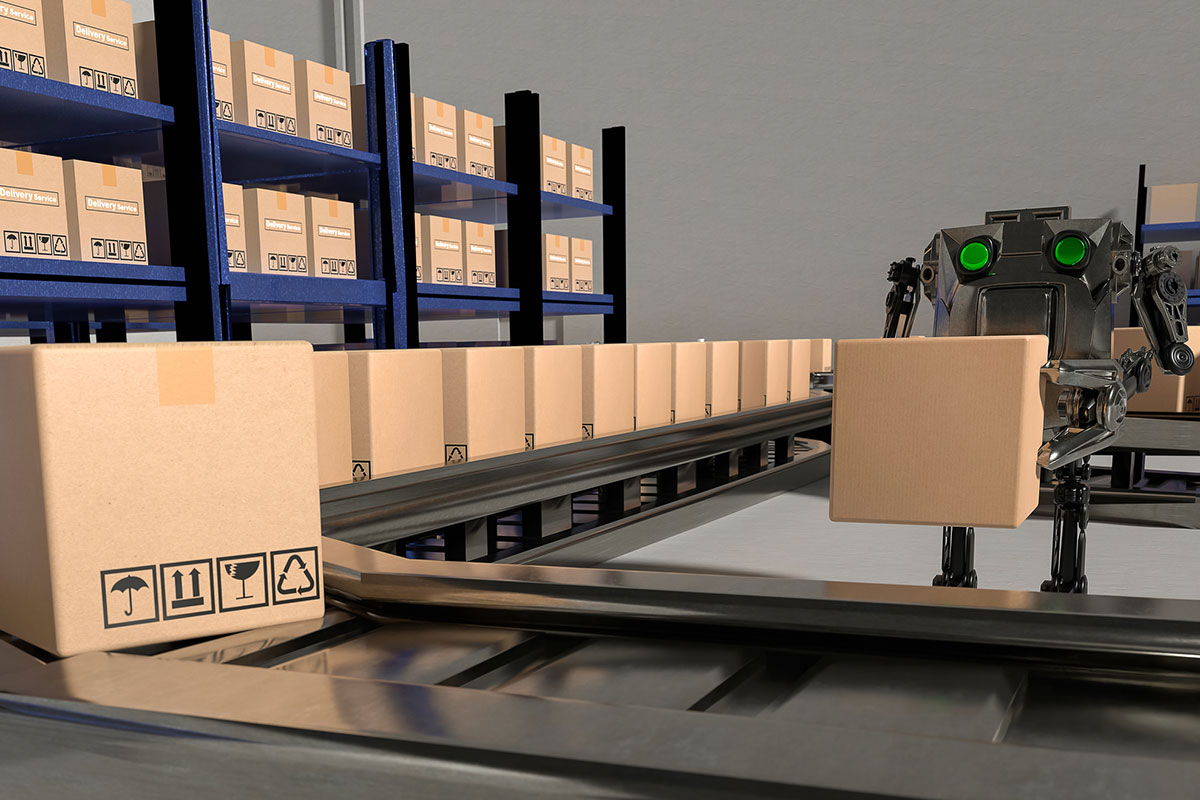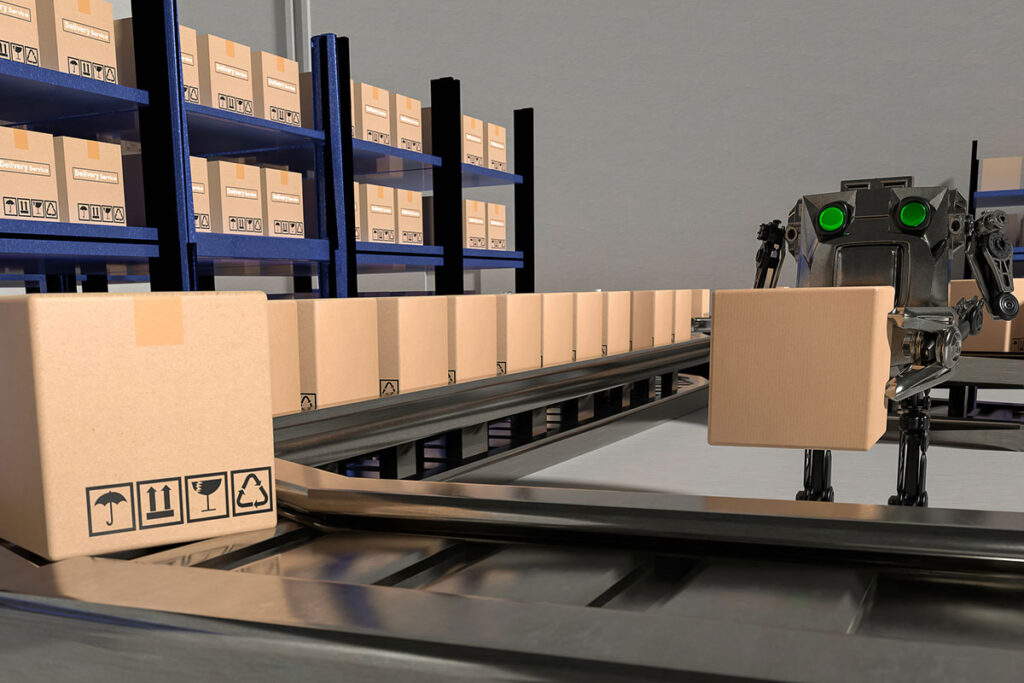 Typical use cases for mmWave private networks are likely to be a subset of those seen in the wider P5G/PLTE marketplace.
In particular, the following are likely to be important applications: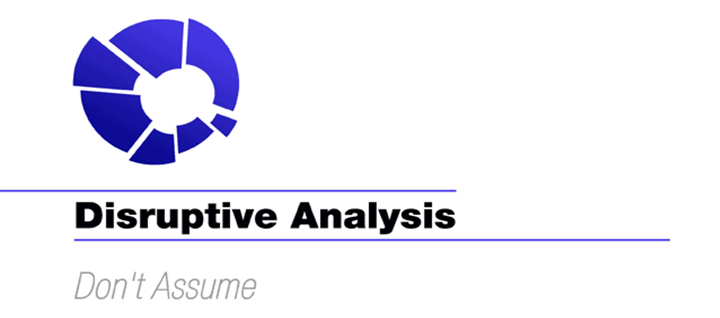 mmWave bands available for private, local & enterprise 5G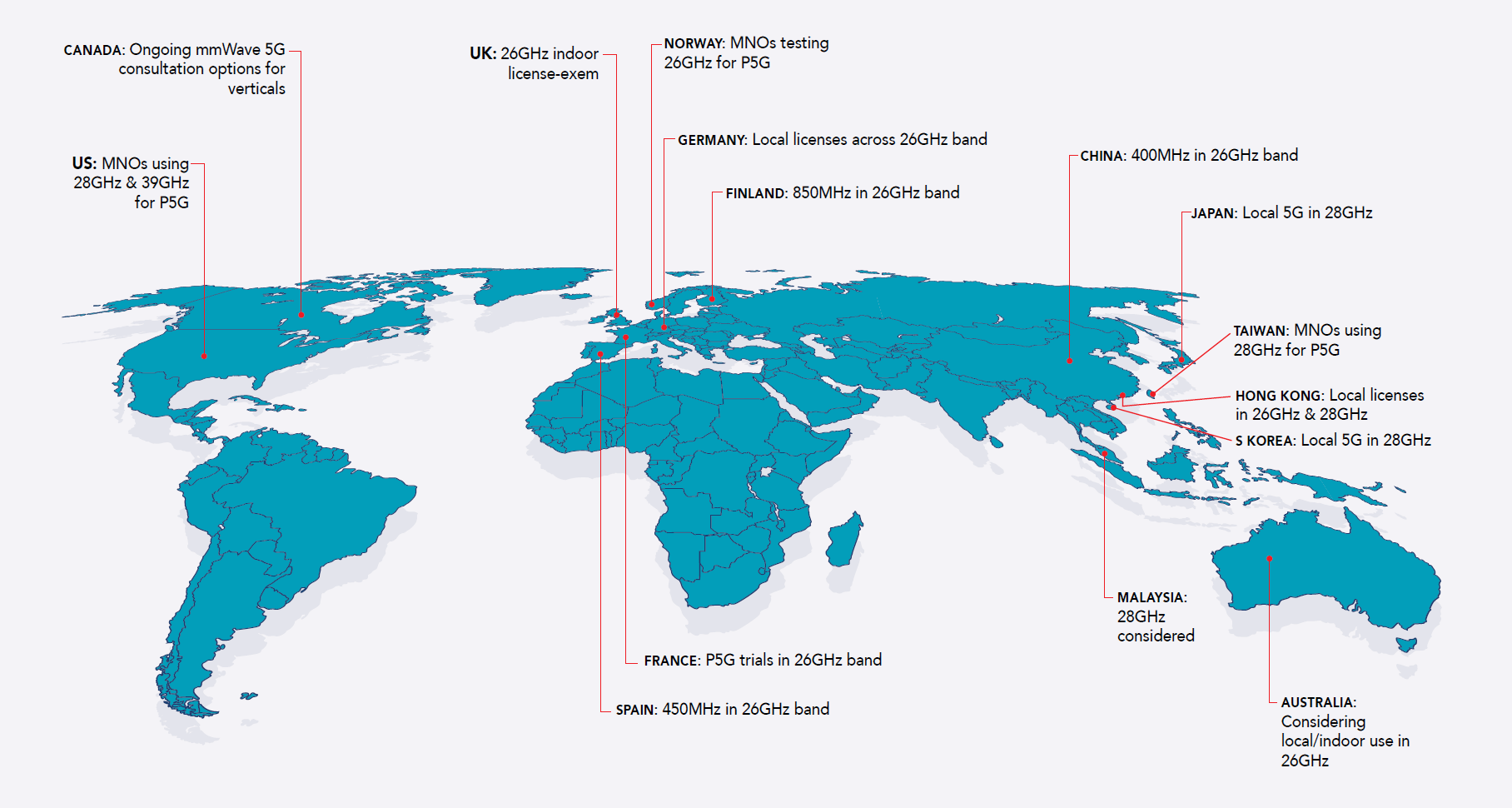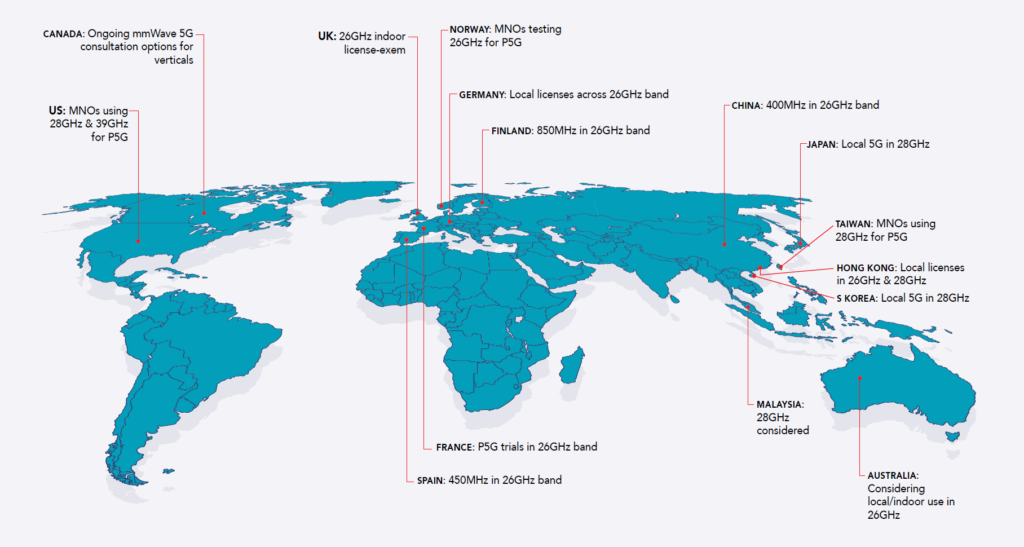 It is notable that mmWave availability for P5G is currently higher in Asia than in Europe and the Americas. This may change during 2023-24, as European regulators seem to be refocusing on this band. Right now, there are no clear signs of mmWave P5G in Latin America or Africa.
Moving From Proof-of-Concept to Large-Scale Deployment
Another key trend for private networks in 2023 is the growing adoption of full "production" deployments, both for 4G/LTE and increasingly 5G infrastructure and applications.
While there are numerous examples of real-life, full-site networks in locations such as ports and mines, other sectors such as manufacturing seem to be taking much longer.
Fewer have progressed beyond initial trials or proofs-of-concept, or perhaps connecting just a single building on a large campus. However, while there will not be an across-the-board switch to rapid uptake, there should be significant improvement over the next 12-18 months in many areas.
This inability to scale beyond trials is a well-known phenomenon in technology. It is common for small experiments to be conducted by teams within companies tasked with exploring new concepts. They may get favorable terms from suppliers, be viewed as a low-risk source of publicity for "cutting edge" practices by PR teams and executives, and may also be suitable for government grants or other external funding sources.
However, translating these projects into full-scale commercial adoption brings multiple challenges, especially if they are seen as threatening to some internal groups uninvolved in the testbeds. There are also numerous other obstacles, from technology dependencies to perceived regulatory complexity or vendor stability. Additional groups inside the business involved with compliance or risk-management may present hurdles, as well as external stakeholders involved with complex supply chains.
It is worth noting that many regularly discussed examples of P4G/P5G deployments are quite small in the contexts of the overall size of companies or sites mentioned.
Examples include: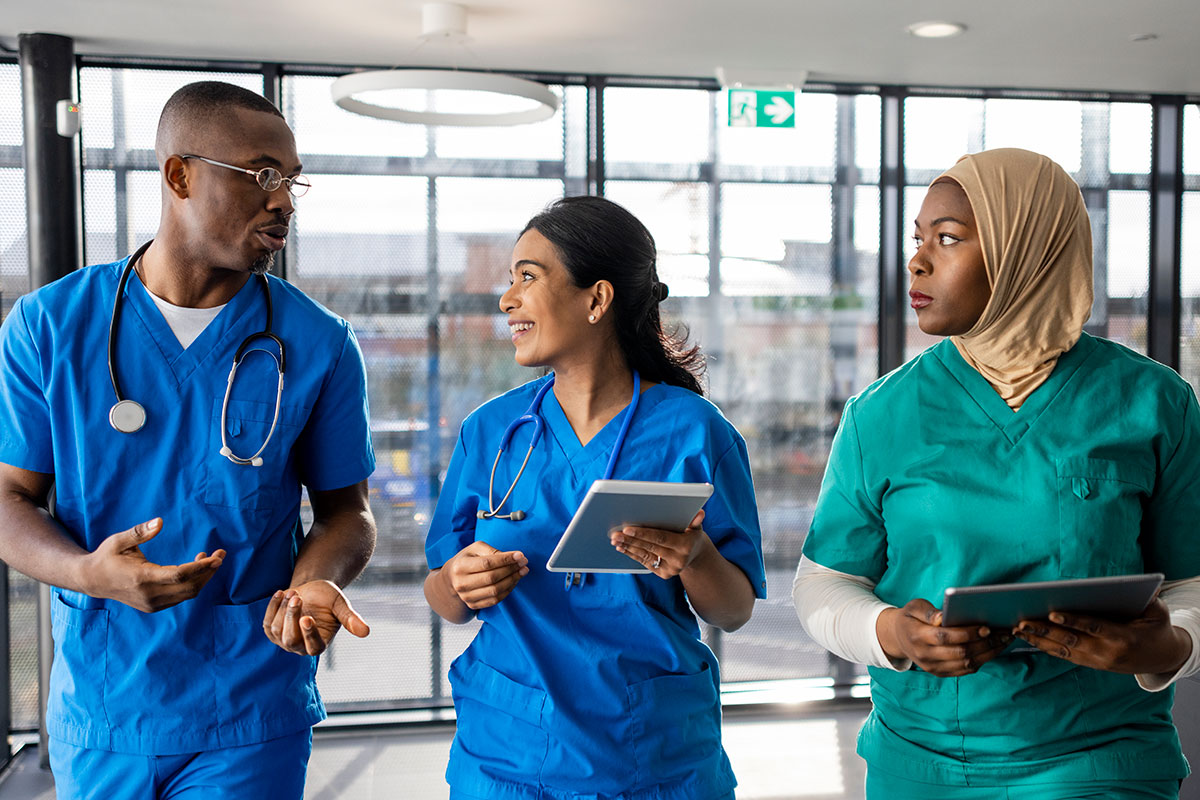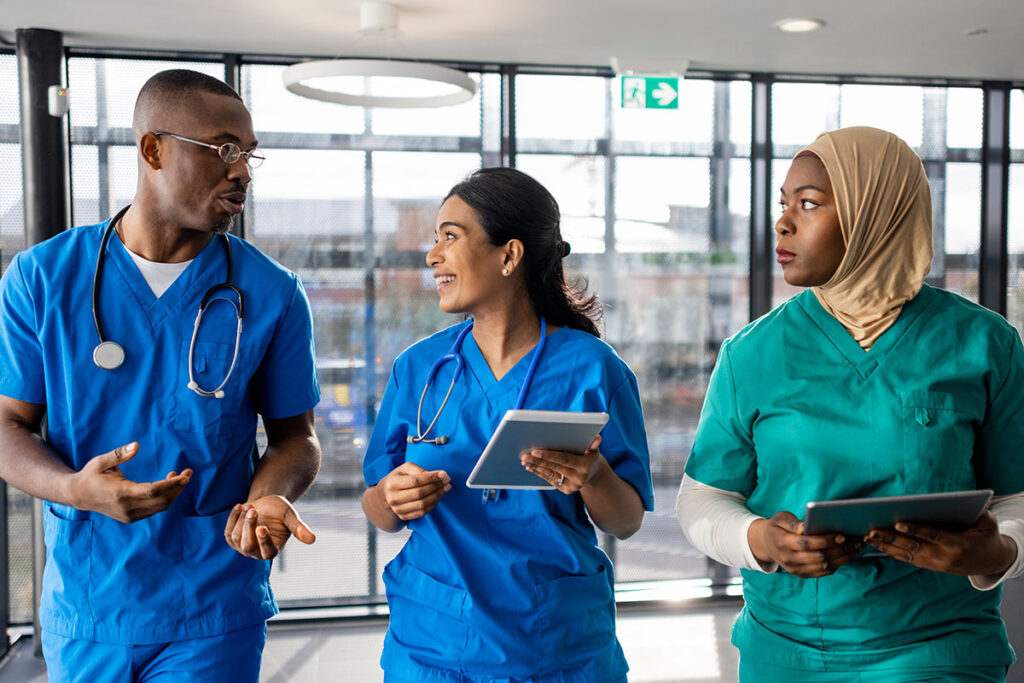 None of these are "failures" and may indeed result in longer term, much larger projects. But it is important for operators, integrators, and solutions vendors to dig a little more deeply into case studies before committing to particular sectors or business models.
Many of the obstacles to large-scale deployment of new private 4G/5G infrastructure are non-technical.
There are assorted finance, legal, and regulatory issues for enterprises to consider, especially in complex multi-stakeholder situations where there could be network operators, systems integrators, multiple vendors, cloud providers, and industrial automation suppliers "in the loop."
It is one thing for a firm's lawyers and compliance teams to OK an isolated testbed project with a <$1m budget, and quite another to apply the solution to a running factory where downtime could cost millions per day, and where worker safety is paramount and driven by 100% reliable communications or "stop" buttons.
The most difficult large-scale private networks projects are those that have new applications, new platforms, new business cases, and new networks, all at the same time.
Deploying a 4G critical-communications system for a utility provider by replacing an existing TETRA radio that is being "end-of-lifed" is a relatively simple decision. Conversely, a manufacturer hoping to use mmWave 5G standalone for ultra-reliable, low-latency robot connections and AI-powered quality-control cameras, in a huge new plant, is a much harder – and often slower – decision to make.
2023 should see various developments that ease decision-making. While these will vary by sector, application, and national market, some of the most important changes include: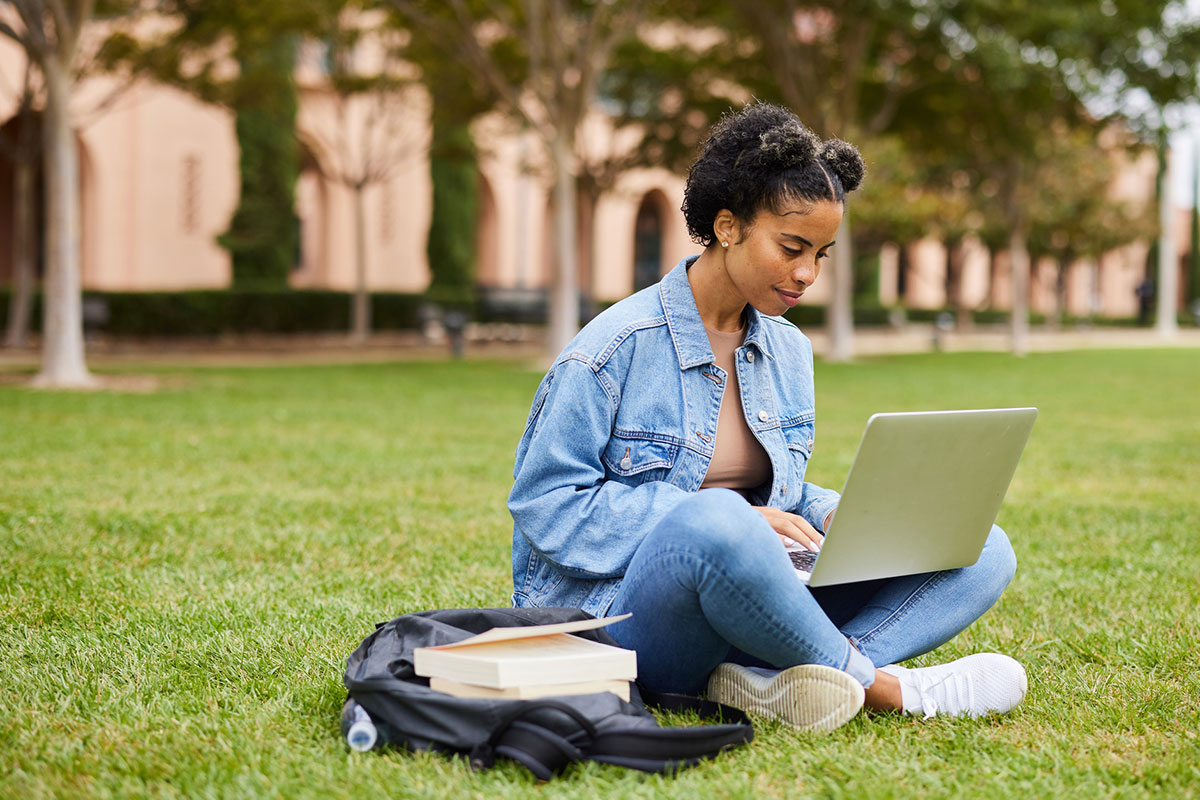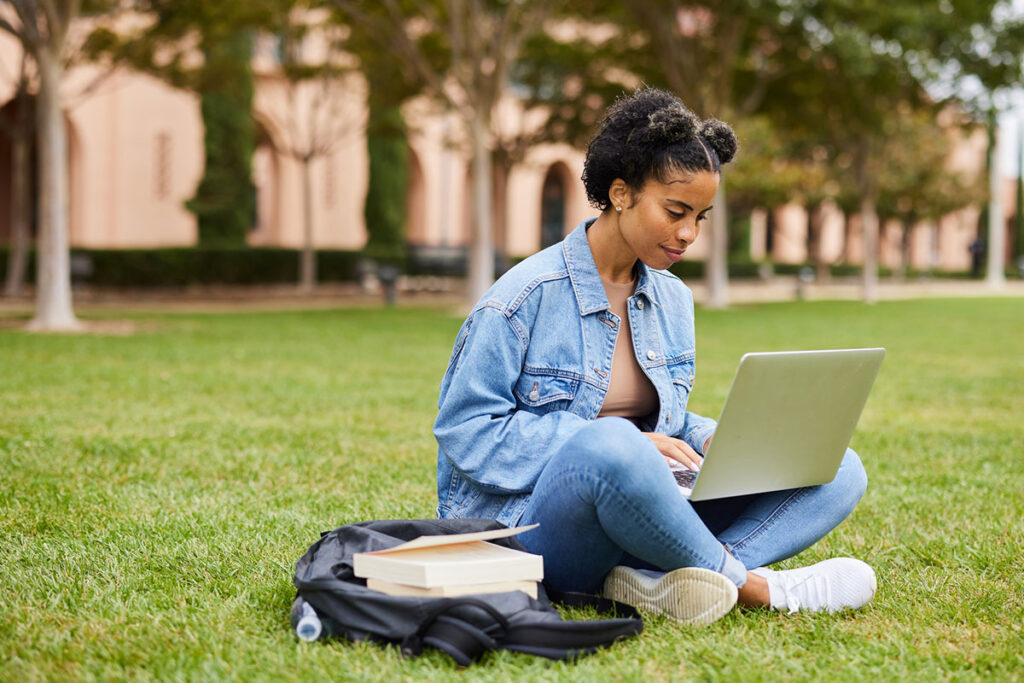 The table below attempts to summarize the complexities of moving to large-scale production deployment of P4G/P5G in different vertical industries. It is a necessarily imperfect chart, as each industry has multiple sub-sectors or site types (e.g., marine oil-rigs vs. refineries vs. retail gas stations), but is intended to give a broad macro-level overview.
It scores each vertical industry against a set of six criteria, which collectively determine the challenges of moving from trials and testbeds to major production deployments of private cellular. Green indicates a strong incentive for deployment while red means there are significant inhibitors.
The criteria are: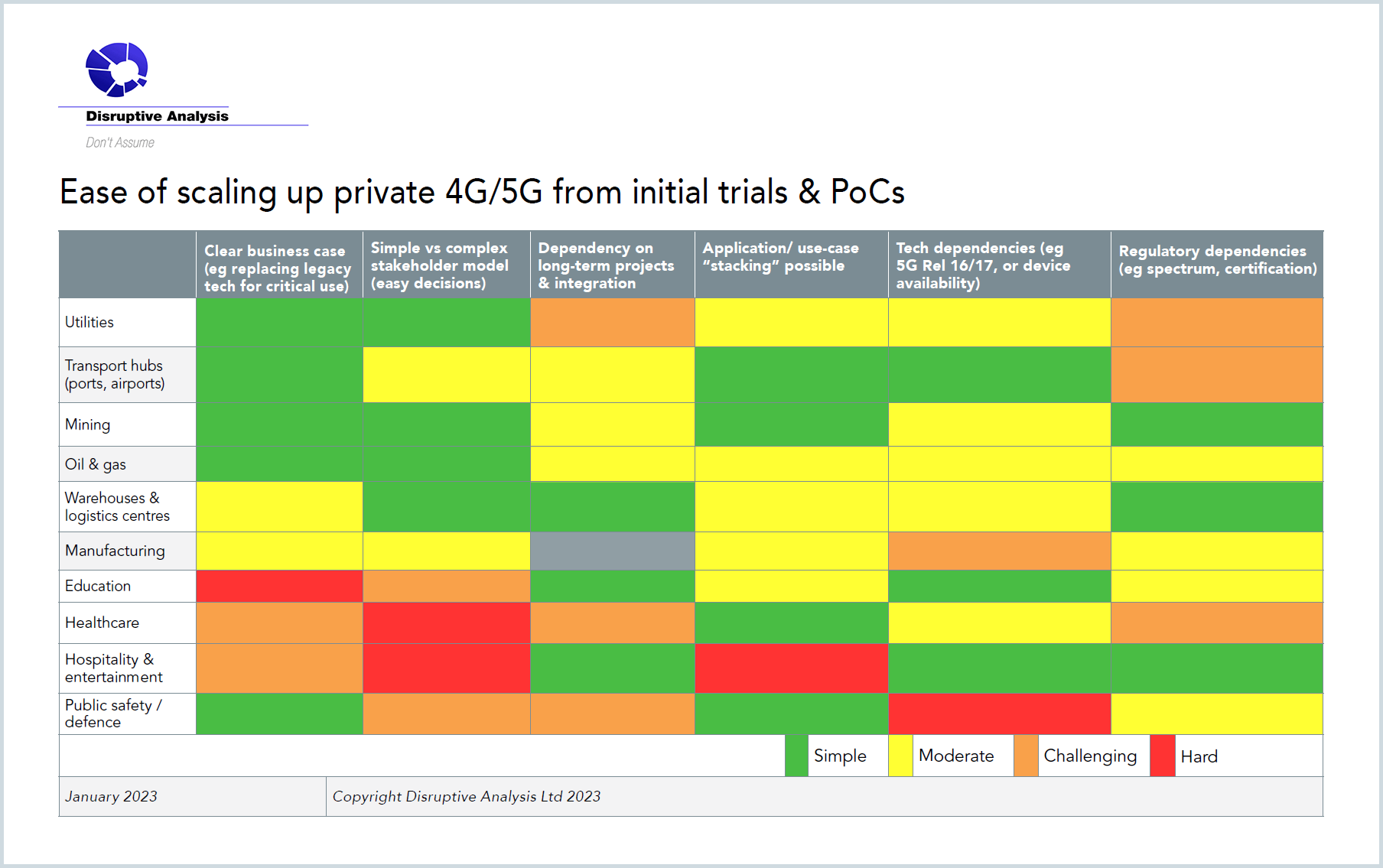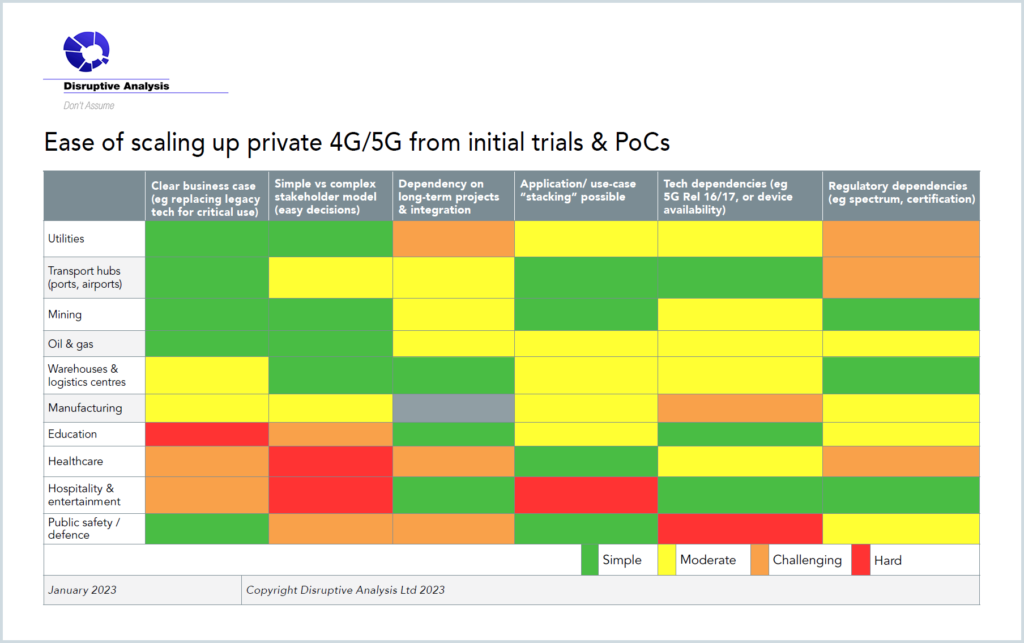 Private Networks for Public Venues (e.g., Stadiums, Hotels, Airports)
2023 is starting to show a pivot of private networks from industrial settings to a much broader array of location types – especially those more oriented to visitors (and by extension, their smartphones).
Most recent private 4G/5G deployments have been for industrial applications or other locations that are broadly closed to the general public. Ports, mines, military bases, oil & gas facilities, warehouses, and manufacturing plants have been typical use cases. Others have had "closed user groups" and tight security for critical communications over wide areas, such as public safety agencies, utilities, and railways.
But there have been few deployments of private cellular in locations open to the general public — even airports have mostly featured networks in maintenance hangars or on the airfield "ramp" for vehicles rather than inside the passenger terminals.
This is very different from the traditional market for indoor wireless systems, such as DAS (distributed antenna systems). These tend to be more widely used in locations such as airport terminals, sports venues, shopping malls, large office buildings, hospitals and hotels, or convention centers.
Those have requirements for high densities of public network access on private property. Because they support MNOs' customers' requirements for indoor connectivity, there has been close agreement on the desirability of such deployments, although there is frequently a debate over "who pays?" or the specific technical characteristics demanded by the operators.
It has long been speculated that private networks could replace or integrate with such indoor systems in public venues.
Indeed, there are numerous theoretical uses for private 4G/5G in such locations:
While all of these have obvious appeal for venue owners, many of these concepts have been slow to come to fruition until now.
There have been various reasons why these sectors gained limited traction prior to 2023: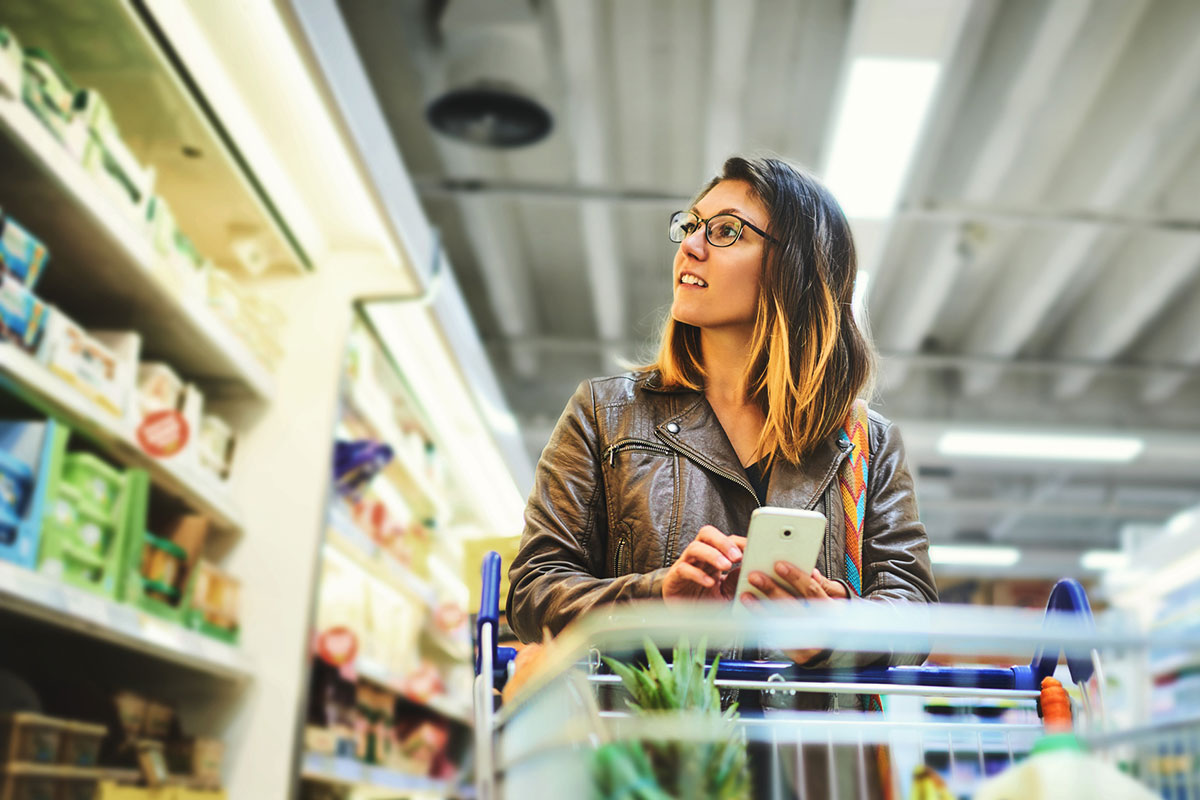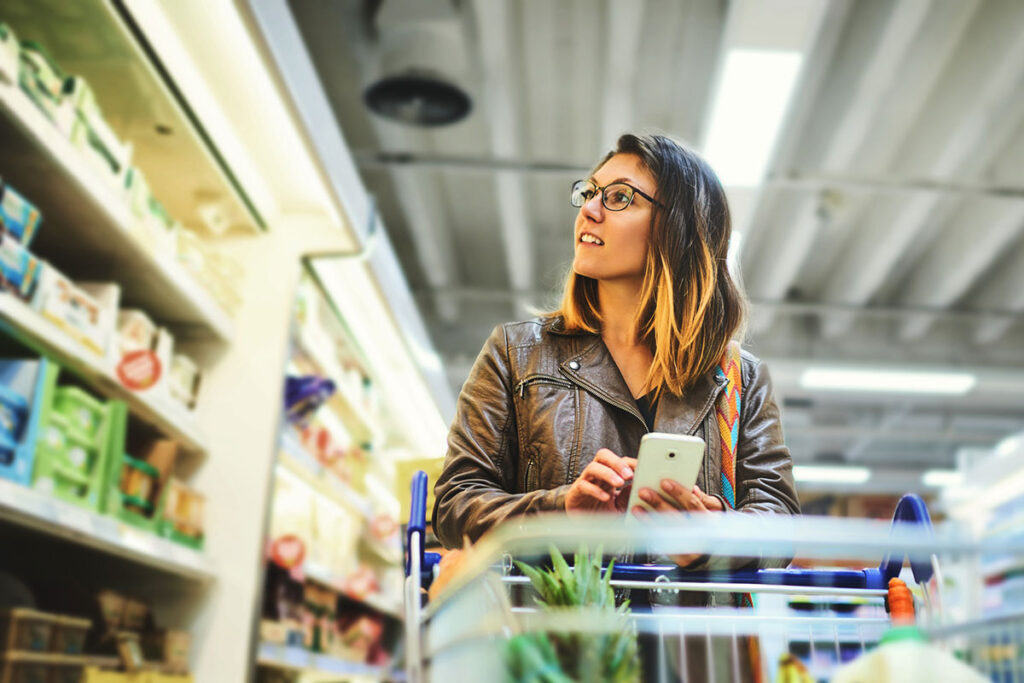 The net result is that public venue-based P4G/P5G has had a comparatively slow start. However, this is starting to change in 2023, with various recent and ongoing trends contributing to growth in these sectors.
To be fair, the onboarding of guest/visitor devices to private networks is still hard.
In an ideal world, someone arriving at a hotel or hospital would simply scan a QR code and download an eSIM with automated provisioning to the local network. Or, perhaps, the Wi-Fi roaming and federation system would work for P5G as well.
Such approaches need more time, although we will likely see some demonstrations and testbeds over the next 12-18 months.
Nevertheless, private 5G is seeing a clear trend towards deployment in public venues.
Expect 2023 to show more announcements of networks in retail stores, sport and entertainment venues, hospitals, and similar sites open to the general public. It will still be rare to see visitors connected to "free 5G" the same way they use Wi-Fi today, but that is likely to emerge in 2024 and beyond.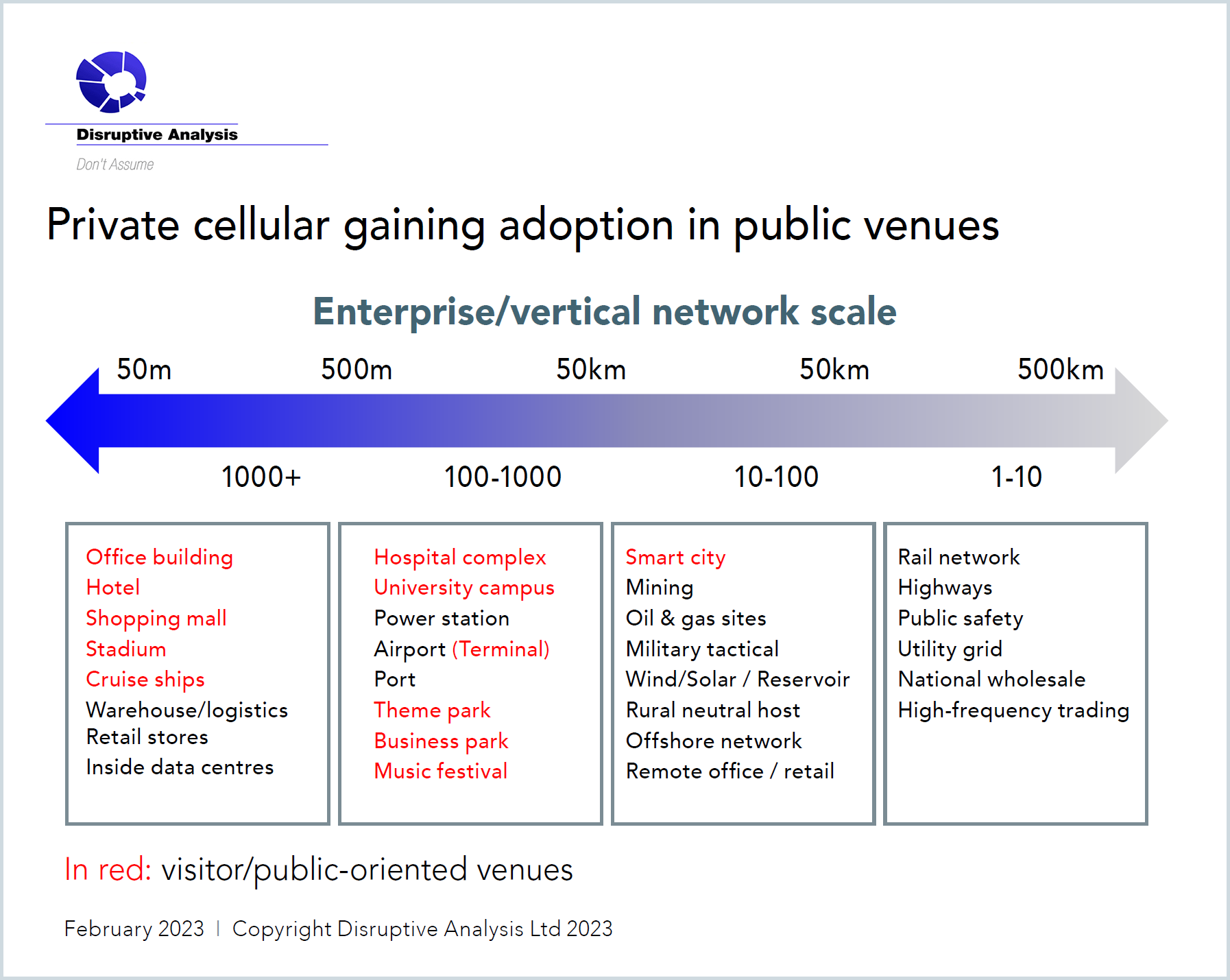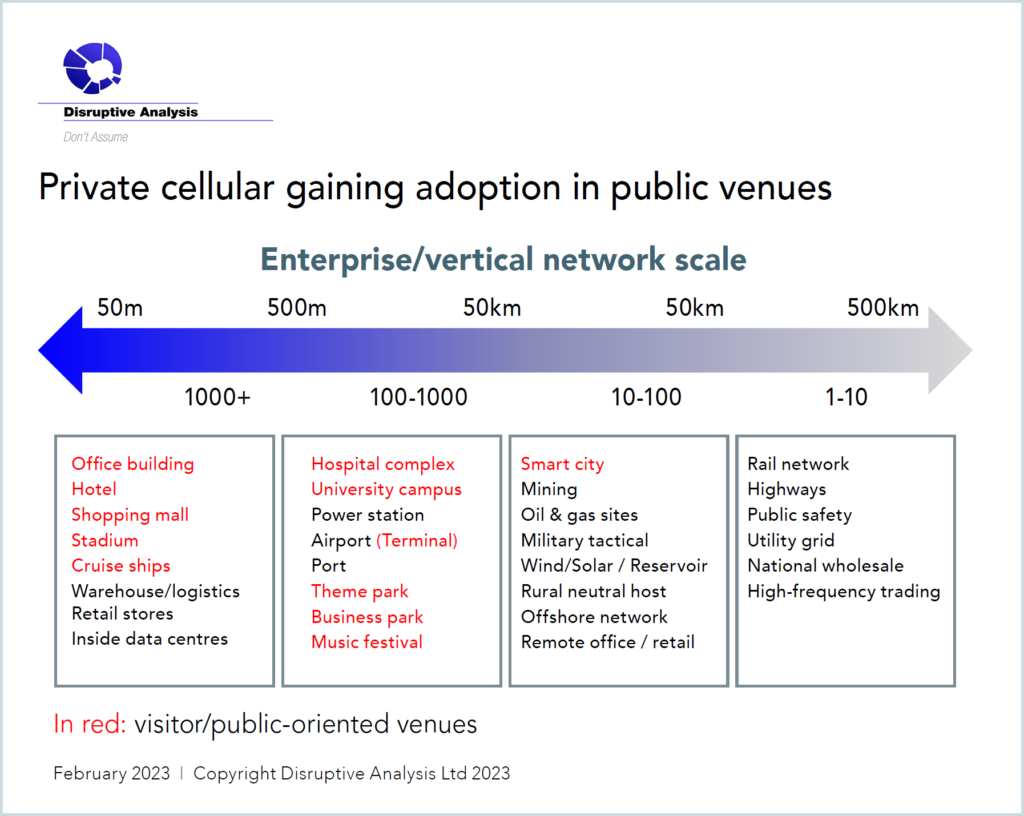 Combining Private 5G With Wi-Fi in Enterprises
There is a lot of discussion about integrating or converging private 4G/5G with Wi-Fi, given that many enterprise sites need both technologies. However, the actual nature of the integration remains fragmented and multi-layer, with many deployments remaining "diverged" in technology terms, even if they come from the same integrated budgets or are managed by the same multi-disciplinary teams.
Some vendor solutions have cellular technology at the center, using the 5G 3GPP core as an anchor for alternative "access" radios. Others take the opposite approach, where a large existing LAN/WLAN infrastructure adds a secondary private 5G layer, perhaps for outdoor coverage or connecting vehicles.
There is has been continued evolution in 3GPP-centric standards[4] such as I-WLAN, ANDSF, N3IWF, and ATSSS to tie together the technologies via the core network and various gateways. There are mechanisms to map enterprise-grade security and identity models and certificates to mobile-type SIM/eSIM. Various vendors pitch platforms for linking mobile slicing to Wi-Fi QoS and VLANs. Others focus more on converging dashboards and management/diagnostics tools, device-management, backhaul, and power infrastructure – or even the physical housing of hybrid access points and small-cells.
For 2023 and 2024, Disruptive Analysis believes that "combination" of wireless technologies will still be more important than true technical "integration." Over time, there will likely be platform-level convergence as well, but it may prove quite rare – just as it is still unusual in public networks, despite almost 20 years of "cellular + Wi-Fi convergence" standards and concepts.
Words like "seamless" tend to be used, but in reality, many "seams" are actually useful boundaries and hard to remove without significant compromises elsewhere. Apart from gymnasts and swimmers, there is a reason that few of us wear seamless clothes!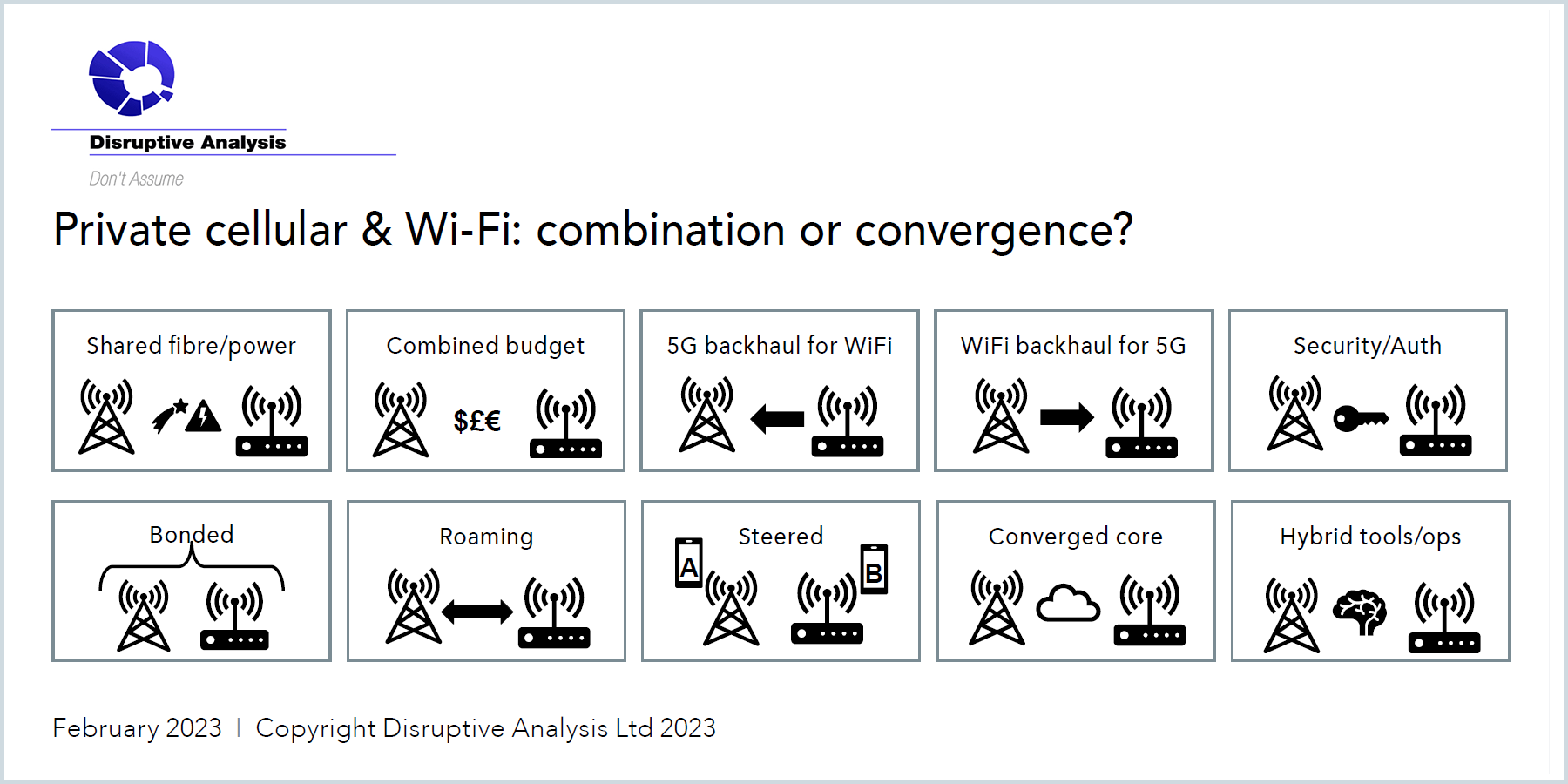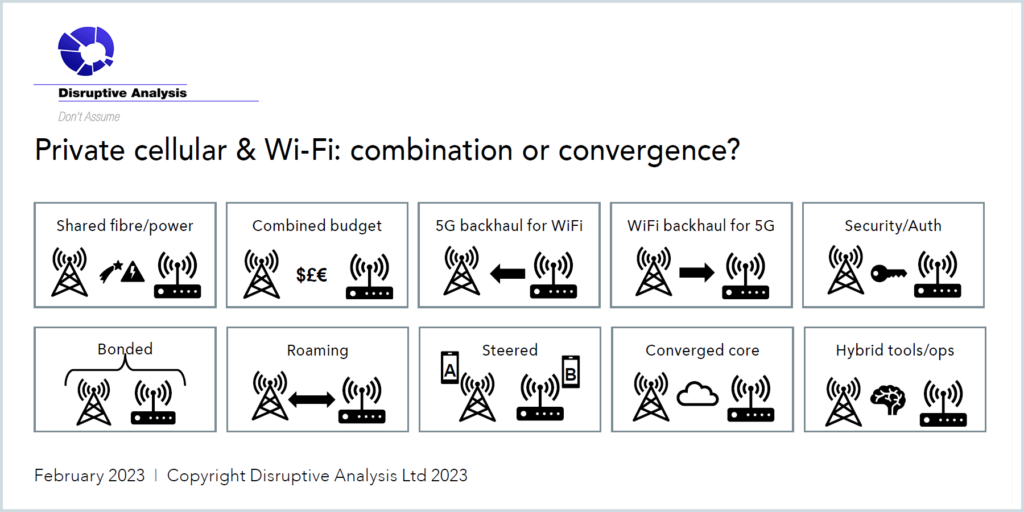 Some examples of private cellular and Wi-Fi combinations include:
There are many subtleties here around identity, security, investment cycles, systems integration, vendor choices, and device management. The result is that 2023 will not see a single "winner" architecture emerge, but we will certainly get more examples of proofs-of-concept, and probably a few "dis-proofs" as well.
It seems probable that – initially at least – various service providers (e.g., MNOs, enterprise MSPs, in-building neutral hosts) will be keener to pursue fully converged platforms than enterprises' own IT and networking teams.
It is also not just Wi-Fi that needs to work with (or around) private cellular either – many industries also use LoRa-type LPWAN for IoT connectivity, various industrial Ethernet and mesh systems for industrial automation, point-to-point wireless, DECT and TETRA radios, satellite communications, and so on.
Convergence is likely to be multi-technology, multi-layer, and multi-stakeholder. It will be an ongoing process which will likely take years and will be matched by simultaneous divergence as new point solutions are deployed as well.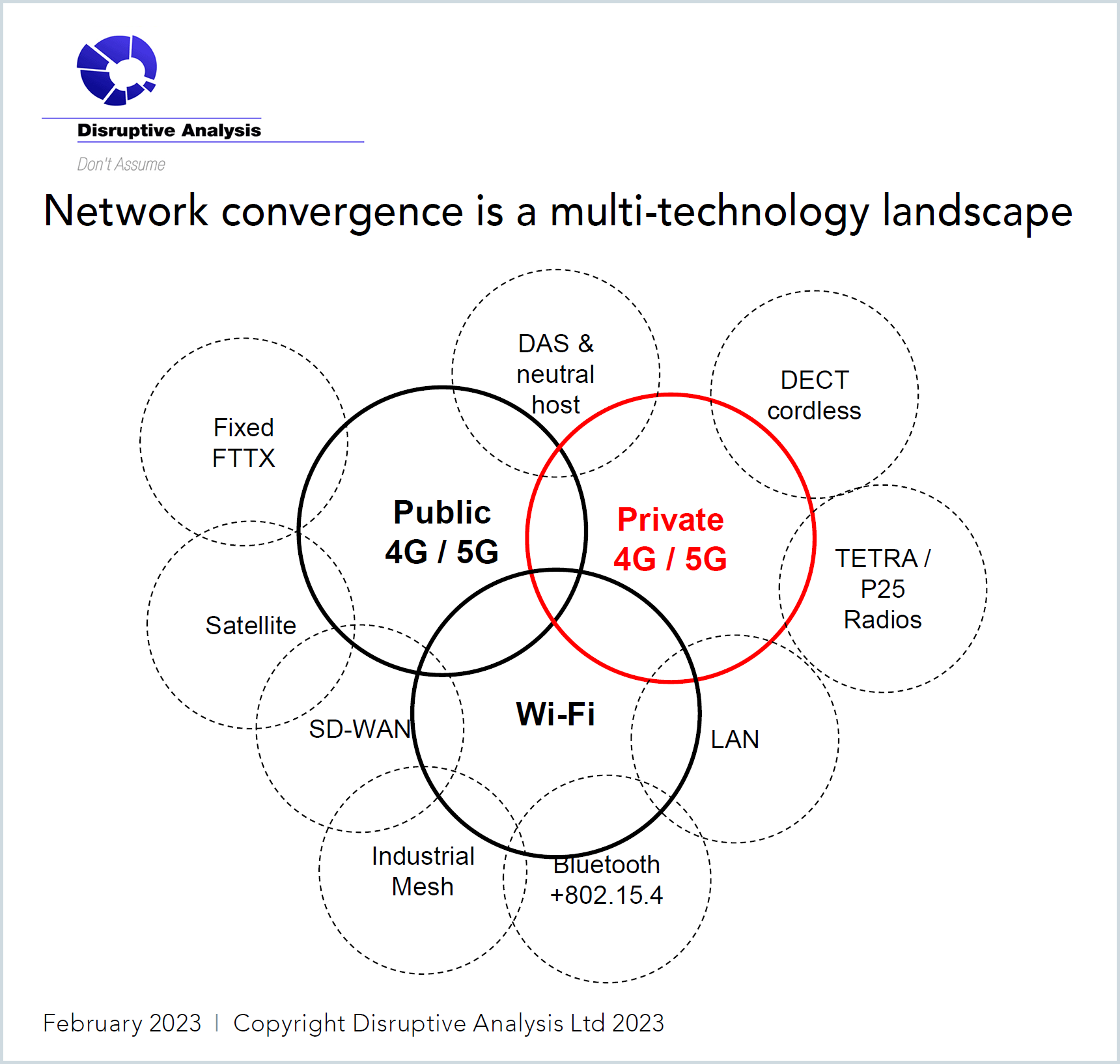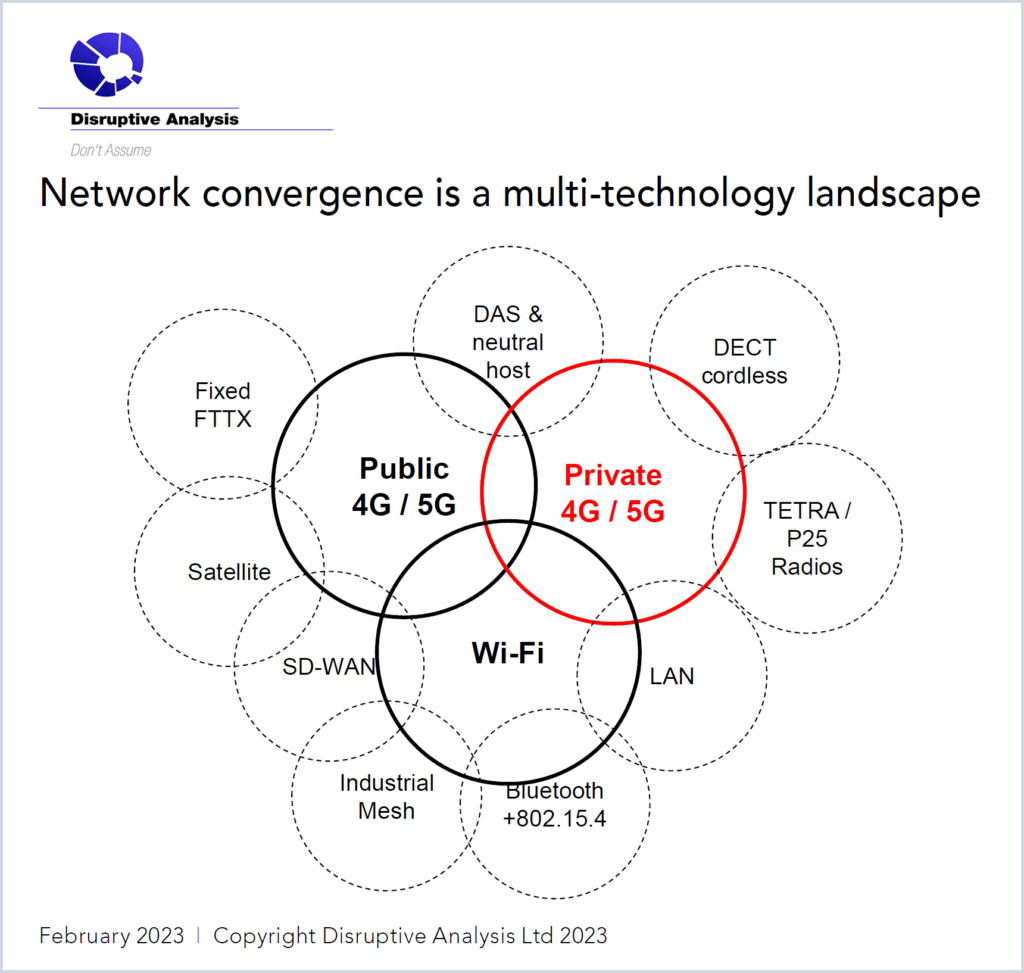 Other Key Trends and Regional Differences
This e-book has highlighted five major areas where private network are evolving quickly, with 2023-24 expected to show considerable change compared to the recent past. That list is not exhaustive, however. There are obviously many other trends and developments, both technical and commercial, that could be expanded upon as well.
Some of the areas worth highlighting – and potentially topics for future reports (as well as social media posts and articles) include:
International Differences for Private Networks
As noted throughout this e-book, the global market for P4G/P5G differs significantly, largely because of spectrum availability but also because of industrial structure and the needs of local industries.
Some markets such as UK, Germany, and Japan have well-designed regulations enabling shared spectrum to be obtained for specific factories or ports, although sometimes in unusual bands or for short periods of time for licenses. The U.S. now has a growing ecosystem for CBRS networks, but it can be difficult to access prioritized PAL licenses for small areas.
From a sectoral point of view, countries such as Chile and Australia have mines in remote areas requiring connectivity, while other countries see more P4G/P5G for major ports or airports. Germany is heavily focused on manufacturing use cases, while the UK seems to have a sizeable adoption among municipalities and construction sites. Some of these anomalies are just characteristic of early markets, so 2023-24 should see some of these effects "even out" over time.
Some examples of local spectrum accessible for the industry include:
Table: Examples of Locally Licensed Spectrum Options
Country
Spectrum bands
Licensing model
US
3.55-3.7GHz
Tiered licensing and dynamic access via automated SAS (Spectrum Access System) providers. Priority Access Licenses were auctioned on a county level basis. General Authorized Access is widely usable.
Germany
3.7-3.8GHz
Reserved for localized private network licensing, either with 4G or 5G equipment. Licensees can request rights for specific locations from the national regulator – typically for campus-sized facilities.
France
2.6GHz
3.8-4.2GHz
40MHz section of the 2.6GHz band has been made available for critical communications and industrial broadband use. New use of local licenses in Ban 77 is evolving & may be extended.
UK
3.8-4.2GHz
1.8GHz
2.3GHz
The 3.8-4.2GHz band is available for local 5G use, subject to protecting incumbent licensees. There are also small allocations at 1.8GHz and 2.3GHz. Another class of licenses is available for agreed secondary re-use of existing MNO bands in specific locations where they are unused.
Japan
4.6-4.9GHz
Local 5G licenses.
Australia
1.8GHz
30MHz set aside for enterprise and community groups.
Finland
2.3GHz
26GHz
Local licenses for industrial networks and other use cases.
Chile
2.6GHz
Local networks widely used for mining. Also, participation of MNOs allows use of national-licensed bands.
Denmark
3.7GHz
Leasing from MNOs is possible, albeit rare.
Canada
Various bands possible or under consultation
Remote areas have industrial SPs with various licenses around 700-950MHz, but Canada also considering CBRS-type models.
Taiwan
4.8GHz
China
Various bands with MNO or government permission
Common participation of China Mobile and other MNOs in industrial projects, with government support on spectrum availability.
Source: Disruptive Analysis
Key developments to watch in 2023/2024 include: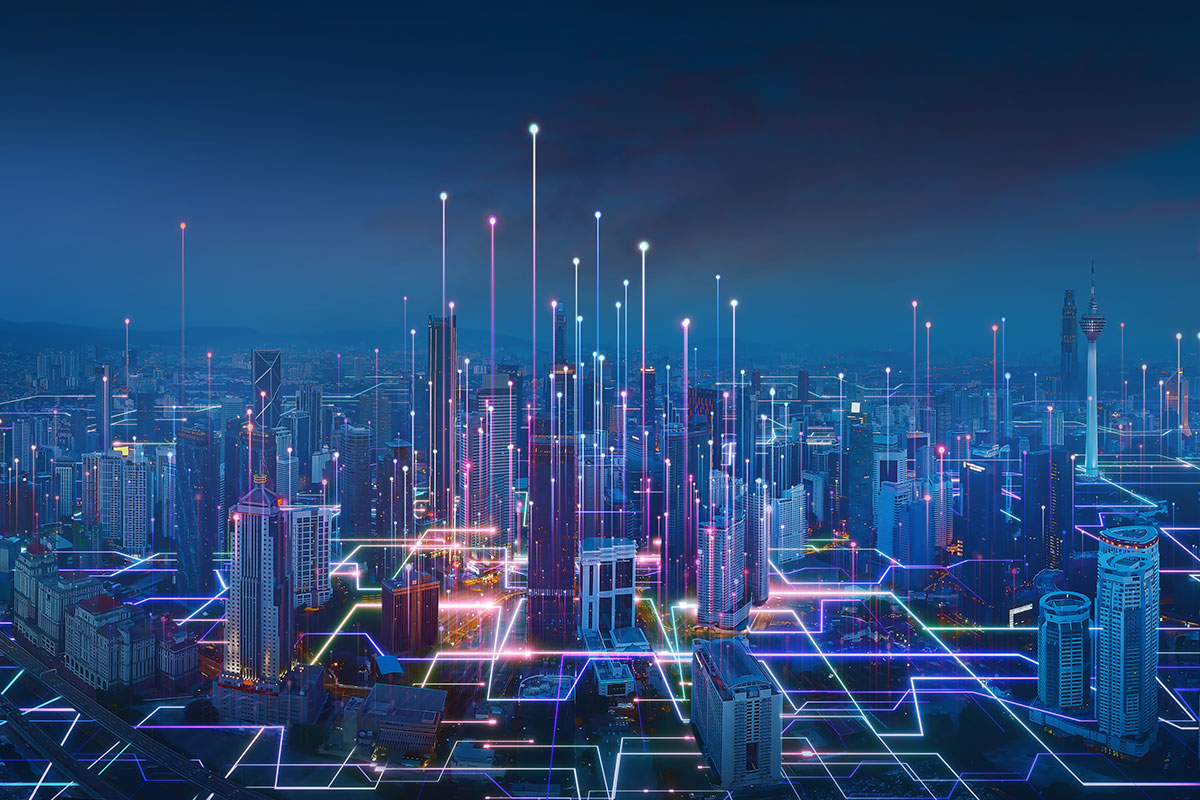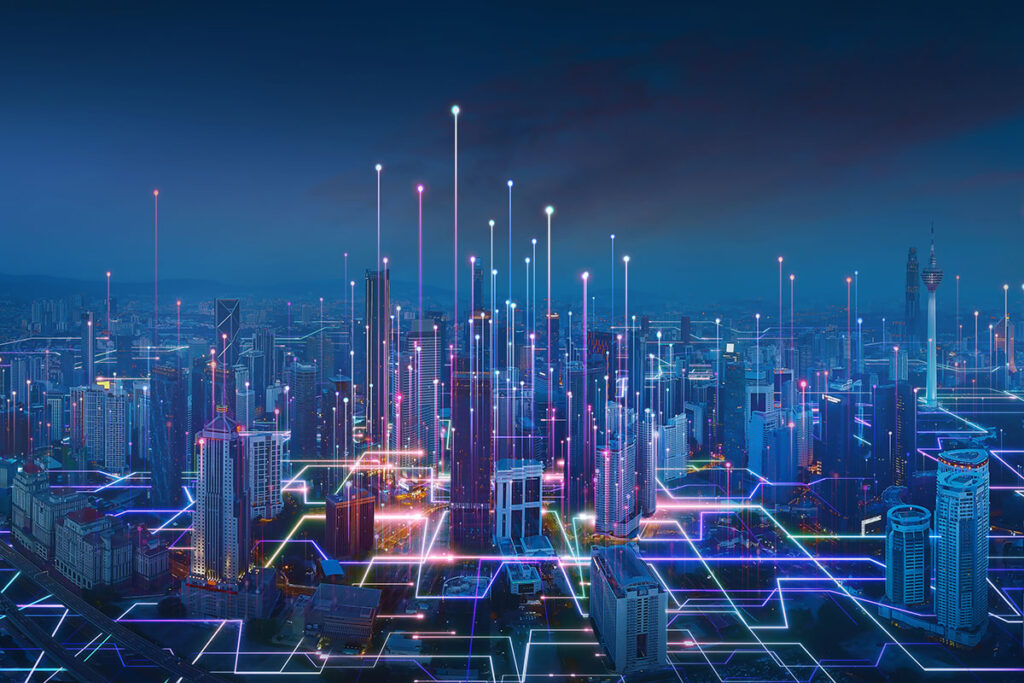 One other area of difference around the world is in the allocation of the 6GHz band for unlicensed use, and especially Wi-Fi 6E/7. Some countries such as the U.S., Canada, and Brazil have released the entire 1200MHz between 5.9-7.1GHz, while others have just allocated part of the band. 2023-24 will also see the launch of AFC (automated frequency coordination) for outdoor use.
While Wi-Fi and private 4G/5G are broadly complementary in use cases, there is some overlap and substitution. The position on 6GHz may drive medium-term differences – and the outcome of the World Radio Congress, WRC-23, at the end of the year is one to watch closely.
About the Author
Dean Bubley, Director, Disruptive Analysis Ltd.
Network Technology & Futures Analyst/Consultant.
Dean Bubley (@disruptivedean) is the founder of Disruptive Analysis, an independent technology industry analyst and consulting firm based in London. An outspoken analyst & futurist with over 25 years' experience, he specializes in wireless/telecoms fields, with an eye on the broader technological, governmental, and societal contexts. He is one of the leading market observers and forecasters covering 5G/6G, Wi-Fi, FTTX, edge/cloud compute, enterprise private networks, IoT, and policy issues including spectrum, competition, and broadband wholesale. He has covered private cellular networks since 2001.
He is known as a contrarian and visionary, often with challenging opinions that go against industry consensus. Speaking at over 30 conferences and other events per year, and quoted by publications such as The Economist, FT, and Wall Street Journal, he is an authority and provocateur. He regularly appears in technology industry videos, podcasts, and blogs.
Mr. Bubley was formerly an equity analyst, covering communications stocks with the UK arm of investment bank Robert W. Baird. Prior to that, he spent eight years at UK research firm Datamonitor, where he co-founded the company's technology business and managed the internet and networking area and custom consulting operations, with roles of chief analyst and director of consulting. He holds a BA in Physics from Keble College, Oxford University.
References
[1] Industry association GSA registered 66 large (>$100k) new enterprises publicly deploying private 4G/5G in Q3 2022 in its database, implying a 250+ pa run rate. Given some enterprises have multiple sites, other installations are undisclosed, and many are smaller in size, a total of 1000+ is plausible.
[2] https://gsacom.com/technology/private-mobile-networks/
[3] https://www.telekom.com/en/media/media-information/archive/5g-millimeter-wave-technologies-for-industry-1024054
[4] IWLAN = Wireless Local Area Network (WLAN) interworking
ANDSF = Access network discovery and selection function
ATSSS = Access Traffic Steering, Switching and Splitting
N3IWF = Non-3GPP Access Interworking Function
[5] https://www.telekom.com/en/company/details/deutsche-telekom-demonstrates-multipath-for-fixed-mobile-convergence-on-campus-625838