A Complete Guide to Surveying and Grid Testing Public Safety Survey Networks
A Complete and Accurate Survey Paves the Way for Optimal Network Design
Public safety networks in buildings empower first responders and emergency workers to share potentially life-saving information with each other, with central command staff, and with other agencies at critical times. These networks are considered so essential to saving lives, they're now mandatory in new buildings and renovation projects in many jurisdictions around the world.
Because indoor public safety networks are designed and built to support mission-critical communications, they're different from a standard distributed antenna system (DAS) in several ways.
Indoor Public Safety Networks
Have Unique Requirements
To ensure they provide the highest possible availability, indoor public safety networks must meet pathway survivability standards and adhere to stringent backup power standards. The network must also cover all areas of the building, including those that are often a low priority or difficult to cover with a DAS. These areas include escape routes such as elevators and stairwells as well as critical areas such as the fire command center, fire
pump room, standpipe cabinets, and sprinkler sectional valve locations that are often buried deep within buildings.
From a communications perspective, the public safety network is for the exclusive use of first responders and emergency workers who communicate using Project 25 (P25) two-way radio
communications, private LTE cellular communications, or analog system. The network uses spectrum dedicated to public safety communications, and is the full financial and legal responsibility of the building owner.
The Survey Reduces Risks Related to Coverage, Costs, and Approvals
A complete and accurate network survey ensures these mission-critical networks are fully optimized for coverage, costs, and jurisdictional requirements.
The survey is the only way to:
Overcoming Common Challenges with Public Safety Network Surveys
Like any task, surveys for indoor public safety system networks come with challenges. However, taking time upfront to thoroughly understand survey requirements and choose the right survey solution helps to overcome those challenges.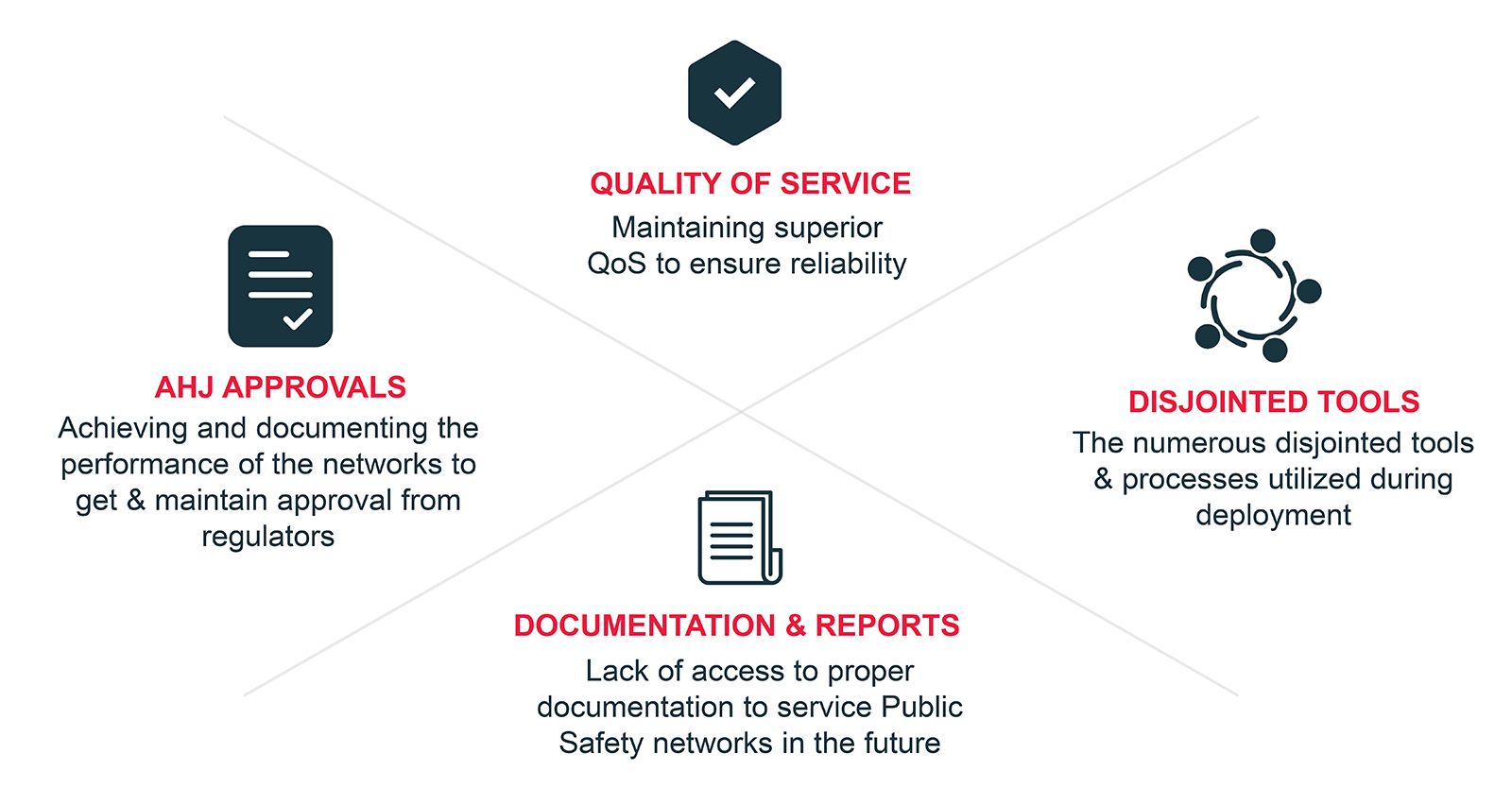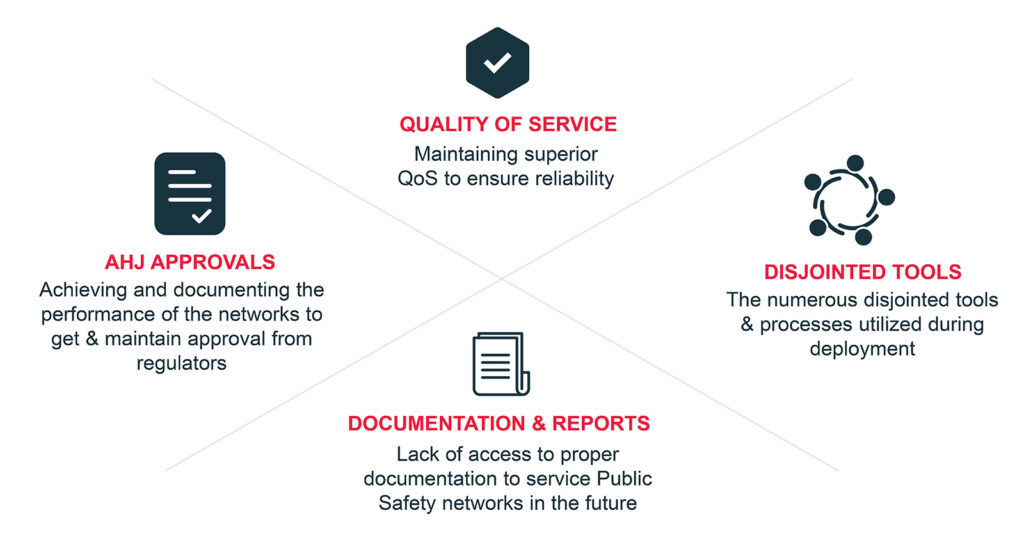 Reviewing AHJ Requirements
Each AHJ has unique and specific requirements for in-building public safety network surveys and reports. Before starting the survey, it's extremely important to carefully review those requirements as they will determine how the survey is executed. AHJs typically specify the critical areas in the building that must be covered, how and where measurements must be taken, and the drawings and data that must be included in the survey report. They may also dictate the technologies that can and cannot be used to take measurements.
Getting the survey right the first time reduces the risk of inadequate network performance, project delays, and unexpected costs: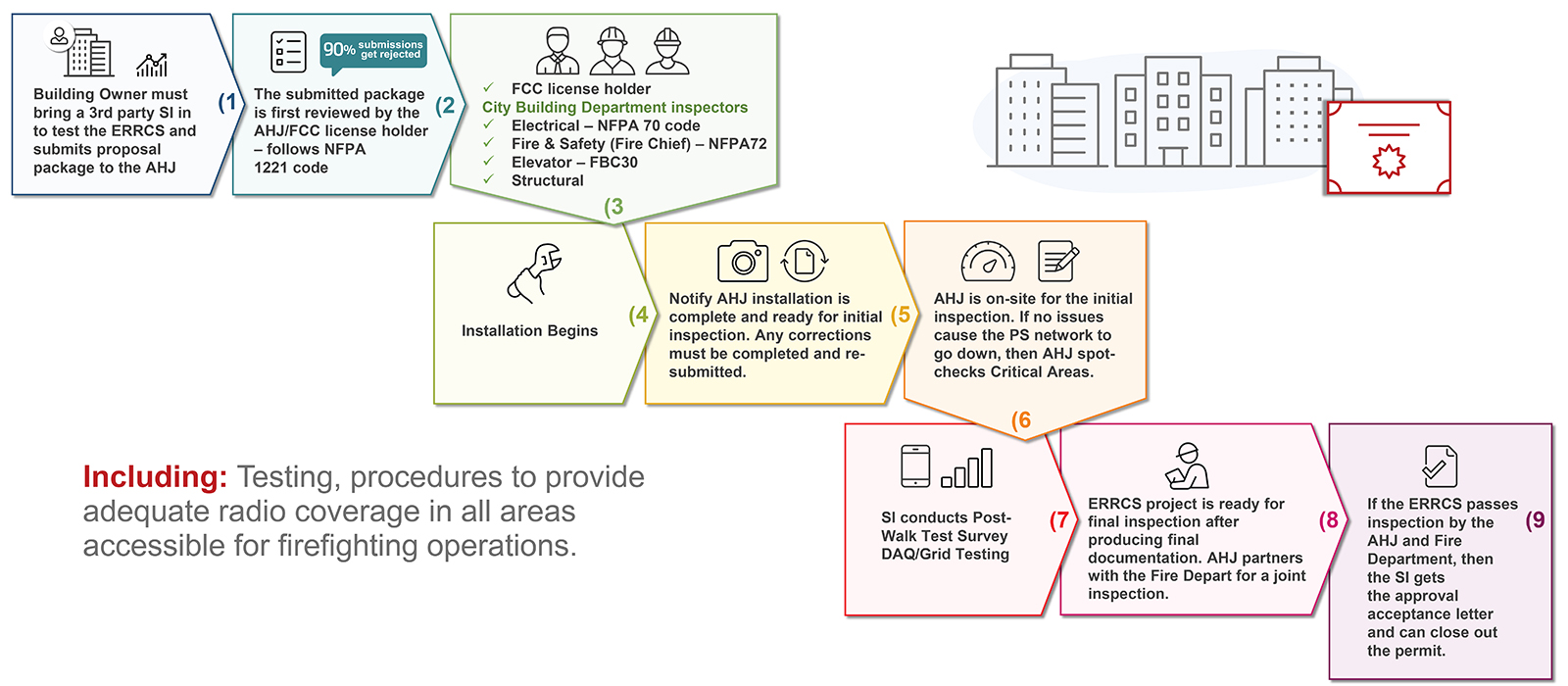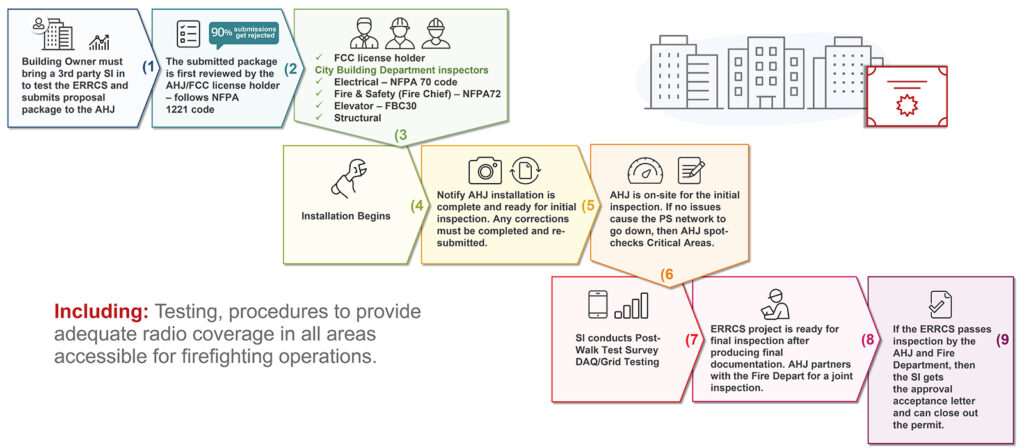 Choosing the Right Survey Solution
Historically, environment and RF measurement survey details were captured using pen and paper. However, this manual approach significantly increases the risk of errors and misunderstandings when data is transferred to network design engineers. The manual approach also considerably elevates the cost and involves more time spent since field engineers have to write a document to report site surveys and grid test measurements.
Survey solutions that eliminate the need to manually capture and share data are available but must be carefully evaluated to ensure they don't introduce other issues. For example, it's important to avoid survey solutions that are:
Understanding RF Propagation Basics in Buildings
Every building has a different RF propagation profile so it's crucial to survey for coverage in a comprehensive way with no assumptions. For example:
Spectrum and Building Materials Influence Signal Penetration and Attenuation
The frequencies used for public safety communications affect how well signals penetrate into buildings and how likely it is that interference from other networks, systems, and devices will be an issue.

Overall, RF signals at lower frequencies penetrate into buildings and through dense materials better than signals at higher frequencies. Because signal penetration from outdoor public safety networks heavily influences indoor network requirements, it's important to know which frequency is being used for public safety communications. In the U.S., public safety channels are available across a wide range of frequency bands:
The materials used on the outside and inside of the building also affect signal penetration and attenuation, and must be considered during surveys. For example, at 900 MHz:
People, furniture, electronics, and infrastructure such as water conduits and wiring also influence RF signal propagation in buildings.
RF Propagation Influences Network Equipment Choices and Costs
When RF signal penetration into and throughout the building is poor, the public safety network must include boosters, amplifiers, and repeaters that strengthen and disseminate RF signals indoors. These elements increase network costs and may need to meet very specific AHJ requirements. As a result, it's extremely important to know which types of materials are present in different areas of the building, and to take signal strength readings in each area. Readings taken near windows often differ considerably from readings taken near central elevator shafts, stairwells, support columns, and infrastructure stacks.
Boosters, amplifiers, and repeaters may also be required to ensure in-building RF signals are stronger than macro public safety network signals, particularly on higher floors where macro network signals can be quite strong. Capturing the differences in macro signal strength throughout the building determines how much additional equipment is needed to ensure public safety radios don't jump from the indoor public safety network to the outdoor network as first responders move through the building.
Streamlining the Network Survey and Report Submission
Using the right survey solution simplifies and accelerates each stage of the grid and environment survey process, making it fast and easy for technicians to generate comprehensive and accurate survey reports that meet AHJ requirements.
To streamline the survey and report creation process, survey solutions must provide the following characteristics and capabilities: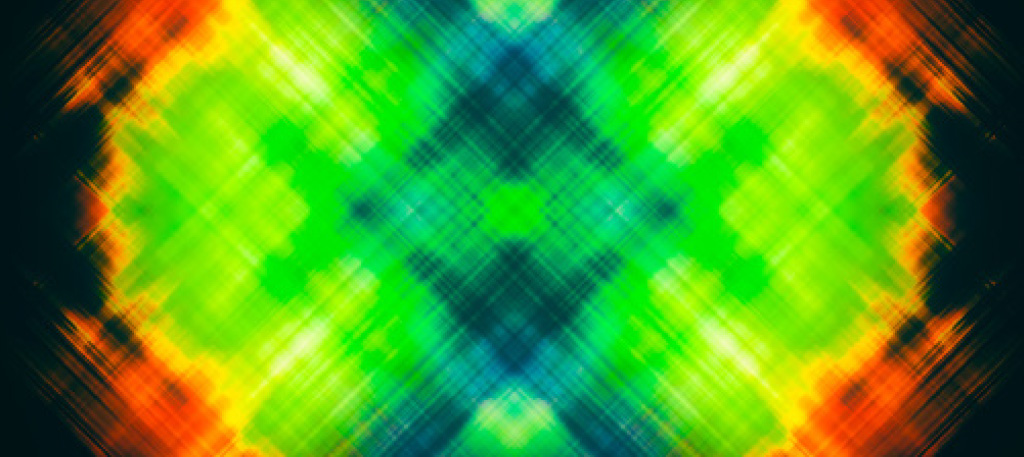 Conducting an Indoor Public Safety Network Survey
An indoor public safety network survey that is efficient, cost-effective, and meets AHJ requirements includes key activities before, during, and after the survey.
Before the Survey: Verify the Basics
We can't over-emphasize the importance of reviewing the AHJ survey and report specifications before starting the survey. In particular, review the AHJ requirements for grid sizes, measurement locations, and inclusion of calculations for inbound and outbound signal strength.
To reduce the risk of unnecessary and unexpected delays, it's also important to confirm logistics associated with the job. Before heading to the site, verify:
During the Survey: Take a Methodical Approach
There are no hard and fast rules for the survey process, but it often makes sense to start with grid testing.
1. Start with Grid Testing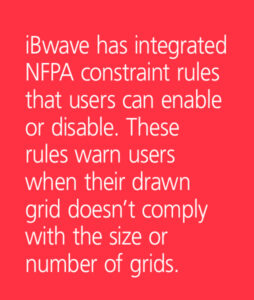 Before starting the test, add scaled grids that meet AHJ requirements over the floorplan and thresholds for each measurement type.
Then, walk every floor taking the required measurements, annotating images and videos with notes about what is being captured and building materials used in the area.
Once you capture the measurement data, you will see which grids passed or failed the test based on the set thresholds and generate a report that you will then submit to AHJs for approval.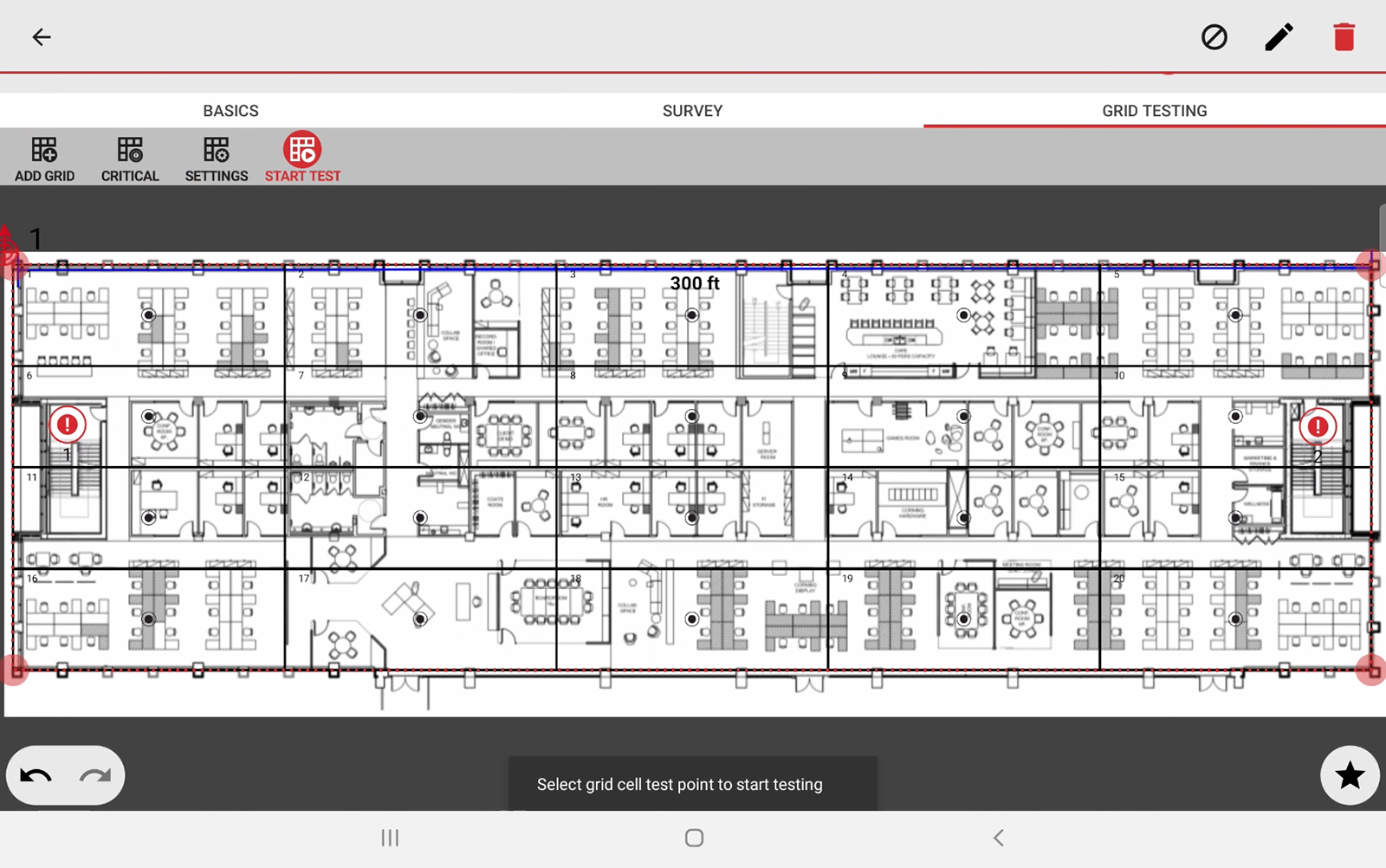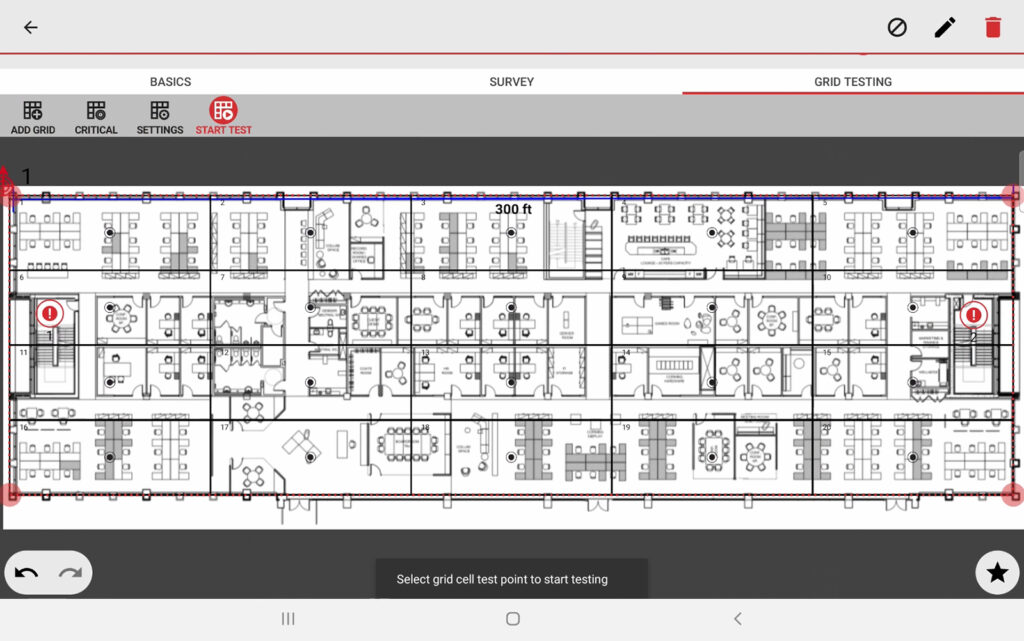 2. Perform Environment Survey
The next step is the environment survey, which determines where the donor antenna, bi-directional amplifier (BDA), riser cables, and antennas are located.
Identifying the optimal rooftop location for the donor antenna is particularly important as expensive rooftop alterations may be required to accommodate the installation. To determine the best location for the donor antenna, start by identifying the tower the antenna will communicate with and the strength of signals from that tower. This information is also important to network designers because it influences the indoor equipment used in the network. For example, if signal strength is low on the building rooftop, network designers will need to choose a BDA with higher gain than other models.
It's also critical to consider where in the building the BDA will be installed as the location also affects network costs and signal propagation. BDAs are often installed in the fire life safety or fire pump rooms, which are typically located in basements. These locations can require very long riser cable runs to the donor antenna and additional antennas to ensure adequate high-quality signals in areas far from the BDA. To identify the optimal antenna locations, walk each floor of the building and consider the materials used in each area as well as the distance from the BDA.

3. Test Network Coverage
To ensure reliable and adequate network coverage for the public safety network, it is crucial to test its performance.
Here are the key steps involved:
Perform a Walk Test: Walk through the building while measuring signal strength and quality. Capture important metrics like Received Signal Strength Indicator (RSSI), Signal-to-Interference-plus-Noise Ratio (SINR), and Bit Error Rate (BER) to assess network performance.
Capture P25 Measurement Data: Collect specific measurement data for P25 networks, including RSSI, SINR, and BER. These measurements provide insights into the quality and reliability of P25 signals throughout the building.
Interpolate Results: Create a coverage map by interpolating the collected data. This map visualizes signal strength and quality across the building, helping identify coverage gaps, overlaps, and potential interference areas.
By conducting a walk test, capturing P25 measurement data, and interpolating the results, you can evaluate network coverage comprehensively. This information is vital for optimizing the system, identifying areas that need improvement, and ensuring compliance with AHJ requirements.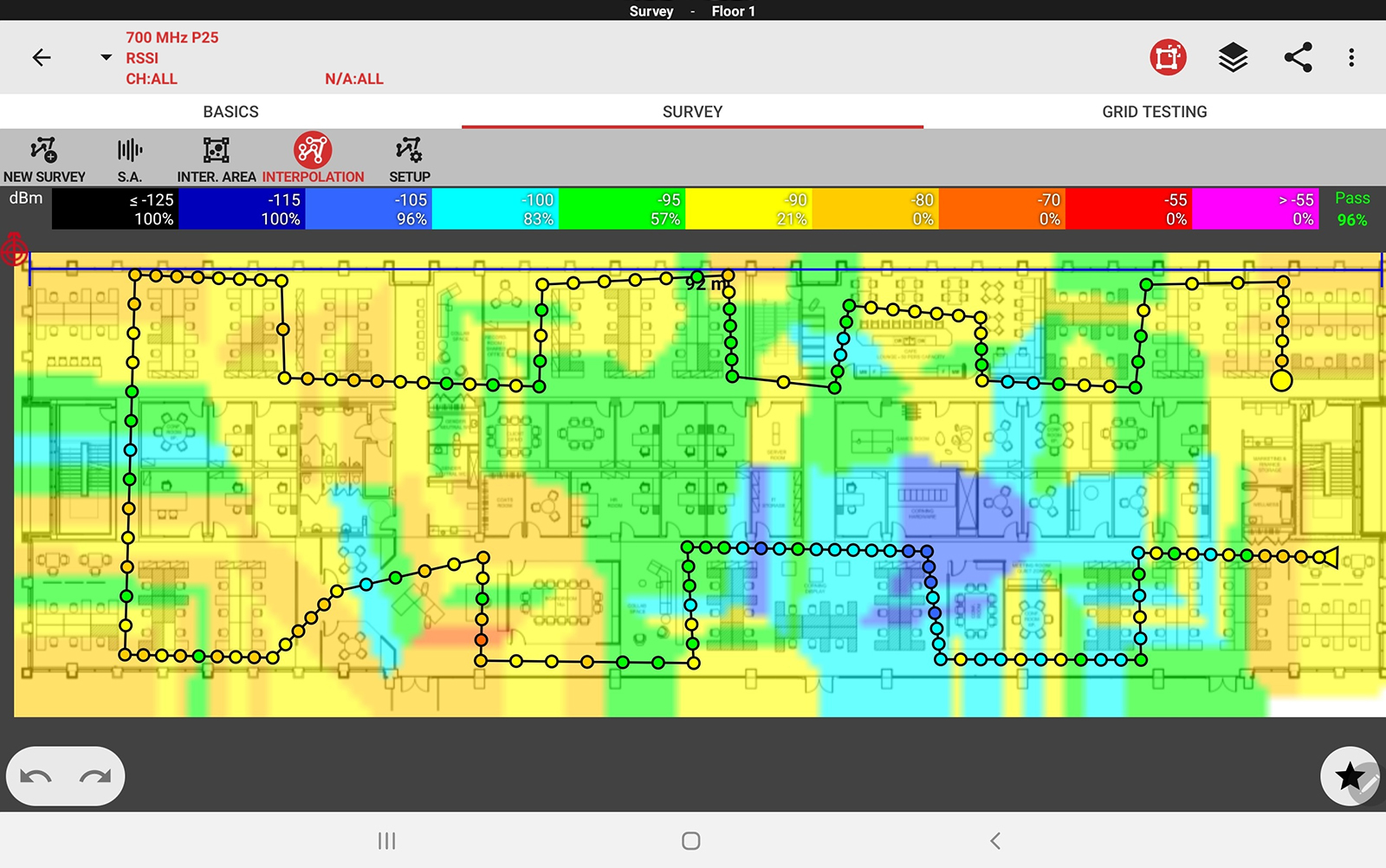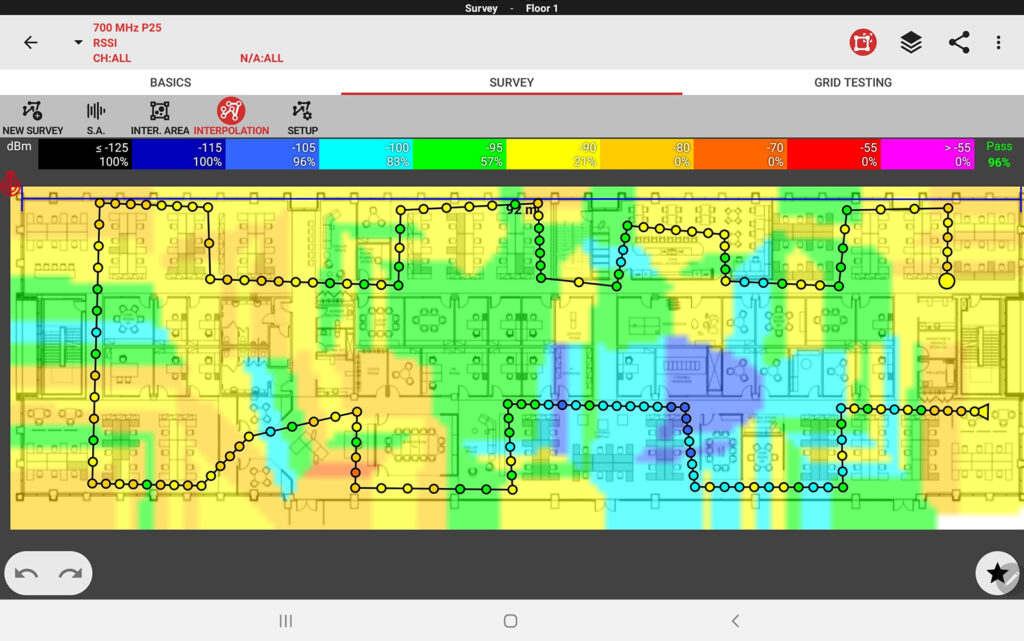 After the Survey: Submit the Report and Follow Up
The final step is to generate a report that can be immediately submitted to the AHJ, building owner, and network designers. To ensure the complete picture is provided, be sure to include higher level insight such as:
Being on-site is also a good opportunity to verify details related to the network deployment, including construction details, installation timing, and restrictions that could affect deployment costs. This insight helps to prevent costly delays and surprises at later stages of the project, particularly if significant rooftop alterations are required to accommodate the donor antenna.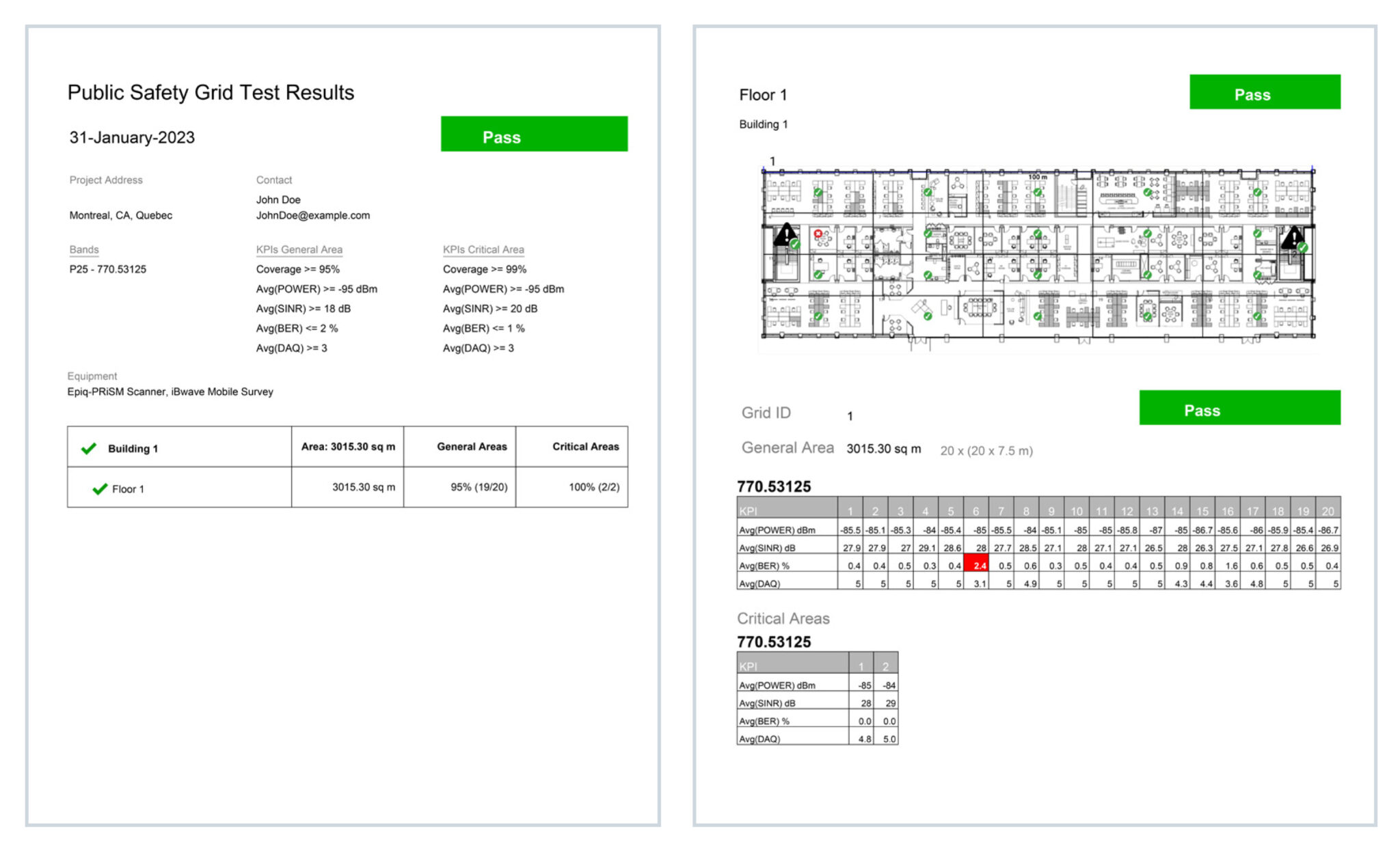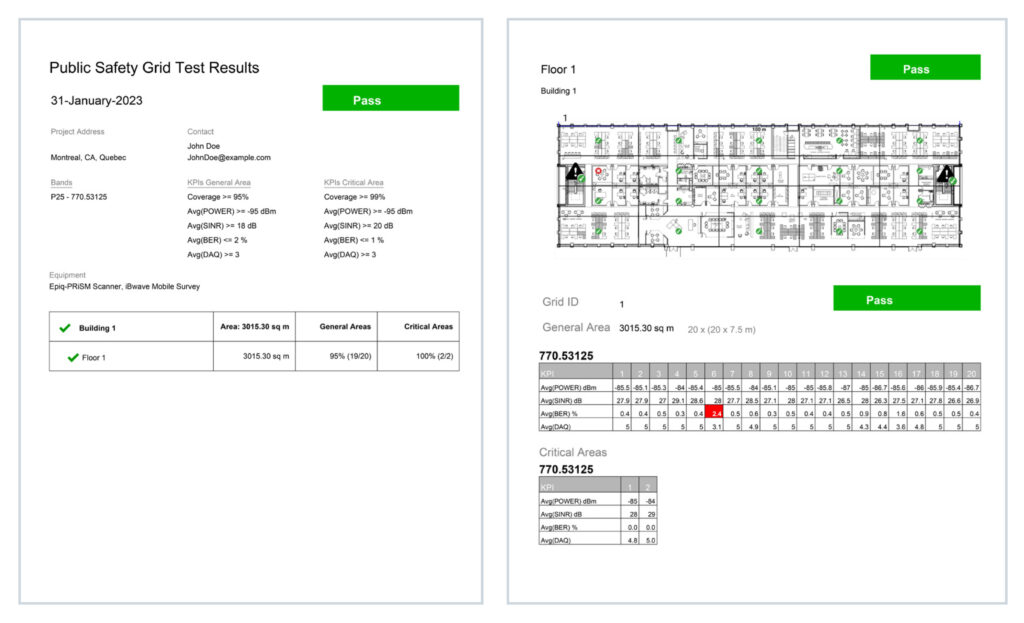 Integrating the Network Survey Into the End-to-End Process
For maximum efficiency, network quality, and cost control, the network survey must be part of the end-to-end network process, rather than a standalone activity.
At iBwave, we understand the challenges, constraints, and requirements associated with indoor public safety network surveys. Our survey solution simplifies and accelerates the survey process, and contributes to higher quality, more cost-effective public safety networks in buildings.
Public Safety Network Surveys Made Simple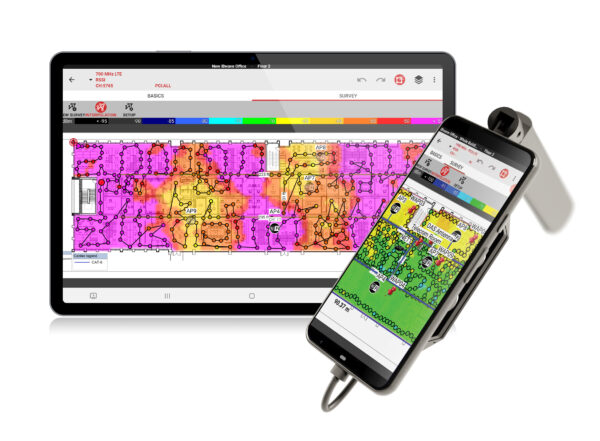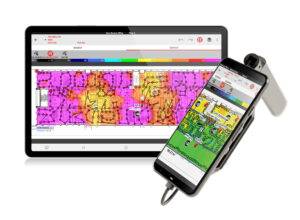 The iBwave Mobile Survey for Public Safety solution gives technicians a simple, lightweight, and affordable way to test, verify, and document public safety networks in buildings. They can simply attach the lightweight and power-efficient Epiq Solutions' PRiSMTM scanner to their Android device to quickly and easily: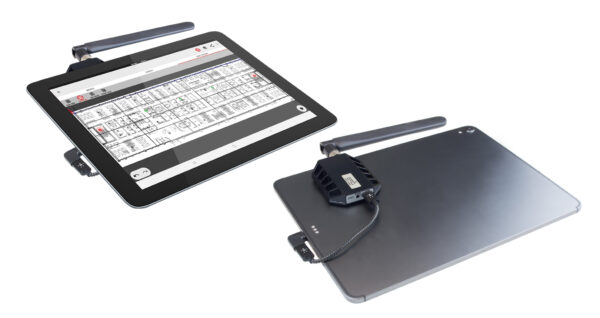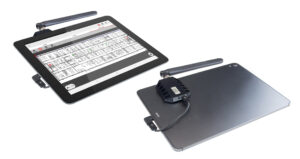 The compact PRiSM scanner weighs only 6 ounces (under 170 grams) and easily snaps onto mobile devices using a magnet. The seamless integration between the scanner and the mobile app means technicians never have to struggle with heavy, complicated, and disjointed survey solutions that are expensive to purchase and time-consuming to learn.
Because the iBwave Mobile Survey for Public Safety solution also integrates with the iBwave Public Safety design solution, the integrity of captured data is maintained throughout the end-to-end process. Network designers don't have to waste time struggling to interpret handwritten data, and there is significantly less risk of human errors on the survey and design sides of the equation.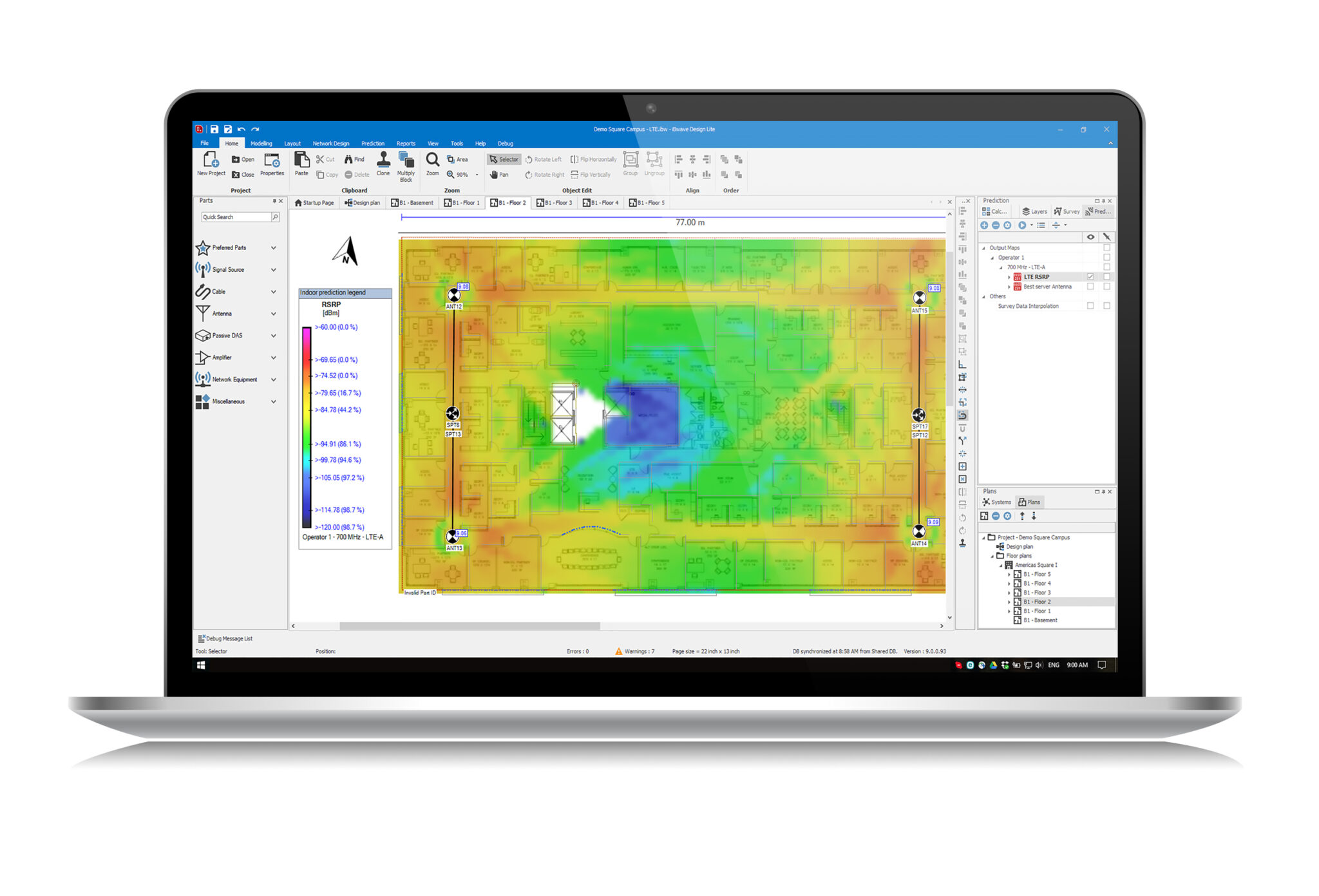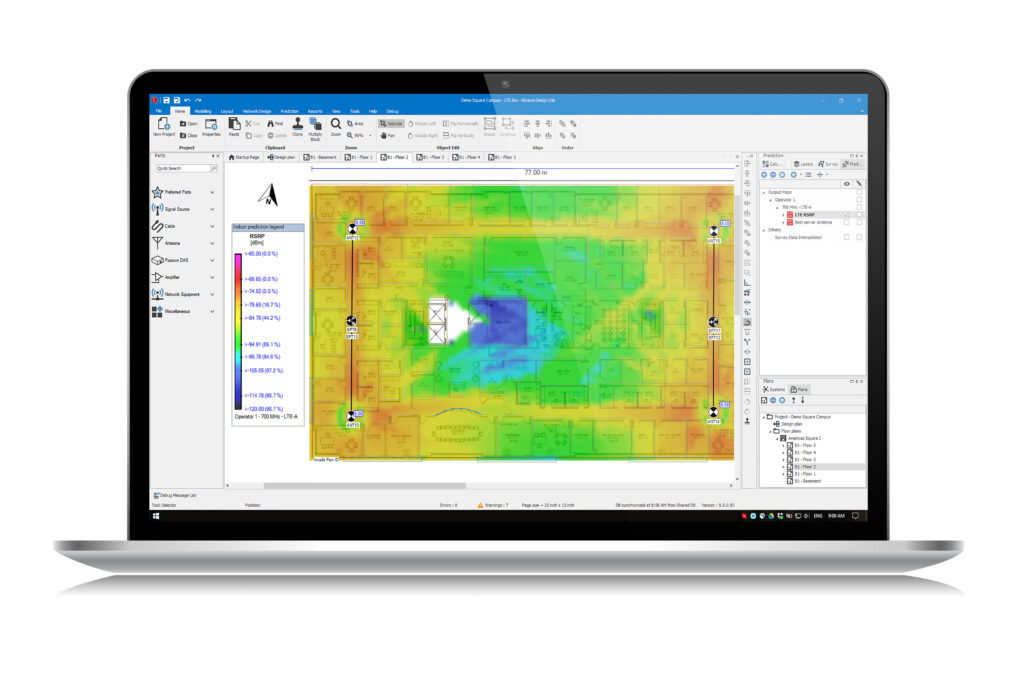 The iBwave Mobile Survey for Public Safety solution also provides value beyond the initial site survey. It can be used to measure year-over-year changes in signal coverage and quality. These comparisons can be used to verify the in-building public safety network is performing as expected and to troubleshoot reported issues.
Learn more
To learn more about the iBwave Mobile Survey for Public Safety solution and the Epiq PRiSM scanner, visit our website or contact us.