How to Design High Capacity Wi-Fi Networks with Industry Expert Andrew von Nagy
A look at capacity planning challenges and considerations
Want to learn more about the critical aspects of capacity planning and how it can lead to great Wi-Fi networks?
Or want to get a firsthand look at iBwave's revolutionary new capacity planning capabilities?
Join us with industry expert Andrew von Nagy, as he talks about the critical aspects of Wi-Fi network design and capacity planning.
We will finish off with a short demo of iBwave's new Wi-Fi capacity planning capabilities and how they can help simplify your next project.
You will learn:
Wi-Fi industry trends
Critical aspects of Wi-Fi design and capacity planning
Capacity planning considerations
Iterative process to balance all design aspects
Demo of iBwave Wi-Fi® with capacity planning
Wirelessly yours,
Andrew and iBwave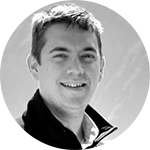 Andrew von Nagy
The Wi-Fi Revolution
Business Partner and Director of Infrastructure.