TAKE DATA THROUGHPUT RATES TO THE NEXT LEVEL
The newest release of iBwave Design gives you and your team everything you need to fully leverage the newest wireless technologies like LTE-Advance, LAA, and CBRS in all your wireless network design projects.
Plus it's got some great new features like body loss modeling and new LTE-Advanced & LAA unlicensed spectrum modeling so you can design and deliver networks with higher data throughput levels.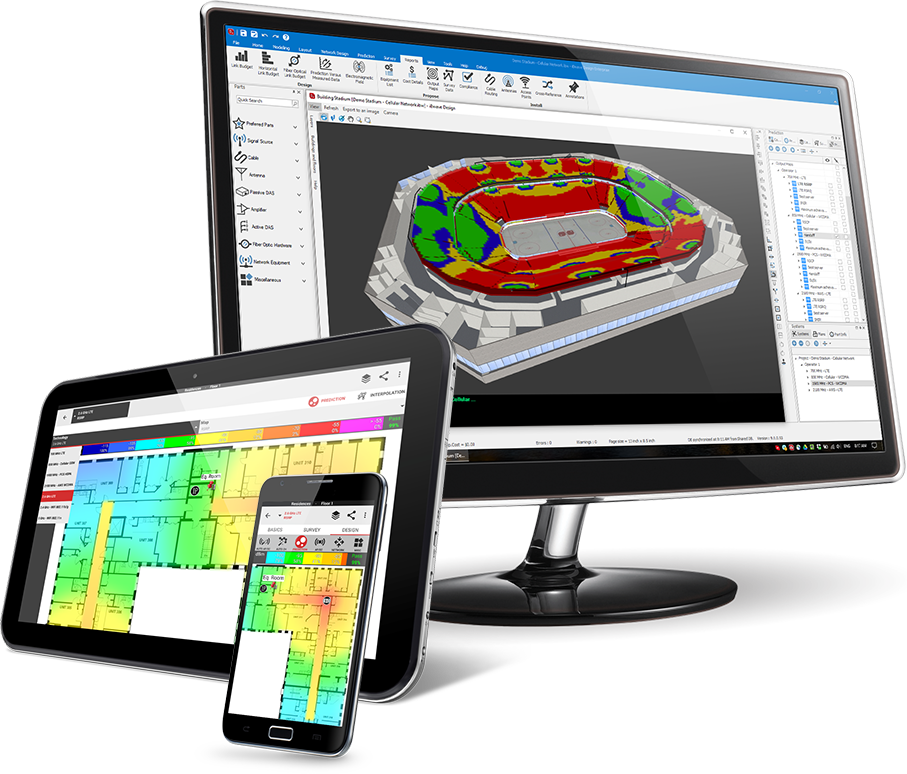 Design any type of indoor wireless network with iBwave Design
Design Cellular & WiFi Together
Design any type of wireless network with the only software that enables true convergence of both cellular and Wi-Fi technologies.
Accurate RF Predictions
With powerful capabilities like body loss modeling, advanced capacity planning, and prediction calibration you can be sure the design you deliver performs as predicted.
Future Ready
Leverage the full capabilities of new and emerging wireless technologies like LTE-Advanced, CBRS, LAA, and 5G.
3D Predictive Modeling
Impress customers, maximize prediction accuracy and win more bids with the powerful 3D modeling & prediction visualizations.
Cloud Connectivity
Use our cloud connected solution to manage and synchronize all of your site and project data in one place.
Training & Certification
Become one of the thousands of wireless engineers around the world iBwave certified.
What People Are Saying...
about the newest iBwave Design Features
LTE carrier aggregation and Body loss prediction are the best features of Release 10. We are currently in the process of designing a stadium and body loss prediction will really help.
– Tier 1 Operator, South Asia –
I really like the updated that have been made regarding LTE-LAA and Best Server/Handoff Matrix. This will allow troubleshooting a design to become faster.
– RF Engineer, Large System Integrator –
Interested in learning more about Network Convergence?
There is a lot of talk about convergence and the impact on the Enterprise and the wireless industry as a whole.
Download this eBook by industry thought-leader and futurist Dean Bubley to learn more about what convergence is and what is driving the integration of cellular, Wi-Fi and Fiber infrastructures.
In this eBook you can read about
The background for network convergence
Impact on Wi-Fi and 5G
Cloud RAN
How indoor wireless networks are being used differently
Changes with regulation & spectrum
Convergence business models
And more!