Deploying Private Networks for your Mining Operations?
Ensure Reliability, Accuracy, and Control with iBwave
iBwave is the industry's only wireless software with everything you need to survey, design, and maintain your Private Networks + Wi-Fi in one solution.
Accurately design and simulate how your private networks will perform to support your Smart Mining and Connected Mining operations with iBwave network design software. With iBwave Mobile Survey you can eliminate time-consuming and costly site surveys and have an end-to-end view of both the macro and indoor data as you design.
iBwave for Private Networks for Mining
The future of mining is connectivity-powered innovation.
Private wireless networks provide the robust, pervasive, ultra-reliable and secure connectivity that automated mining operations demand.
Benefits of Private Networks for Mining
Case Study: How a Mining Company Designed & Deployed an Outdoor Network using iBwave Reach
Learn how one of the largest mining and logistics companies used iBwave to accurately model and design an outdoor pLTE network for a current and projected new mining site.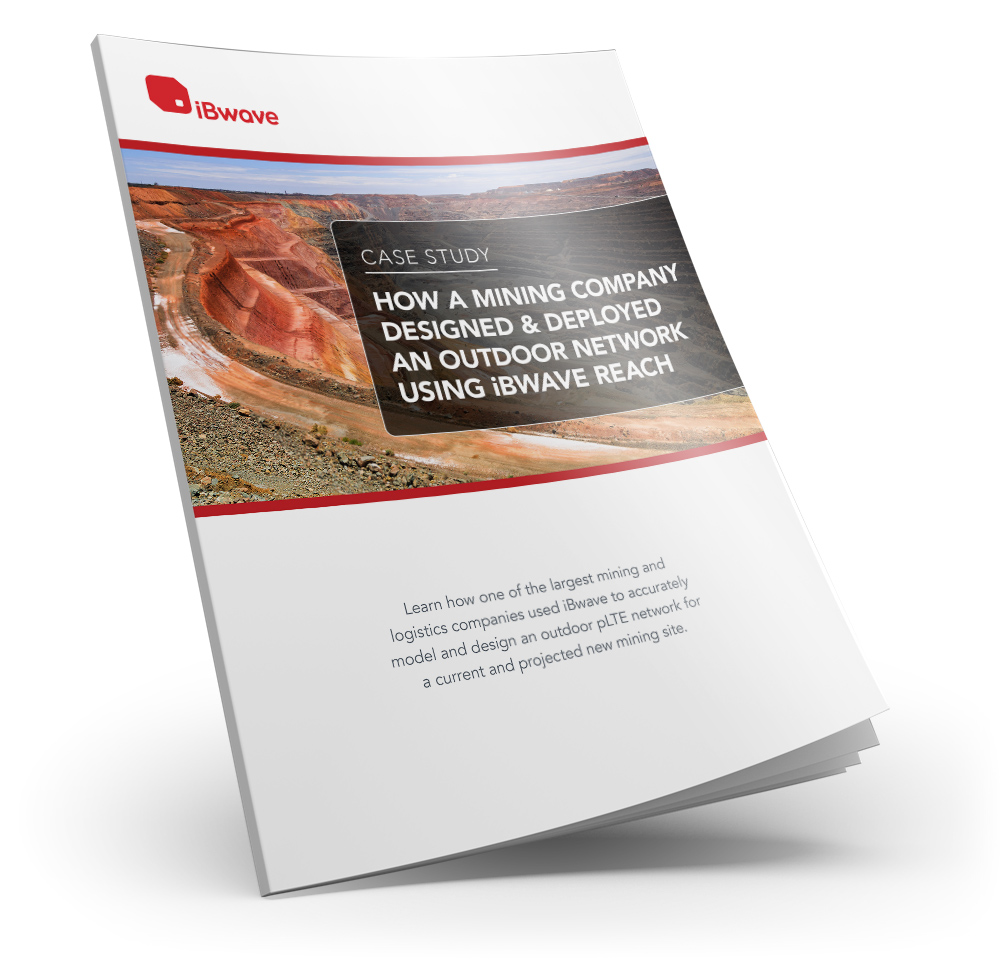 Subscribe to get more mining industry content!
eBook: Private Networks for Mining
An overview of the challenges, market drivers, use-cases and trends for private networks for mining.
Webinar: Emerging Trends in Private Networks for Mining
Watch to hear about key trends in mining that are driving adoption of private cellular, especially as an enabler for Smart Mining and wider Industry 4.0 capabilities. 
Webinar: Private Networks for Mining
Watch to learn about the challenges of implementing wireless technologies in mining environments.
Quick-Reference Poster
Private Networks Wireless Standards Reference
Get easy access to our free Private Networks standard reference poster.
iBwave Products for Mining
Raise the bar in your mining operations
iBwave gives you the most accurate, robust and easy-to-use solutions for designing, surveying, and maintaining your private networks. Our solutions allow RF engineers to automate the design process and model surface or underground mining environments with a database of over 35,000 components needed for your private network. Our modeling and survey tools provide accurate analysis to ensure an ultra-reliable, secure, and pervasive network.
iBwave Design Enterprise
iBwave Design software is the best-in-class network design software used for designing networks in your underground smart mining operations.
iBwave Private Networks
LTE & 5G + Wi‑Fi Solution
For smaller mining operations our Private Networks is the simplest and most reliable solution to plan, design and deliver high-performance CBRS and Wi‑Fi networks.
iBwave Mobile Survey for Private Networks
iBwave Mobile Survey eliminates time-consuming and costly site surveys and gives you an end-to-end view of both the macro and indoor data as you design.
Request a Demo
Improve your mining operations with Private Networks
Talk to a sales rep to learn about pricing, implementation, and which solutions are best for your mining operations. Private Networks: