DESIGN COMPLEX VENUES FASTER
The newest release of iBwave Wi-Fi introduces a much faster and more efficient way to design large complex venues.
With the new performance improvements, quick connect cabling automation tool and annotation enhancements, your productivity will be maximized.
What's New in iBwave Wi-Fi R11?
QUICK CONNECTION TOOL
Save up to 80% of the time it usually takes you to cable your sources to your APs with this new quick connect tool. Select your source, select your APs, select the cable from the smart list of acceptable cables, and watch as it all automatically connects along the cable paths in seconds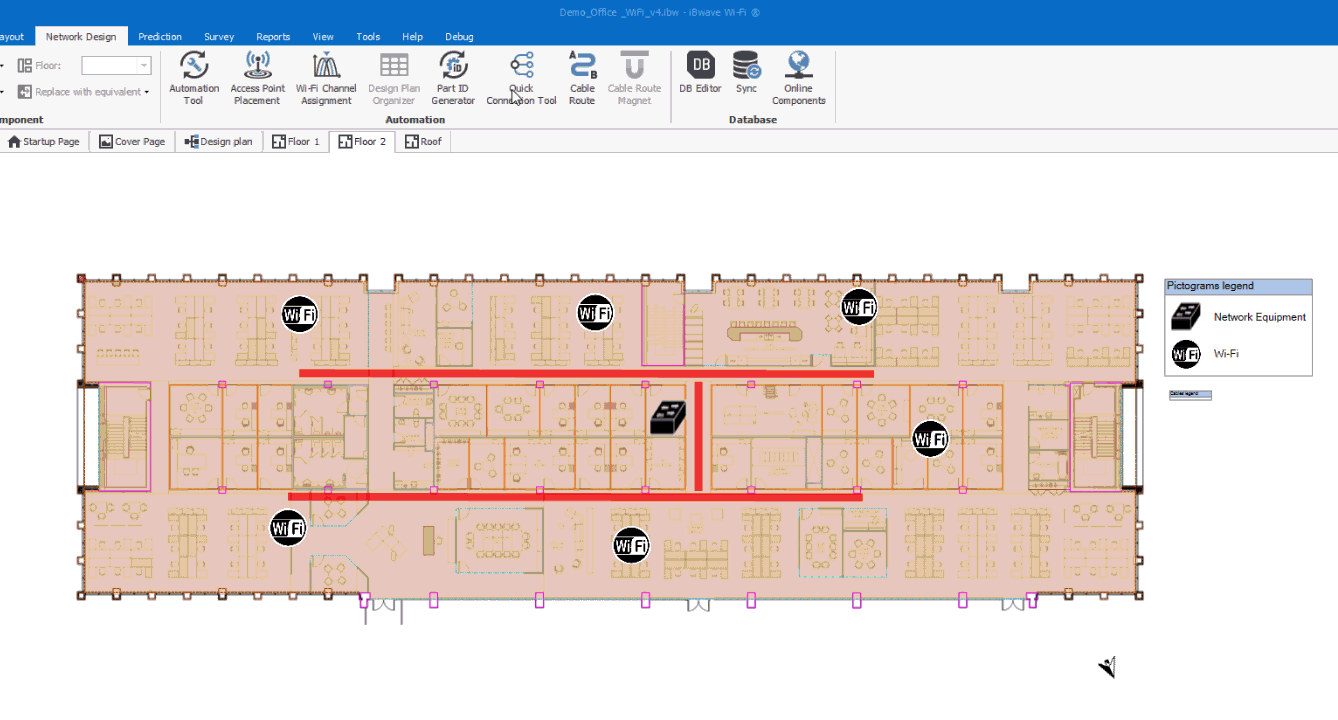 Benefits of iBwave Wi-Fi® for Complex Venues
Full Network Design Automation
Design Wi-Fi networks up to 60% faster with the intelligent automation of network design, cabling, and reporting in iBwave Wi-Fi.
Accurate RF Predictions
Get extremely accurate RF predictions and be sure your network performs as designed with powerful features like body loss modeling, advanced capacity planning, and prediction calibration.
Full Network Design & BOM
Design networks beyond APs with our database of over 27,000 network parts (cabling, routers, controllers, and more). Generate an automated BOM quickly, with or without costs included.
3D Predictive Modeling
Impress customers, maximize prediction accuracy and win more bids with the powerful 3D modeling & prediction visualizations that including inclined surfaces.
Cloud Connectivity
Use our cloud connected solution to manage and synchronize all of your site and project data in one place.
Training & Certification
Become one of the thousands of wireless engineers around the world iBwave certified with our iBwave Wi-Fi certification courses. Available online or in-class.
What People Are Saying...
about iBwave Wi-Fi®
The ability to design and visualize Wi-Fi networks in 3-D is a unique iBwave feature that I have come to rely on for access point placement and troubleshooting. The granularity iBwave provides is exceptional, especially with the new capability to design with multi-radio APs that are unique to Riverbed Xirrus for supporting high density Wi-Fi networks. Add to that the mobile tools and the variety of reports you can generate makes iBwave an invaluable tool for Wi-Fi deployment.
– Ty Parker, Director Solutions Engineering, CWNE #173, Riverbed –
In today's high density Wi-Fi environments, airtime is a precious commodity that is best served by the abundance of available channels in 5 GHz. Access points with dual 5 GHz radios are best suited to meet airtime and capacity needs. A software selectable radio also offers the benefit of 2.4 GHz connectivity when needed. iBwave's multi-radio feature assists any WLAN professional with dual 5 GHz WLAN designs in addition to legacy 2.4/5GHz WLANs designs.
– David Coleman, CWNE #4 –
From a vendor neutral perspective, probably iBwave Wi-Fi (PC Version) is the most advanced solution in the market. With full support to integrate Wi-Fi APs with detailed backhaul cabling , network infrastructures and budgeting, 3D venue modeling and network visualizations, the most advanced RF calculations for prediction accuracy, and cloud integration to simplify the interaction between Wi-Fi architects, project managers and site surveyors.
– Ronald Van Kleunen, CWNE #108 –
Interested in learning best practices for designing Wi-Fi in warehouses?
If you've ever designed a Wi-Fi network in a warehouse, you know how challenging it can be. You have consider the high levels of RF interference, inventory stock effect,  the many different wireless applications and robotics that depend on the network, and much more.
Read this eBook to learn:
Understanding the Warehouse Environment
Key Challenges of Designing Wi-Fi for Warehouses
Gathering Customer Requirements for Warehouse Projects
Best Practices for Designing Warehouse Wi-Fi Networks
Using iBwave Wi-Fi to Design Wi-Fi Networks in Warehouses
And more!