5G Technical Deep Dive:
An Introduction to Beamforming in 5G
With Ali Jemmali, PhD
In part 2 of our 5G Deep Dive webinar series, research engineer Ali Jemmali, PhD, goes in-depth on Beamforming as a key feature of 5G.
Why focus on Beamforming?
Simply put, Beamforming will be one of the critical features that helps 5G achieve the enhanced mobile broadband (eMBB), ultra-reliability low latency communication (URLLC) and massive machine type communication (mMTC) that it promises. But Beamforming is just one of several technical innovations that comes with 5G New Radio – others include Massive MIMO and millimeter wave bands.
So watch Ali as he introduces Beamforming in 5G and discusses the following aspects:
Basics of antenna array analysis
Digital vs Analog Beamforming
Beamforming in 5G New Radio
Enjoy!
Wirelessly yours,
Ali & the iBwave team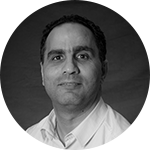 Ali Jemmali, PhD
Radio Engineer, iBwave Solutions