Convergence & Evolution in Indoor Wireless
How future technologies can impact the reliability of today's networks.
Dean Bubley – a leading tech industry analyst and futurist, specializing in the analysis of the telecom, mobile and wireless industries.
In this webinar, we discuss future trends impacting in‑building wireless design, and look at what applications and user‑expectations might be 5 to 15 years from now. Because while today's uses of indoor wireless networks are well‑known and described, a huge evolution in devices and user‑behaviour is expected in the coming years (IoT, robotics and sensors, 5G, private cellular networks, etc.) that can potentially disrupt the reliability of today's networks.
Listen to Dean and Ziad as they discuss this topic and answer the question 'How can we best design today's networks to support the networks of tomorrow'?
Here is what you will learn:
Current trends in Enterprise / In-Building wireless
In-Building challenges driven by the specific location and‑industry
Future of wireless and its implications on today's networks
How to futureproof a wireless network
Technologies MuLTEFire, CBRS and Wi-Fi
Managing convergence in the Enterprise – the iBwave perspective with Ziad
Conclusion
Enjoy!
Wirelessly yours,
Dean, Ziad, and iBwave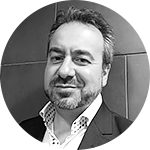 Dean Bubley
Dean Bubley is a well-known industry thought leader and the Founder of Disruptive Analysis, an independent technology industry analyst and consulting firm. An analyst and futurist with over 20 years' experience, he specializes in wireless, mobile, and telecoms fields.