Network Convergence: Exploring the Impact on Enterprise Wireless
Listen to industry thought-leader and futurist Dean Bubley for an insightful look at network convergence and the need to "future-proof" current infrastructure.
Dean discuss the changes ahead for enterprise in-building wireless and the key drivers influencing them – technologies such as 5G, cloud-RAN and fiber-based LANs, private cellular networks, shifting regulations, the emergence of IoT and the evolving stakeholder landscape.
Here is what you will learn:
Evolution of 5G networks & implications for both connection *to* buildings (e.g. fixed wireless access) and coverage inside them (new frequencies, MIMO antennas)
Evolving roles & types of Wi-Fi networks and small-cells
The implications of cloud-RAN and fiber-based LANs for enterprise
Emergence of new service-provider models such as neutral-host, hybrid MNO/MVNOs, private & enterprise cellular, building-as-a-service companies etc.
Implications of IoT for indoor/onsite coverage
Regulatory environment & its impact on in-building networks
Enjoy!
Wirelessly yours,
Dean & the iBwave Team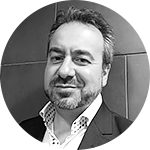 Dean Bubley
Dean Bubley is a well-known industry thought leader and the Founder of Disruptive Analysis, an independent technology industry analyst and consulting firm. An analyst and futurist with over 20 years' experience, he specializes in wireless, mobile, and telecoms fields.