Private wireless networks have become the hot topic in the wireless industry. There's a huge surge of interest in private and enterprise deployments of LTE. Industrial sites, transport hubs, sports venues and even offices and hotels are looking at obtaining local spectrum and using dedicated wireless networks.
But at the moment, private LTE networks are not as well-understood or straightforward to deploy as Wi-Fi.
Luckily, industry thought leader Dean Bubley of Disruptive Analysis is taking you through the opportunities and practical challenges of private networks in this informative webinar.
Specifically, Dean is answering:
What are the motivations for deploying Private LTE?
Which sectors and use-cases are seeing early traction?
Private LTE – or straight to 5G?
What technology changes are making deployment and operation easier?
What is the role of the traditional telco / MNO?
Enjoy!
Wirelessly yours,
The iBwave team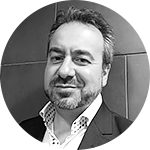 Dean Bubley
Dean Bubley is a well-known industry thought leader and the Founder of Disruptive Analysis, an independent technology industry analyst and consulting firm. An analyst and futurist with over 20 years' experience, he specializes in wireless, mobile, and telecoms fields.