Surveying LTE Networks 101
Key KPI's to look for in a survey, how to analyze, troubleshoot, and use them in your designs.
Learn the basics of surveying LTE networks. Take a deep dive into everything you need to know, including what the key KPI's are, identifying key components in a survey, analyzing them, troubleshooting them, and using them in your design.  
With over 15 years of experience designing cellular and LTE networks, our very own  Djamel Ramoul will walk you through an example project to show and discuss the following:
What are RSRP, SNR and RSRQ?
How do LTE KPI's compare to Wi-Fi KPI's like RSSI and SNIR?
How to analyze LTE survey data in problem solving.
The key heatmaps to look for when designing LTE.
What to look for in a post-install survey.
Enjoy!
Wirelessly yours,
iBwave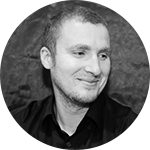 Djamel Ramoul
Sale Engineer / PO Enterprise at iBwave Solutions