Taking 5G Indoors: mmWave, Fiber & New Business Models
Watch this 5G webinar with Dean Bubley from Disruptive Analysis as well as our very own Product Manager, Zach Elias, to learn more about the current state of indoor 5G, where it will be going and what's needed to get there.
Specifically, we are looking at:
5G in-building radio propagation, supporting infrastructure & control layers
What's needed to maximize the potential of 5G for different locations and venue types
Complementary tech developments such as Wi-Fi 5, Optical LAN and Smart Buildings
Techniques for designing 5G networks & performance outcomes
Enjoy!
Wirelessly yours,
Dean, Zach, and iBwave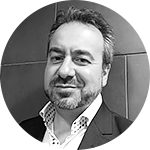 Dean Bubley
Dean Bubley is a well-known industry thought leader and the Founder of Disruptive Analysis, an independent technology industry analyst and consulting firm. An analyst and futurist with over 20 years' experience, he specializes in wireless, mobile, and telecoms fields.