Private Networks for Utilities & Energy
Understanding a key vertical for Private LTE/5G
Utility and energy is emerging as a key use case for private 4G and 5G networks, both on localized sites and across wide and rural areas. With power stations, energy grids, pipelines, wastewater plants and other utility and energy facilities a key part of national infrastructure, supporting mission-critical apps within this industry with reliable wireless infrastructure that can support increasing data demands and bandwidth requirements, will be essential.
Join us and our guest speaker Dean Bubley of Disruptive Analysis as he discusses what the key-uses for private cellular in Utilities and Energy are.
Specifically, he will discuss:
What the different spectrum options are
The roles of integrators and service providers
Key design & operational challenges
Can't make the time? Simply register and we'll send you the recording.
Wirelessly yours,
iBwave team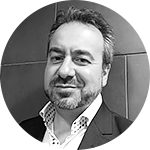 Dean Bubley
Founder of Disruptive Analysis
Date: Thursday, November 4th, 2021
Time: 11:00 AM – 12:00 PM (EDT)