5G & In-Building Wireless Convergence
5G is an exciting new technology, but what's the reality,  use cases and practicalities when it comes to indoor 5G wireless? What about adjacent technologies like Wi-Fi 6, Cloud RAN, Optical RAN, and smart buildings?
Read this eBook from guest writer and industry thought leader, Dean Bubley, to learn more about the practicalities of 5G indoor wireless and what the future may hold for this new technology.
Specifically, you can learn about:
Hype vs. Indoor reality for 5G
Use Cases for Indoor 5G Wireless
Adjacent technology and market trends such as WiFi 6, Cloud RAN and more
New players and business models involved with in-building 5G
How indoor systems can be future-proofed for 5G
Enjoy!
Wirelessly yours,
iBwave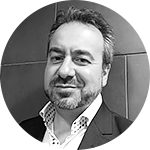 Guest Writer
Dean Bubley, Founder of Disruptive Analysis